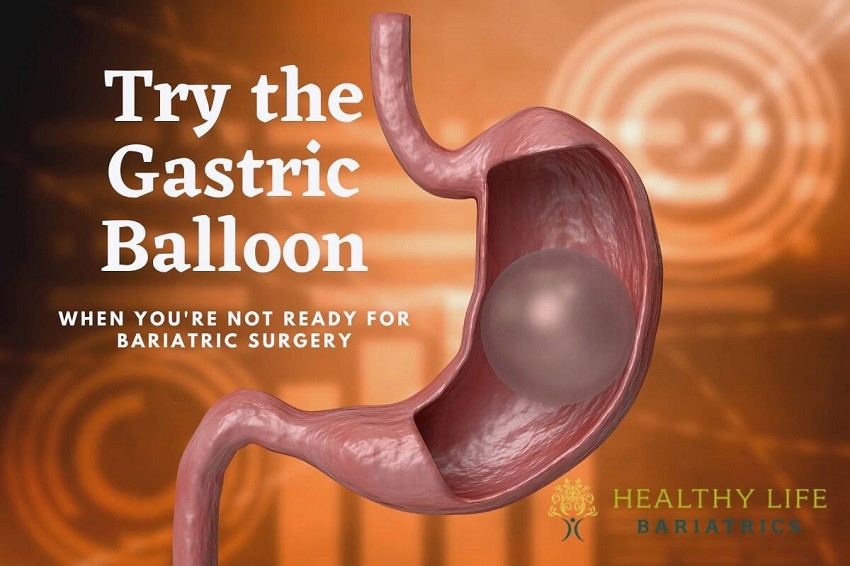 Bariatric surgery represents a series of procedures that aim to help obese individuals lose the excess, unwanted pounds.
But what if you're not ready for a permanent, surgical procedure? After weight loss surgery, there's a recovery period, where you have to take time off work. And it might be weeks before you are back to your regularly scheduled routine.
Good news. You don't have to commit to surgery to enjoy long-lasting weight loss. Now, with non-surgical procedures like the gastric balloon, you can lose weight safely and effectively using proven bariatric science.
Unlike surgeries like gastric bypass and gastric sleeve surgeries, which are permanent, gastric balloon procedures are entirely reversible. The treatment, which lasts between six and twelve months, can lead to considerable weight loss.
The purpose of the gastric balloon is to help you lose weight but also to teach you how to live a lifestyle that is conducive to healthier living.
Let's explore this revolutionary procedure to determine how it's done and how it helps you lose weight. We will also see why you should choose this bariatric procedure if you're not quite ready for weight loss surgery.
What is the Gastric Balloon Procedure?
The intragastric balloon, which is also referred to as the gastric balloon, is a weight loss procedure that is filled with either saline or gas, depending on the type of program you and your doctor agree upon. The balloon helps you lose weight by limiting how much you can eat and by satiating you more effectively during meals.
The program may be prescribed by your doctor if diet and exercise have failed to help you lose weight.
The balloon system does not work on its own. You must also do your part by living a healthier lifestyle.
Read our article: Quick Tips to Enjoying a Healthy Lifestyle After Your Gastric Balloon Procedure
Fortunately, having the balloon installed in your body makes it easier to adopt the eating and fitness changes necessary to lose weight and keep it off long term.
What are the Different Types of Gastric Balloons and How Do They Differ?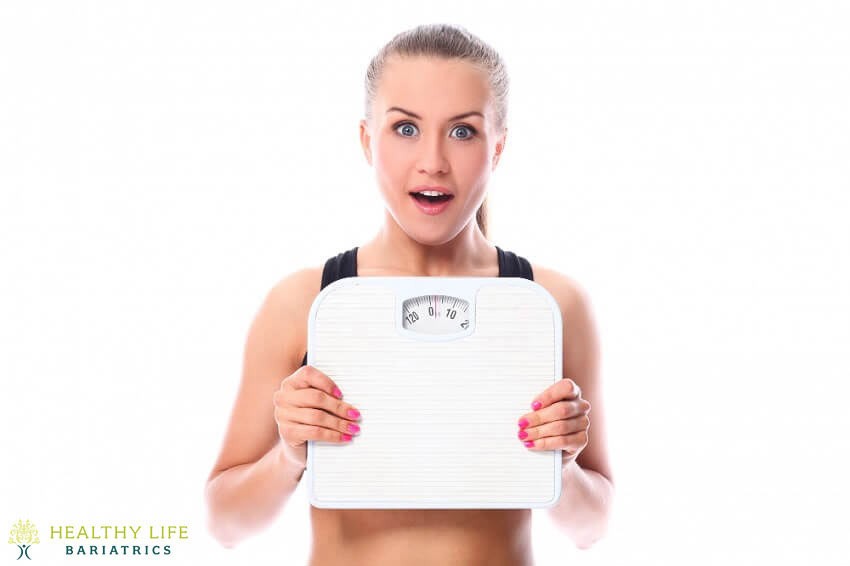 Gastric balloon refers to a type of bariatric treatment, but many doctors refer to the various systems by their brand names. The two brands you should know about include Orbera and Obalon.
Read our article: Which Gastric Balloon is Right for You? Understanding the Many Choices
Orbera is a single gastric balloon system. The balloon is installed in your stomach before it is filled with a saline solution. You can imagine how having an inflated balloon in your stomach would make you feel less hungry and fuller faster during meals.
Obalon is a balloon system that is composed of three smaller balloons that are installed in your stomach on separate occasions. Instead of filling the balloons with saline, Obalon balloons are filled with gas.
Both Orbera and Obalon are approved by the FDA for safe and effective weight loss. Patients tend to choose these systems because they can lose a significant amount of weight without resorting to bariatric surgery.
How is Gastric Balloon Different Than Bariatric Surgery?
Bariatric surgery and the non-surgical gastric balloon help people who have achieved a high enough weight to be categorized as obese lose weight. Bariatric surgery is permanent while the gastric balloon is reversible. But there are other differences between the procedures you should know about.
The most popular bariatric surgery is the gastric sleeve, so we will discuss that technique when highlighting the differences between surgery and the non-surgical balloon.
Read our article: Why Gastric Sleeve Surgery is Becoming a Favorite of Patients Worldwide
The gastric sleeve is performed laparoscopically as opposed to "open" surgery that involves opening the abdominal cavity. During laparoscopic surgery, tiny incisions function as entry points for the laparoscopic tools. First, a serpentine camera is inserted into the abdomen that contains a light and camera. The other tools allow the surgery to take place, with the surgeon viewing your internal organs via a monitor in the operating room.
During the gastric sleeve procedure, around 75% to 80% of your stomach is removed. The remaining parts of the stomach are fashioned into a banana-shaped sleeve. The new stomach sleeve is around 10% of the original stomach volume. After surgery, you end up eating less, feeling less hungry, and you become full during meals much faster than before.
Your smaller stomach holds less food but that is not the only reason you feel less hungry. The part of the stomach that is removed is known as the fundus, which is responsible for producing the hormone ghrelin. Ghrelin is a hormone that stimulates appetite and promotes fat storage. With less ghrelin in your body, you won't eat as much, and your body ends up storing less fat.
Gastric Sleeve
Gastric sleeve surgery is reserved for those with a high body mass index (BMI) in the 35 to 40 range, particularly those with obesity comorbidities. These are weight-related ailments that sometimes accompany obesity, such as type 2 diabetes, heart disease, and high blood pressure.
Read our article: What Does Body Mass Index Mean and How is it Calculated?
Incidentally, gastric sleeve and other surgeries like the gastric bypass are considered viable treatments for both obesity and weight-related comorbidities, helping you lose weight and become healthier overall.
Read our article: 11 Ways Diabetics Benefit from Weight Loss Surgery
With the Obalon balloon, you will swallow the smaller balloons over a period of six months at regular intervals. You swallow an empty balloon, whereby the surgeon will inflate it using endoscopic tools. The Orbera balloon is inserted endoscopically and inflated by a catheter that is attached to the balloon, then removed once it reaches the full size.
Gastric Balloons
Both gastric balloons are designed to remain in your stomach for around six to twelve months. During this time, your appetite decreases, and you feel satiated faster while eating. Those qualities make bariatric surgery and the non-surgical gastric balloon similar in nature.
Where they differ is that ghrelin is still produced in the same quantities as the gastric balloon. That means your appetite will return when the balloon is removed. As far as weight-related ailments, the gastric balloon could help with obesity comorbidities, but not always.
And of course, there is no surgery involved with the gastric balloon, so the procedure is considered non-surgical and non-invasive.
Both surgery and the non-surgical balloon can help you lose excess pounds. Surgery is reserved for those with a high BMI while the balloon systems can be used on individuals with a lower BMI.
You will tend to lose more weight faster with bariatric surgery, but the non-surgical gastric balloon can help you get a head start on weight loss and it teaches you to live a healthier lifestyle. You can always graduate to surgery after the six-to-twelve month treatment is up if you and your bariatric surgeon come to that decision at that time.
Another difference is that while surgery can be covered by your health insurance, the gastric balloon is typically not covered.
How is the Gastric Balloon Device Inserted and Removed?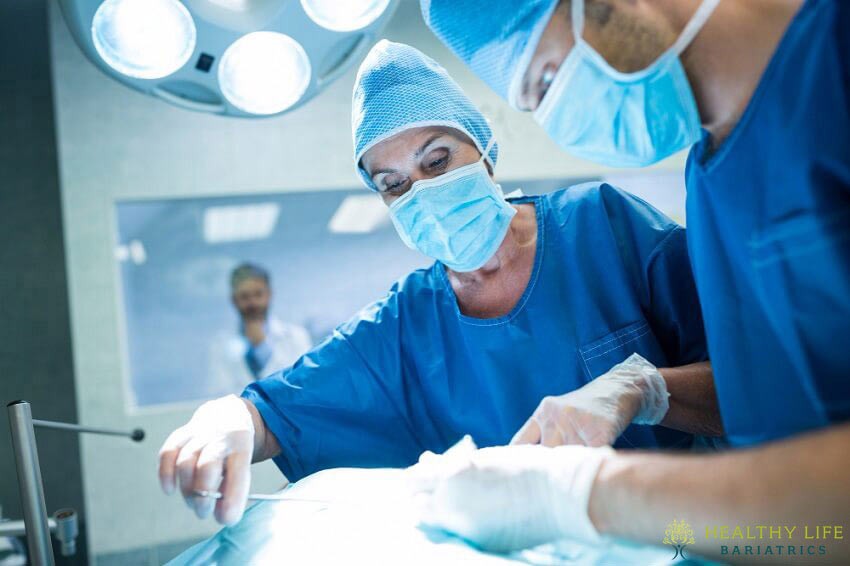 We have covered the insertion process a tad but here is what to expect in greater detail.
With Orbera, an endoscopic tube is inserted into your esophagus and stomach that contains the balloon system. The procedure takes around twenty minutes. You will be sedated before the procedure takes place.
The minimally invasive procedure is outpatient in nature, which means will go home the same day. The gastric balloon system is then removed in a comparable manner after six to twelve months, depending on your doctor's recommendations and your weight loss goals.
With the Obalon system, you swallow the deflated balloons with a glass of water. The balloons are around the size of a vitamin tablet. The balloons are inflated using a thin tube that is inserted into your stomach. No sedation is necessary with Obalon. The balloons are then removed after around six to twelve months (from the date the first balloon is placed, not the last one). Up to three balloons are used over the course of the treatment to maximize weight loss.
How Much Weight Can You Lose with the Gastric Balloon?
Weight loss with the gastric balloon varies from person to person. However, studies have shown that patients lose twice or three times as much with the gastric balloon as compared to diet and exercise alone. The procedure usually results in weight loss of 20 to 50 pounds.
How much weight you lose is largely related to how well you keep to the lifestyle changes necessary to enact and maintain long-term weight loss.
How Much Does a Gastric Balloon Cost?
The cost of the gastric balloon procedure ranges between $6,000 and $9,000. There is no cost difference between Orbera and Obalon. How much you pay depends on your geographical area and the bariatric surgeon you choose.
Does Insurance Pay for the Gastric Balloon?
Unlike bariatric surgical procedures like the gastric sleeve and gastric bypass, non-surgical gastric balloon procedures are not usually covered by health insurance plans. This is not definite, however. You are encouraged to reach out to your insurance company to identify if the procedure is covered under your policy.
When calling your health insurer, be prepared to answer a few questions, such as where the procedure will take place, whether the surgical center or hospital you visit is in-network or out-of-network, your deductible, and if there is a copay involved.
If the gastric balloon is not covered by your policy, you still have options. Medical financing through lenders like Care Credit let you pay off the total cost of the procedure over time. Many lenders like Care Credit offer low interest and long-term plans that make affording the procedure you want much easier. Ask your bariatric surgeon about medical financing before opting for the gastric balloon.
Are You an Ideal Candidate for the Gastric Balloon Procedure?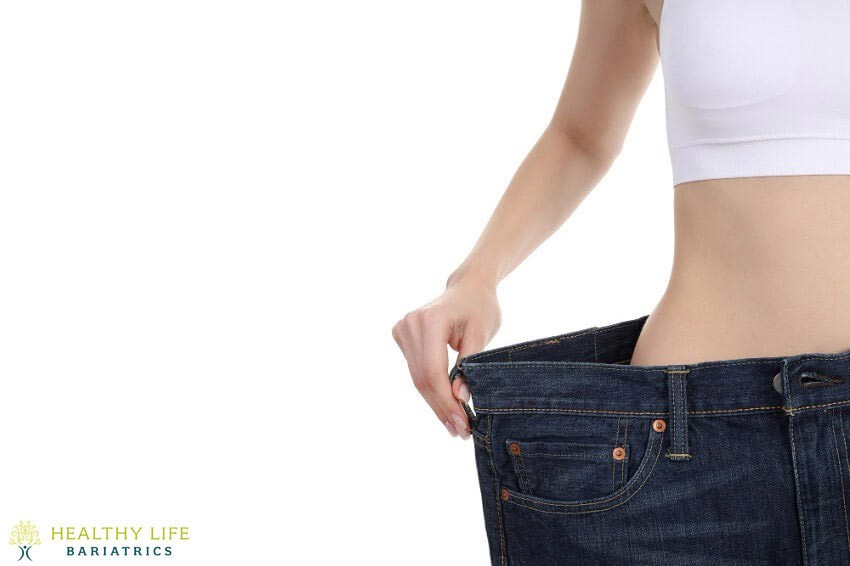 As you now see, the gastric balloon procedure is ideal if you want to lose weight but aren't ready to commit to permanent bariatric surgery. To qualify for this procedure, you must have a BMI in the 30 to 40 range with no history of bariatric surgery.
The balloon system is meant for those who need to lose around thirty pounds of their excess weight. Your doctor may decide to prescribe the balloon to prepare you for a more permanent bariatric surgery once the six to twelve months have expired.
When you have a gastric balloon installed, you must commit to a 12-month diet and exercise program to maintain your weight loss over the long term.
Read our article: How to Keep Lost Weight Off Long-Term
If you think you would be a viable candidate for the procedure, there is only one true way to find out. Schedule a consultation with Dr. Babak Moeinolmolki of Healthy Life Bariatrics. Dr. Moein (for short) and his compassionate surgical team can help you achieve weight loss and improved health using this revolutionary non-surgical technique. Dial (310)694-4486 now to get started.