Post-Bariatric Surgery: Breast Augmentation
Bariatric or weight-loss surgery should never be considered the end-all solution to achieving the desired figure. In fact, most women undergoing bariatric surgery worry about the appearance of their breasts even after shedding those extra pounds. As breasts are mainly composed of fat, women undergoing bariatric surgery often face problems like flattening and sagging of the breast contour, which can only be fixed through post-bariatric breast enhancement surgery. Just like other post-bariatric surgery procedures, breast augmentation and breast lift procedures for people who have undergone bariatric surgery are different from standard cosmetic breast augmentation. Because post-bariatric surgery involves the removal of large amounts of skin, this kind of breast augmentation requires longer incisions and more caution. This is why it is important to consider the qualifications and experience of your surgeon carefully. Armed with unique surgical experience and qualifications. Dr. Babak Moeinolmolki offers a variety of post-bariatric body contouring procedures, including mastopexy (breast lift) and breast augmentation.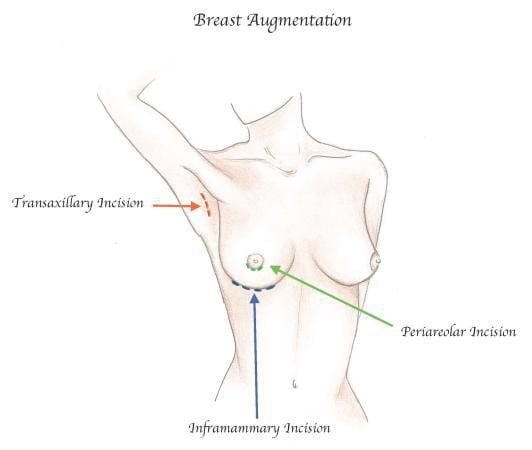 What You Should Know About the Breast Augmentation
When considering post-bariatric breast enhancement surgery, you can choose to have a breast lift, breast implant placement (breast augmentation), or a combination of both. The goal of post-bariatric breast enhancement surgery is to reconstruct the contour of your breasts into its normal shape and size, which ultimately complements your body frame. Dr. Moeinolmolki discusses the available options with his patients before making a mutual decision if a breast lift, breast augmentation, or a combination of the two procedures should be performed. A breast lift only removes excess skin while elevating the nipple/areola to a higher position on your chest. It is important to understand that you may not be completely satisfied with the results because in some cases, the breasts continue to be flat on top, lacking cleavage after a breast lift procedure. On the other hand, breast implant placement aims at enlarging the size of your breasts while improving their shape and proportion. In addition to increasing the fullness of your breasts, breast augmentation enhances the balance of your figure as well. This is why; many patients opt for a combination of breast augmentation and breast lift surgery. In most cases, the patient can go home on the day of breast enhancement surgery. For patients undergoing a breast lift and breast augmentation surgery at the same time, Dr. Moeinolmolki aims at minimizing the risk of poor scar healing and postoperative discomfort by using the most effective surgical techniques. The incision for a breast lift along with breast implants initially traces the areola, then moves in a line down the middle portion of the breast, eventually tracing the crease of the breast. As a result, Dr. Moeinolmolki is able to effectively remove excess skin while moving the breast to a higher position on the chest. Often, this surgery is combined with lateral chest wall liposuction and skin excision to remove the excess tissue that may interfere with the beauty of your breast. These options are carefully considered and discussed during your initial consultation and the plan of surgery is reviewed to achieve the best operative results in the most efficient manner. As soon as the surgery is completed, you will be fitted with a compression garment, which should be worn for around six weeks. Remember, if your job does not involve bending or lifting, you can return to work around one week following the surgery. However, it may take up to six weeks before you experience that "back to normal" feeling.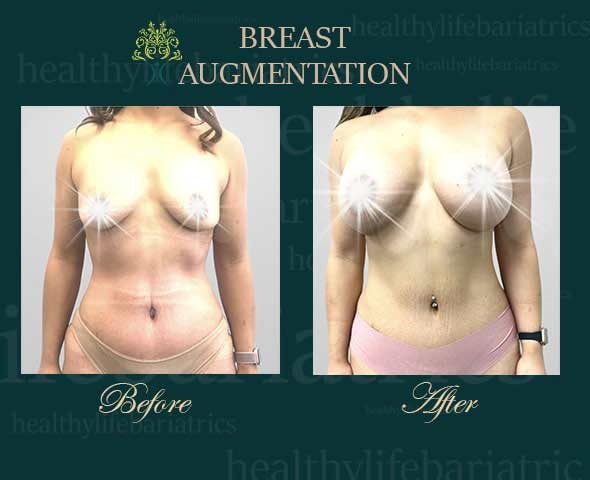 Are There Any Risks Involved?
Most patients undergoing post-bariatric breast enhancement surgery are concerned about the risks involved in the procedure. Using careful preoperative education and planning along with the meticulous operative approach, Dr. Moeinolmolki will minimize your downtime and complications. In addition to educating you about the risks and benefits associated with different approaches, we will involve you in making a safe and cost-efficient approach to your care. As you heal from breast enhancement surgery, Dr. Moeinolmolki can continue to monitor your nutritional status and adjust your diet and physical activity to get optimum results. The reason many body-contouring procedures don't produce the desired results is the failure to decide on the right time for surgery. Some patients take the wrong approach and before they have lost all the weight, end up convincing an eager surgeon to perform surgery on them. If they lose more weight after their body contouring surgery, they will have excess skin again, resulting in recurrent sagging skin and another body contouring surgery will be needed to fix the damage. Thankfully, Dr. Moeinolmolki's prudent approach allows him to make certain that you are both physiologically and emotionally ready for surgery. Post-bariatric body contouring has a long-term maintenance component that will require close follow up on your weight, mental and psychological status. The ability to consolidate your post-bariatric visits and body contouring visits into one visit will also give you the advantage of minimizing your commute time and wait time at the offices of different doctors. In fact, most of our patients report that this approach is comprehensive, effective, and saves time and money. At the end of the day, post-bariatric surgery is just as important as bariatric surgery to help you feel more confident and maintain your desired figure. Dr. Moeinolmolki can help you achieve this goal by using extensive experience and unique qualifications in bariatric surgery and post-bariatric body contouring procedures.