Post Bariatric Surgery: Thigh Lift Surgery
While bariatric surgery is the most effective and safest method to lose weight, achieving and maintaining a healthy figure depends more on post-bariatric body contouring procedures. If you've lost a significant amount of weight through bariatric surgery, you may have noticed that the skin on your thighs, particularly your inner thighs, has become loose, which is obscuring the true shape of your thighs. The same problems with extra skin can occur as your age progresses and as your skin begins to lose its elasticity. To treat these issues, thigh lift surgery can give you improved shape and firmer skin. A thigh lift involves the removal of loose skin before the area is shaped to the desired contours. Armed with unique qualifications and years of experience in performing bariatric and post-bariatric surgery, Dr. Babak Moeinolmolki performs thigh-lift surgery to offer relief from excess skin problems such as rashes while allowing you to wear better-fitting clothes with confidence.
Want more information?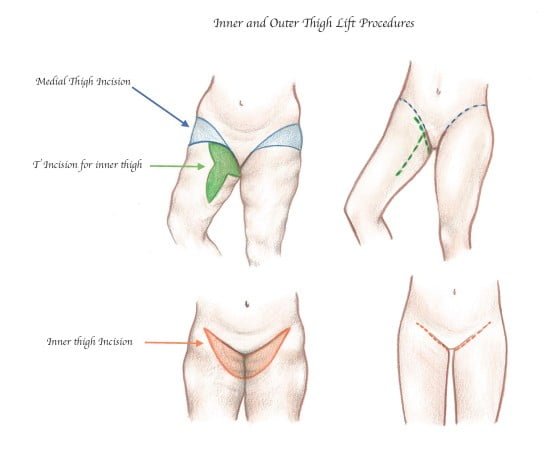 What You Should Know About the Procedure
Usually, the surgery is performed under general anesthesia and lasts around two hours. Dr. Moeinolmolki will make an incision just below your bikini line so that the scar remains hidden. Based on the amount of excess skin that should be removed, Dr. Moeinolmolki will decide on the length of the incision. Typically, liposuction is used to remove stubborn pockets of unwanted fat in the thighs, after which, the skin is pulled tight and drawn together in order to produce a smooth appearance. Deep sutures along with compression garments will be used to keep the skin from falling down while speeding up the healing process. Based on your post-weight loss goals and overall health assessment, Dr. Moeinolmolki will choose the most effective technique to perform the surgery. Many patients choose to have a mini thigh lift while others opt for the vertical technique. Regardless of the method used, Dr. Moeinolmolki makes sure that the incisions are hidden in the natural creases of your body.
Lose Weight Now!
Get My Consultation
(310)694-4486
Mini Thigh Lift
A mini thigh lift is most suitable for patients with a laxity that affects the upper one-third of the inner thighs. This laxity is typically associated with factors such as age and degree of weight loss. Dr. Moeinolmolki starts this procedure by performing liposuction of the thigh, which is directed mainly at the upper inner thigh. Later, Dr. Moeinolmolki works on the lower and central inner thigh. Dr. Moeinolmolki removes the pre-operatively marked section of the skin, which lies below the junction between the patient's thigh and pelvis. Finally, the inner thigh skin is lifted upwards and stitched along the junction so that the scar remains hidden within the patient's groin crease.
As the entire length of the thigh needs tightening after weight loss surgery, most post-bariatric surgery patients undergo vertical thigh lift surgery. This technique needs liposuction to be performed along the entire inner thigh, which includes the knee region as well. Liposuction aims at reducing the overall size of the patient's thigh while facilitating more skin removal. After finishing liposuction, Dr. Moeinolmolki removes the pre-operatively marked section of the skin. Finally, Dr. Moeinolmolki stitches the skin back together using meticulous surgical techniques.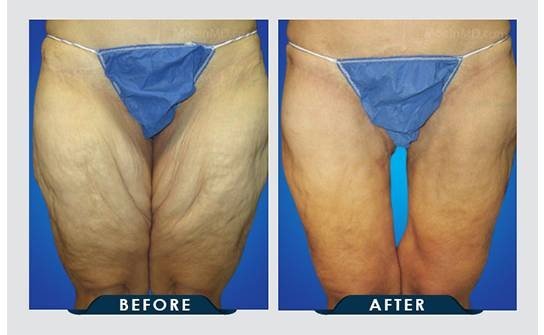 Are There Any Risks Involved?
Just like other post-bariatric body contouring procedures, thigh lift surgery is not free from any serious risks/complications. Minor complications such as seroma or incision irregularities can often be addressed in the office. By careful operative planning, both preoperative optimization, and attentive postoperative follow-up, Dr. Moeinolmolki aims at minimizing major complications and risks associated with this surgery.
As soon as the effects of anesthesia wear off, you will be able to go home. Although you may experience some discomfort and pain after the surgery, it can be easily managed with medications. For the first 2 weeks following the thigh lift surgery, you should only participate in light activities such as watching television, reading books, using your computer, etc. Also make sure that you avoid strenuous activities for at least a month, and keep your legs elevated as much as possible.
During the healing phase, Dr. Moeinolmolki will monitor your progress while offering essential advice on activity restrictions and nutritional support in order to speed up recovery. Moreover, Dr. Moeinolmolki will also encourage you to discuss any concerns or doubts that you may have regarding the surgery. This surgery is often the last surgery in the staged approach in minimizing excess skin folds for post-weight loss patients. Dr. Moeinolmolki often recommends his patients to choose this surgery as their last surgical procedure because it tends to have the most prolonged recovery time. Whether you want to eliminate excess skin problems or wear skirts, shorts, and swimwear with confidence, thigh lift surgery can help you achieve your post-weight loss goals.