Over the course of 10 years, Healthy Life Bariatrics has perfected our weight loss program by including multiple levels of treatment to get your body to the best that it can be. We combine medicine and surgery to empower patients to live the healthiest, most confident life they can. At HLB, we use a combination of medical weight management, surgical solutions, psycho-social clinical support, and body contouring to help our patients achieve the most satisfactory results possible.
At the core of our program is the understanding that obesity is a disease that requires proper evaluation, understanding, and treatment. Obesity is a disease that is poorly understood by the medical community and society. Our goal is to provide an individualize and compassionate approach to the treatment of obesity in a single program. The staff at HLB have been carefully selected and educated to recognize obesity as a disease and treat each patient with the dignity and respect they deserve.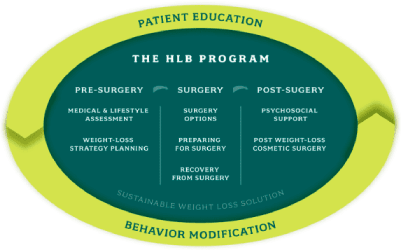 Pre Surgery: Patient Education, Medical & Lifestyle Assessment, and Behavior Modification
HLB strives to prepare you for a new chapter of your life. Our first goal is to redefine you and your health so you can make better life decisions moving forward for you and your family. A major aspect of our program is educating you about the importance of a nutritionally balanced diet while empowering you with the knowledge of how to use your new body. Each program is tailored to the individual, which means that your program will be 100% unique and based on your medical, physical, and emotional states. We provide you with the methods and tools to be successful in your weight loss journey. We listen to your concerns, evaluate your needs, and treat you with respect and compassion. First and foremost, we must complete a multidisciplinary group evaluation, which includes a nutritional, physical and phycological evaluation. Following that assessment, your nurse case manager will coordinate your needs and strategize the best treatment plan to achieve your goals.
The ultimate goal of our program is to help you achieve Healthy Life Weight, which is a stable weight range that allows the body to remain in a physiologically and psychologically balanced state. As with most patients, you may find that you are no longer as consumed by hunger at this weight, and your energy levels will feel more optimized as you are overcome with a new sense of vitality. The recognition of this balance is a critical aspect of all that we do at Healthy Life Bariatrics. We work with patients to get them to their Healthy Life Weight and maintain that balance indefinitely. This is a very sensitive part of our treatment approach and one that is not often appreciated by other programs that are driven by case volume rather than results. Our program treats you as an individual, not just another number. We will follow you closely along your health journey to ensure your balanced progress. At each individual meeting, you will be monitored on specific parameters assessing your healthy life goals, including dietary balance, daily exercise routine, and your psychological state.