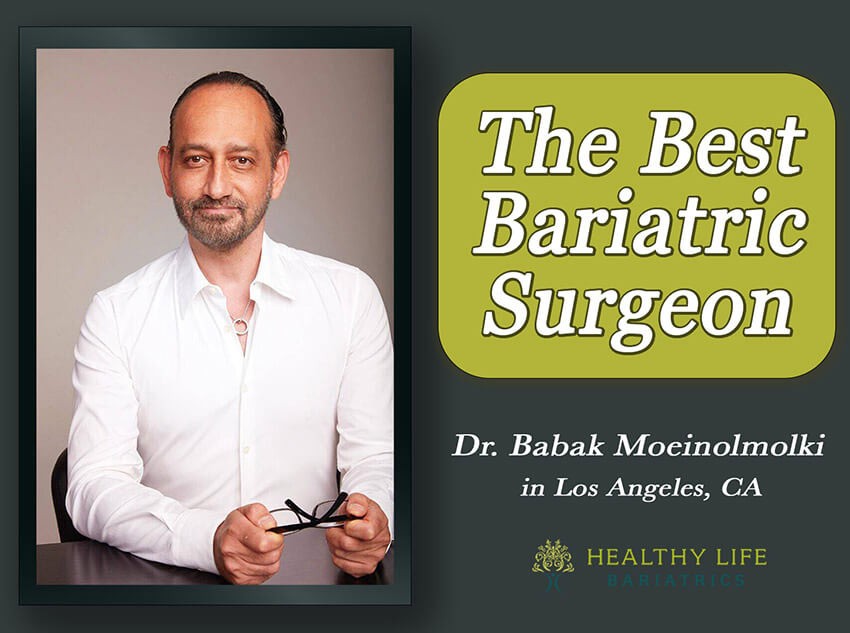 Whether you live in Los Angeles CA or you are thinking of traveling there for bariatric surgery, your first objective should be to find the best weight loss surgeon for your needs.
As with most metropolitan areas, you have many choices when it comes to finding professionals of all types. Bariatric surgeons are no different. There are more than 700,000 results in the Google search results pages (SERP) when you search for "bariatric surgeon in Los Angeles, CA." How are you supposed to identify the single professional who can promise you assured weight loss with popular procedures like gastric bypass surgery or gastric sleeve procedure?
To begin sifting through the many surgeons in the area, start with a Google search. You can either search for "bariatric surgeon near me" or "bariatric surgeon in Los Angeles, CA."
Google My Business
A search like that will help you find the top professionals by their Google My Business profiles. More specifically, you will find the professionals listed in the 3-Pack. It represents the top search results in the area alongside some general information about their practices and their patient reviews.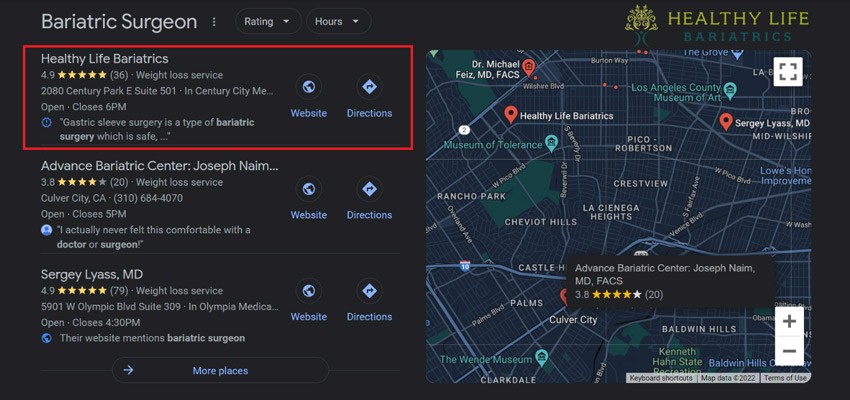 Notice how these listings contain the bariatric surgical center name, the number of patient reviews, the address, and a testimonial by one of their pleased patients. You also have access to their website and GPS directions coupled with a map of Los Angeles CA.
Similar to how the Yellow Pages used to operate, back when people used phone books, GMB profiles give you everything you need to make an immediate evaluation. But the GMB does not tell the whole story. For example, the Google listings above don't tell you anything about the professional's education, training, skill, or bedside manner.
To find that information, you're going to have to dig a little deeper than a rudimentary Google search. Luckily, we live in the information age. The best weight surgeon you seek is only a few online searches away near me in Los Angeles, CA.
Make a List of Bariatric Surgeons from the Google Search Engine
Start with the 3-pack and make a list of bariatric surgeons based on the number and quality of online reviews, the information you can find on their websites, and other information that may be important to you, such as your proximity to their geographical area.
Next, you can whittle down your list by paying attention to the details.
Is the weight loss Surgeon Experienced?
With weight loss surgery being such a life-changing decision, you must be certain that your health is in the best of hands. The right bariatric surgeon for your needs will be experienced, which means that he or she will have performed thousands of successful bariatric surgeries before taking you on as a patient.
Check websites like bestbariatricsurgeons.com, RealSelf.com, and any others that list the number of successful outcomes a particular surgeon has undergone as a bariatric surgeon. Medical literature has shown that experience is directly correlated with positive bariatric surgeon outcomes.
Ideally, you want a weight loss surgeon that has undergone thousands of successful surgeries, specifically the type you are most interested in, whether it be the Lap Band, gastric sleeve, gastric bypass, or any other.

What is the Weight Loss Surgeon's Level of Education?
To qualify as a bariatric surgeon, an individual must undergo the necessary schooling to become a physician. This means getting an MD (medical doctor) or DO (Doctor of Osteopathic Medicine), which requires a four-year bachelor's degree and an extra four years in medical school. The final two years of medical school typically include clinical rotations under the guidance of licensed physicians in various medical specialties.
After graduating from medical school, the professional must pass a licensing exam in the practicing state. A residency program follows, which includes training and supervised clinical practice in the professional's specialty of choice.
You can also learn about a bariatric surgeon's schooling and education by visiting their website's About page.

How is the Bariatric Surgeon's, Bedside Manner?
Education, experience, and training can tell you much about a bariatric surgeon's level of skill. But what about important traits like attentiveness, empathy, and rapport?
Undergoing bariatric surgery can be an emotional experience. Here you are making a decision that will affect the rest of your life. You are doing your part to take control of your health and manage obesity comorbidities like type 2 diabetes, sleep apnea, and heart disease. You could be potentially lengthening your life as well. It should be noted that bariatric surgery is attributed to an up to 40% decrease in morbidity in people suffering from morbid obesity.
Read our article: What are Obesity Comorbidities?
The best way to determine bedside manner is to schedule a consultation with a bariatric surgeon to see how you jive with his or her personality. But that could be time-consuming and an emotional rollercoaster all its own if your list of potential surgeons includes ten or more professionals.
Until you are able to narrow your list down to one, two, or three bariatric surgeons, turn to online reviews.
Google reviews are excellent indicators of how bariatric surgeons treat their patients. Patients who are left feeling as though they are part of the surgeon's bariatric family will leave rave reviews for all to read.
When reading reviews, look for words like "kind" and "amazing" to describe the doctor, staff, and the experience patients had when undergoing their respective procedures.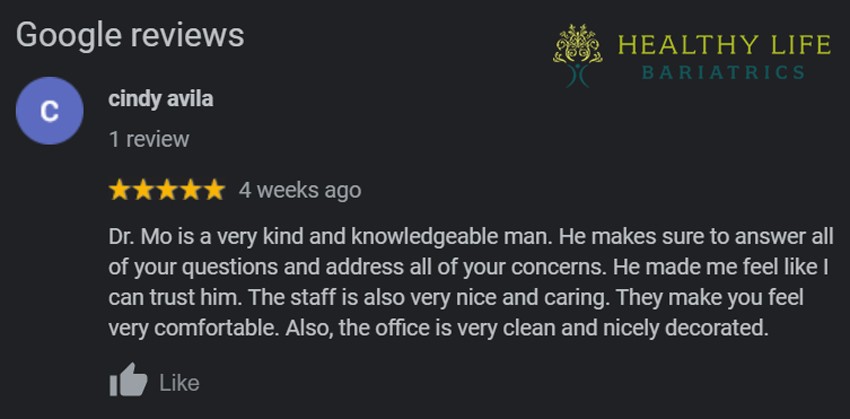 Yelp
Yelp is another excellent source for bariatric surgeon reviews. Look for comments noting the surgeon's professionalism, manners, and level of knowledge. All of these attributes contribute to a stellar bariatric surgery experience. They are also more likely to contribute to assured weight loss following your procedure.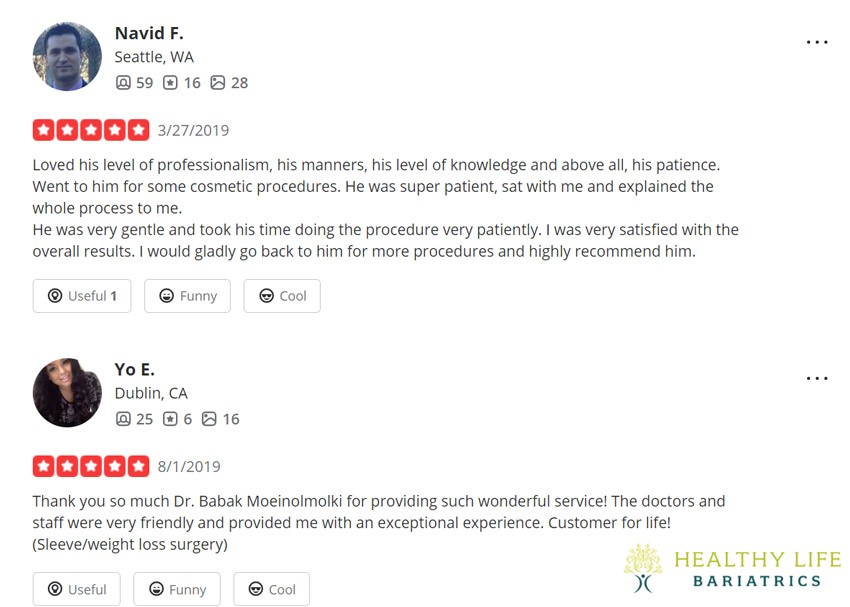 In addition to reviews, pay attention to the bariatric surgeon's responses. A professional will respond to reviews to let patients know that he or she cares. And a caring surgeon is more likely to pay attention to your health and weight loss goals. These goals are exactly what you should be looking for when choosing a weight-loss professional.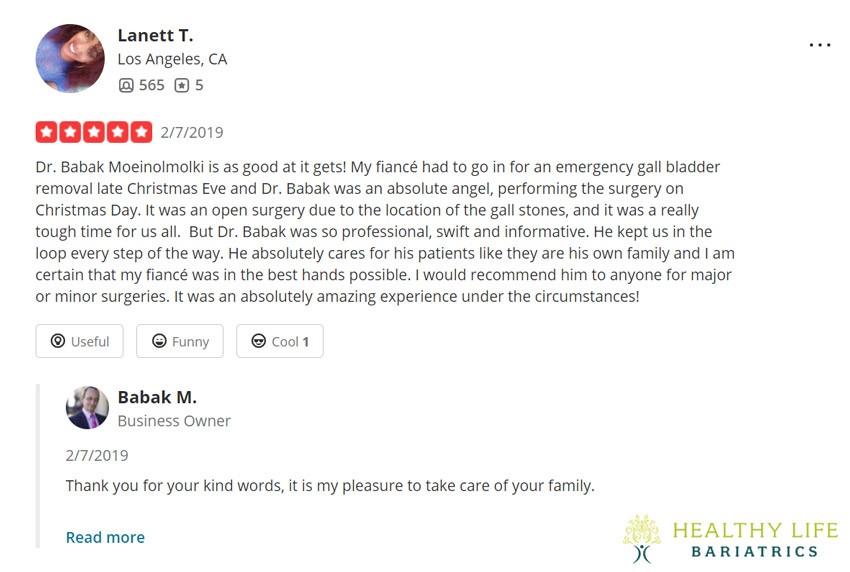 Does the Bariatric Surgeon Accept Your Health Insurance Policy?
By this point, we have focused solely on the qualifications and personalities of the various bariatric surgeons on your list. Now it's time to ensure all other aspects that are important to you are covered, such as your finances.
In the past, health insurance companies were reluctant to cover weight-loss surgeries. The fact that there is a significant one-time cost was a major factor, but many insurers also viewed bariatrics as an elective procedure, sort of like cosmetic surgery.
Today, bariatric surgery is seen for what it is. It is a life-saving procedure that can have immense benefits for your quality of life. Therefore, most insurance companies now cover surgeries like the laparoscopic gastric sleeve, Roux-en-Y gastric bypass, laparoscopic banding, and even the non-surgical gastric balloon.
Some insurance policies will even cover post-bariatric body contouring, so you can tighten up your body after the excess weight has come off.
Read our article: Post-Bariatric Body Contouring Surgery in Los Angeles CA – When is it Safe?
Look for a bariatric surgeon who participates in your insurance plan. Most bariatric surgery centers will help you prepare all the necessary insurance forms. It takes the stress of dealing with insurance companies off your shoulders.
Can the Bariatric Surgeon Help with Medical Financing?
Some insurance policies will only cover a portion of bariatric surgical fees. Other policies won't cover weight loss surgery at all. In these cases, medical financing can be a blessing.
Read our article: Gastric Sleeve Insurance and How to Afford Surgery Without Coverage
Look for a bariatric surgeon that offers medical financing to help cover the costs of your procedure. That way, you can have surgery now while worrying about payment later.
CareCredit is a good example of a company that offers medical loans for the purpose of covering life-changing procedures such as bariatric surgery. Medical financing offers extended terms and low payments with no collateral needed. The process of getting approval is simple, fast, and private. You can handle all the paperwork at the front desk of the bariatric surgeon's office.
Read our article: Is it Possible to Finance Bariatric Surgery?
Does the Weight Loss Surgeon in Los Angeles, CA Offer a Range of Minimally Invasive Options?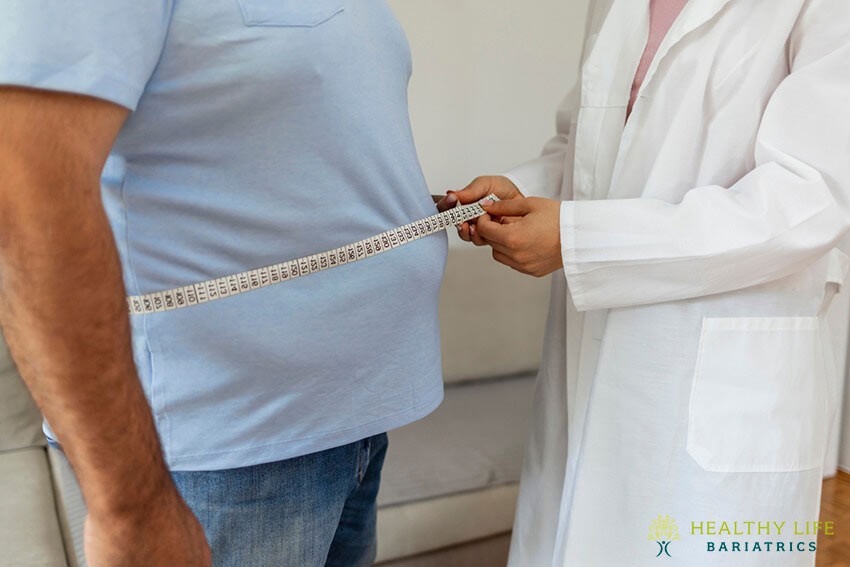 Ideally, the best weight loss surgeon for your needs will be experienced with a wide range of weight loss procedures. Every person is different. You may require a gastric sleeve while another patient requires a gastric bypass, and so on. The type of surgery you qualify for will depend on your current state of health, and your body mass index (BMI). It also depends on other factors, such as the extent of your weight loss goals.
The most popular weight loss procedures today include the gastric sleeve, gastric bypass, lap band, duodenal switch, and the non-surgical gastric balloon (Obalon).
Read our article: Gastric Balloon Dietary Guidelines for Astonishing Weight Loss
In addition to ensuring the surgeon covers a variety of procedures, look for the technical skill of the surgeon. Professionals that have skills in laparoscopic and robotic surgery will also leave you with fewer incisions and minimal scars. They also leave you with less downtime as compared to more "open" surgeries.
If you want to be back up and around quickly following your procedure, these qualities should be of the utmost importance to you.
Is the Weight Loss Facility Clean, Safe, and Cutting Edge?
Last on our list of top qualities for the best bariatric surgeon is a weight loss surgeon who operates his or her own surgical facility. A private bariatric surgical center will offer you more personalized attention and greater privacy. Surgical centers are also often safer (since you're not comingling with other potentially sick patients as you would in a hospital).
Schedule One or More Consultations to Narrow Down Your List of Top Bariatric Surgeons
You now have an excellent way to narrow down your choice of the best weight loss surgeon in Los Angeles California. By focusing on education, experience, bedside manner, types of bariatric surgery, insurance, and financing, your extensive list of surgeons should be shortened considerably.
Your next step is to schedule a consultation with one, two, or even three professionals. Gauge the rapport you have with the bariatric surgeon and how well the professional answers your questions. Be sure to ask plenty of questions related to the types of procedures, your weight loss goals, the risks of the various procedures, and the results you can achieve.
Read our article: What to Expect from Your Weight Loss Surgery Consultation
By far the biggest question of all you should ask is…
Are You a Viable Candidate for a Bariatric Procedure?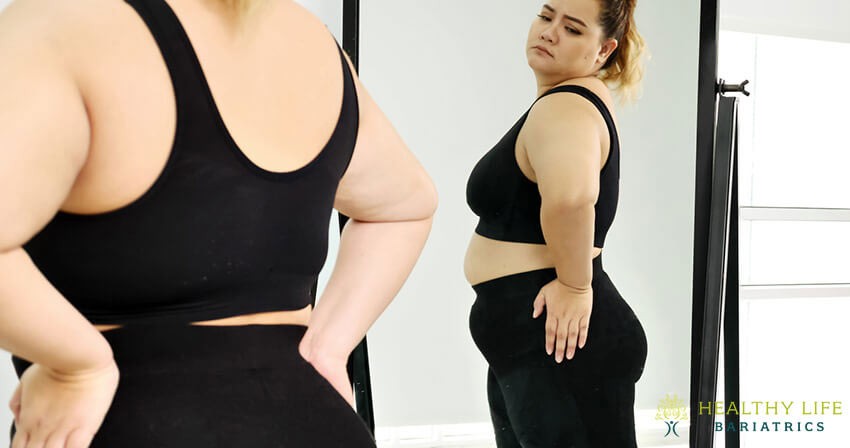 Obesity affects nearly 40% of all Americans. Suffering from the disease of obesity can affect every area of your life. It might range from your career and personal relationships to the various activities you engage in. For some people, dieting and exercise are enough to drop unwanted pounds. For others, weight loss becomes a difficult journey that requires medical intervention. Bariatric surgery can help.
Read our article: 8 Signs You Might be Ready for Weight Loss Surgery
If you have a BMI between 30 and 40 and also suffer from obesity comorbidities like type 2 diabetes, weight loss surgery might be right for you.
Read our article: What Does Body Mass Index Mean and How is it Calculated?
To qualify for a bariatric procedure, you should have already attempted to lose weight through conventional methods. These methods include diet and exercise.
If you have tried everything and nothing seems to work, bariatric surgery can help you lose up to 50% to 70% of your excess weight over the long term. Of course, as with all medical procedures, there are also risks coming with weight-loss surgeries.
You can learn about the risks involved and information related to insurance and financing by scheduling a consultation with bariatric surgeon Dr. Babak Moeinolmolki. With the right bariatric surgery, you can achieve assured weight loss.
To get started, call us in Los Angeles CA at Healthy Life Bariatrics, where we treat you like a person and strive to help you achieve your health and weight loss goals.
Read our article: Slimmer Body, Less Belly Fat or Improved Health: Which is Most Important to You?
Dial now to book your appointment at 310-861-7844. Don't forget to ask about our medical tourism program for those residing outside Los Angeles California.