Bariatric surgery can help you lose a significant amount of weight, but patients are often left with sagging abdominal skin. When your skin fails to conform to your new body shape, a tummy tuck can help.
What is a Tummy Tuck?
A tummy tuck (abdominoplasty) is a post-bariatric body contouring procedure that removes the excess abdominal skin and fat left over after surgery. Body fat is normally distributed so that the abdomen contains the most excess skin. By tightening and removing that extra skin, you will be able to wear more proportionally sized clothing, as well as avoid skin rashes and other problems.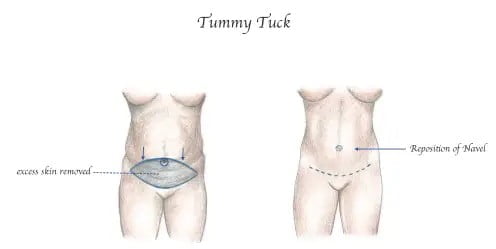 Why choose Cosmetic Surgeon Dr. Moein?
Dr. Babek Moeinolmolki performs abdominal skin tightening procedures, such as the tummy tuck, to help patients like you achieve their long-term weight loss goals and body figure. Dr. Moein has completed many tummy tuck procedures at Healthy Life Bariatrics. Take a look at some of the before and after photos to see how patients in Los Angeles, Glendale, and Encino were able to move beyond weight loss to achieve their aesthetic goals.
Added Benefits of a Tummy Tuck
While a tummy tuck is designed to give you a more shapely abdomen, part of the surgery also involves restoring separated or weakened muscles to provide an improved abdominal profile.
Quite a few of our patients come in for a tummy tuck after trying unsuccessfully for years to get a flat and toned abdomen through traditional diet and exercise methods. Others seek the procedure after successfully undergoing weight loss surgery that has led to a significant amount of loss of skin. Our program allows for combining these procedures under one roof to make it more convenient for our patients to get their necessary care in a coordinated fashion.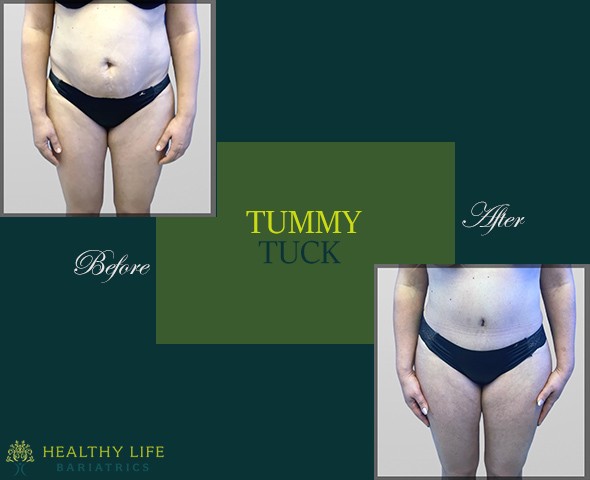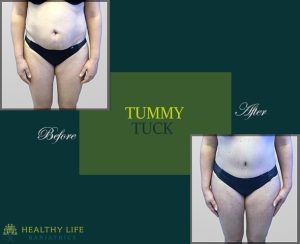 Is a Tummy Tuck a Permanent Solution?
A tummy tuck involves the removal of your skin and fat tissue, and that tissue will be gone for good. So, yes, the tummy tuck is permanent. However, unless you remain committed to sustaining a positive nutrition and exercise routine, your weight can fluctuate. If you experience significant changes to your weight after a tummy tuck, additional fat deposits can form in your abdominal area, which can stretch the stomach out once again.
This is why many bariatric surgeons suggest postponing a tummy tuck procedure until you have achieved and sustained a healthy weight.
What is the Recovery Period Like After a Tummy Tuck?
Immediately following an abdominoplasty, your abdominal area will be wrapped in surgical dressings or bandages, and in some cases, a compression garment or elastic bandage will be applied.
With some tummy tucks, tiny drainage tubes will be inserted under your skin, which will then be removed during the initial post-surgical appointment.
Dr. Moein will give you specific instructions on how to care for the surgical site. He may even write you a prescription for medication to aid with any discomfort while you heal.
It is suggested that you refrain from strenuous activity for a short time following a tummy tuck to allow the healing process to move forward. Dr. Moen will schedule follow-up appointments where he will offer customized suggestions and advice concerning ongoing recovery.
Do you think a tummy tuck might be for you?
Whether you want a toned tummy after years of trying or you have undergone successful bariatric surgery, Dr. Moein can help. 
Call Healthy Life Bariatrics
 in Los Angeles, California to discuss your body shape goals.