Post-Bariatric Surgery: Arm Lift or Arm Reduction Surgery
After undergoing bariatric surgery and losing that stubborn fat, most patients worry about the appearance of their arms. Following dramatic weight loss, the skin around the arms loses its elasticity and excess skin often becomes a source of embarrassment. As patients are concerned about wearing larger-sized clothing to hide their arms, achieving youthful, toned arms tops their list of post-weight loss goals. This is why a number of post-bariatric surgery patients turn to arm lift surgery or Brachioplasty for improving the shape and appearance of their arms. If you've lost a significant amount of weight through bariatric surgery and you are not satisfied with the appearance of your arms, you should consider opting for an arm lift. Basically, arm lift surgery is a safe and effective post-bariatric body contouring procedure that reshapes the upper part of the arm so that the arms complement your overall shapely figure. Having attended some of the most prestigious medical institutions in the US, Dr. Babak Moeinolmolki is experienced in performing successful arm lift surgery as well as other post-bariatric body contouring procedures.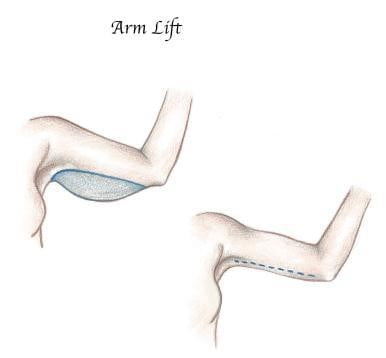 What You Should Know About the Procedure?
Arm lift surgery is a safe and reliable procedure. Dr. Moeinolmolki will make an incision along your arm's underside, which is extended from the armpit to the elbow. After removing stubborn fat pockets and excess skin, Dr. Moeinolmolki will tighten and draw together the remaining skin in order to produce a smooth, youthful appearance. Dr. Moeinolmolki may also combine an arm lift with other body contouring procedures such as a tummy tuck or liposuction to further enhance your figure. Using scar-minimizing surgery techniques, Dr. Moeinolmolki can help you achieve slimmer, toned arms to complement your fit figure.
Are There Any Risks Involved?
Arm lift surgery is a safe and effective body contouring procedure. Just like all surgical procedures, there is an inherent risk. Common risks include scarring, seroma, and hematoma. You may experience some discomfort after the surgery, which can be controlled with medication. As the remaining skin needs some time to bond together, you will have to wear special bandages and compression garments for a couple of days. In most cases, Dr. Moeinolmolki removes the stitches within ten days following the surgery. Using the safest and most effective surgery techniques, Dr. Moeinolmolki tries to make the whole procedure as safe as possible, by minimizing your risk through a thoughtful systematic approach. In addition to preoperatively optimizing your nutritional status, Dr. Moeinolmolki post-operatively educates you about the limitations to prevent excessive tension on the incision lines. You can expect to return to your home on the day of the surgery and you'll be able to get back to your normal routine within a few days. Because the success of post-bariatric body contouring procedures greatly depends on close monitoring of your physical and mental wellbeing, Dr. Moeinolmolki will give you special advice on ways to reduce swelling and discomfort during the healing phase. The ability to consolidate your post-bariatric and body contouring visits into one will give you the advantage of minimizing your commute and wait times! You also don't need to meet with several different doctors. Dr. Moein will encourage you to discuss your concerns and doubts prior to surgery. Whether you want to improve your figure with toned arms or wear short-sleeved shirts with confidence, arm lift surgery can help you achieve your desired goals!
Want more information? CALL (310) 694-4486!