If you have tried everything to lose weight, but the results aren't enough to improve your health, you are likely a good
candidate
for
weight loss surgery
. Dr. Babak Moeinolmolki of
Healthy Life Bariatrics
is a board-certified bariatric surgeon who offers several procedures to help you lose weight and improve any weight-related health conditions.
Healthy Life Bariatrics is home to Dr. Moeinolmolki, one of the few surgeons double-fellowship-trained in both bariatric (weight loss) surgery and
body contouring
cosmetic plastic surgery. If you're in the Los Angeles, Glendale, or Encino area and are ready to take back control of your health,
call for a consultation today to meet bariatric surgeon Dr. Moein
and staff or visit our location in Los Angeles CA to discuss your body-shaping goals.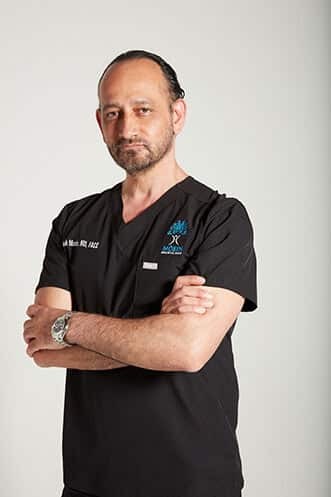 Fighting Obesity with Cutting-Edge Treatments
Our bariatric weight loss program treats obesity as a disease. As such, we recognize that obesity requires medical evaluation and scientific understanding. Our goal is to provide you with a personalized approach to weight loss and body sculpting under a single roof. Becoming a patient of Dr. Moein's gives you exclusive access to a variety of non-invasive treatments like prescription medication and nutritional counseling. You can choose between bariatric procedures like gastric sleeve surgery and the gastric balloon, or cosmetic body contouring procedures like the tummy tuck. With all these options and a single care team ensuring your safety and satisfaction, you owe it to yourself to schedule a consultation with weight loss surgeon Dr. Moein in Los Angeles CA today.
Want more information? CALL (310) 694-4486!
Customized Treatments Designed for Your Well-Being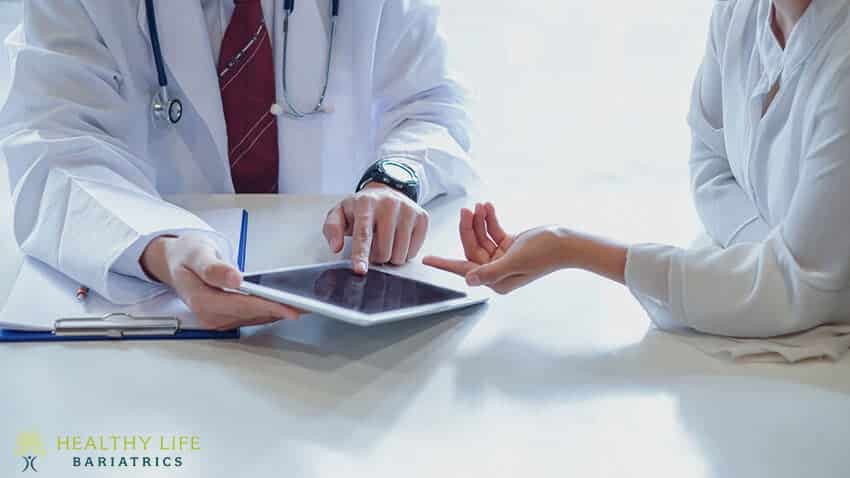 The care you receive from Dr. Moein will be tailored just for you. After a careful health assessment and evaluation of your obesity and body-shaping goals, Dr. Moein will recommend the best treatment plan for optimized health.
Weight loss Surgeon Dr. Moein isn't just interested in helping you in the short term. Dr. Moein's treatments are designed to optimize your health and support you in achieving your body goals in a way that is sustainable long-term. He will ensure you understand your treatment plan from the day of the procedure to the time you enter recovery and beyond.
Whether you opt for medication, weight loss surgery, body contouring, or a combination of procedures, Dr. Moein and the staff will guide you through every step of the way.
And because we offer medical weight loss, surgical weight loss, and cosmetic body contouring under a single roof, we free you from having to juggle office visits with multiple doctors. Instead, you get expert treatment and guidance from a single doctor, providing you with a more affordable and convenient weight loss and body shaping experience.
The best part is that Dr. Moein provides treatment with 100% transparency with regard to all fees. You will never encounter surprises when it comes time to settle your obesity and body contouring services. That is our promise to you as our valued patient.
Meet Expert Bariatric Surgeon Dr. Moein in Los Angeles CA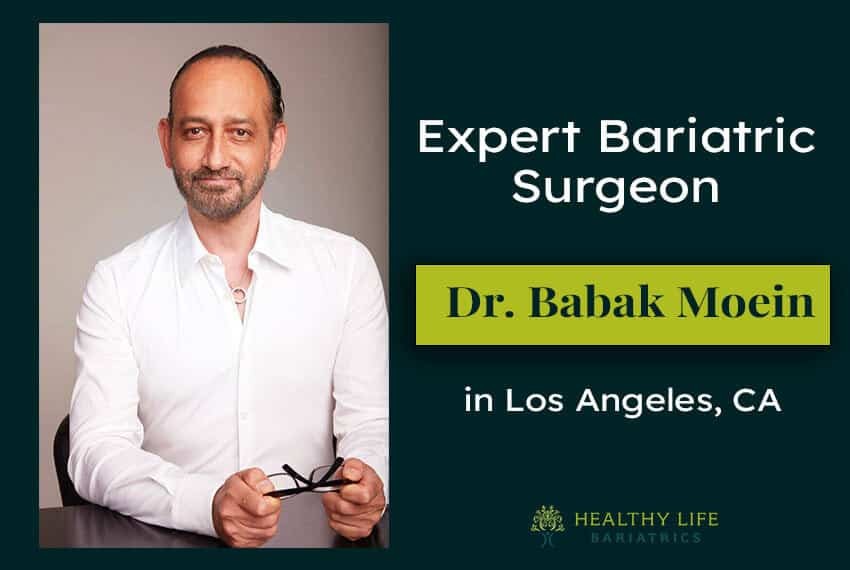 World-Renowned Obesity & Body Contouring Surgeon
Bariatric surgeon Babak Moeinolmolki, MD, FACS is the only surgeon in Southern California who is dual fellowship-trained in bariatric weight loss surgery and cosmetic body contouring surgery. Dr. Moein's multidisciplinary approach allows for careful patient evaluations and sustainable weight loss, not to mention cosmetic surgical improvements. Dr. Moein is able to provide these specialty services under one roof, contributing to patient convenience and affordability.
Lose Weight Now!
(310) 694-4486
Experienced Bariatric Surgeon & Los Angeles Native
Dr. Moein was raised in L.A. and is a graduate of Calabasas High School. He completed both his Bachelor's and Master's degrees in Microbiology and Molecular Genetics at the University of California Los Angeles, where he graduated from the College of Honors Program with distinction and received a service of excellence award for volunteer work at the UCLA Medical Center.
Dr. Moein attended medical school at George Washington University School of Medicine, where he received the Robert Dodeck Scholarship award. The doctor completed an intensive surgery internship at the University of Maryland Shock Trauma Center in Baltimore and his residency in general surgery at Georgetown University Medical Center.
Dr. Moein completed a laparoscopic and bariatric surgery fellowship at the Albert Einstein School of Medicine, Montefiore Hospital in New York City, and spent eight years as an attending surgeon at Greater Baltimore Medical Center. It was at GBMC that Dr. Moein established the first Center of Excellence in Baltimore, Maryland for bariatric surgery.
Dr. Moein also pursued a fellowship in Cosmetic surgery, where he had the opportunity to train in a state-of-the-art facility and under the tutelage of a world-renowned Cosmetic surgeon, Dr. Angelo Cuzalina. Mr. Cuzalina is the former president of the American Academy of Cosmetic Surgery and the American Board of Cosmetic Surgery.
Dr. Moein is an artist with a passion for the science behind human beauty and healthy rejuvenation. Patients of Dr. Moein know him as caring and compassionate. The doctor understands obesity and treats the ailment as a disease that requires treatment, not judgment.
Dr. Moein feels fortunate to offer patients a unique set of skills that make for successful and seamless weight loss and healthier life.
Schedule a Safe & Comfortable Initial Assessment for Bariatric Surgery
So that Dr. Moein can fully comprehend your weight loss and body-shaping goals, we recommend you schedule an initial assessment.
Dr. Moein is known for his caring and compassionate nature. The doctor is bilingual and LGBTQIA-friendly and welcomes and embraces patients from all backgrounds.
The doctor will listen closely to your concerns and goals before explaining your procedures and treatments. Whether you desire minimally invasive bariatric surgery or surgical body contouring, Dr. Moein can help you find the options that may be right for you.
Get the treatment and support you need without judgment by calling Healthy Life Bariatrics to schedule an initial consultation with the renowned surgeon, Dr. Moein.
Destination Surgery Experience Now Available
Dr. Moein proudly serves clients throughout Los Angeles and the surrounding areas. For those living beyond California's borders, Dr. Moein offers the Destination Surgery Experience for your convenience.
Patients have traveled to Dr. Moein's office from around the world to receive life-changing results. From Europe and Asia to the Middle East, patients have been able to achieve their true body-shaping goals under the care of the dually trained surgeon, Dr. Moein.
Not in Los Angeles? Call to schedule your Destination Surgery Experience with Dr. Moein at Healthy Life Bariatrics.
Meet the Staff
---
Weight Loss Surgeon Q & A
What is a Bariatric Surgeon?
A weight loss surgeon, or bariatric surgeon, is a doctor who specializes in procedures that control how your stomach and/or digestive tract handle food. There are different surgery options designed to meet your individual needs and give you the best chance of success. To date, Dr. Moeinolmolki has performed over 2,000 minimally-invasive weight loss surgeries.
How Does Bariatric Surgery Work?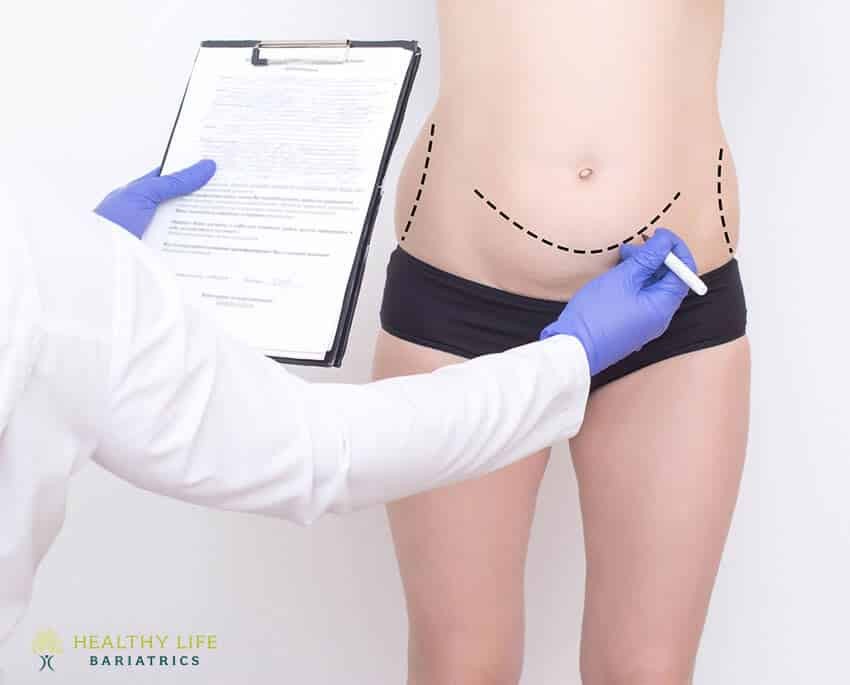 The goal behind Dr. Moeinolmolki's work as a bariatric surgeon is to control how your body takes in and stores food so you can lose weight. Bariatric surgery involves either restricting the amount of food you can take in, limiting the absorption of foods in your digestive tract (called "malabsorption"), or both.
What Weight Loss Surgeries are Available?
For the best results, bariatric surgeon Dr. Moeinolmolki offers the following weight loss surgeries:
During this procedure, Dr. Moeinolmolki ties off a small portion of your stomach and then connects your small intestine directly to this area, bypassing the bulk of your stomach. Your stomach will only hold a fraction of what it used to before this surgery.
During a sleeve gastrectomy, Dr. Moeinolmolki removes approximately 80% of your stomach, reducing your stomach's volume considerably. You will get full quickly which will help you control your calorie intake significantly.
Adjustable gastric banding involves a band being placed around your stomach to restrict the amount of food that can pass through your digestive tract. The gastric lap band lets Dr. Moeinolmolki adjust the band as needed, allowing more or less food through.
A gastric balloon is a small silicon pouch that Dr. Moeinolmolki inserts into your stomach and inflates. It will reduce the space available for food and make you feel full. This procedure is one of the least invasive options —bariatric surgeon Dr. Moeinolmolki performs this procedure on an outpatient basis. The balloon can be removed at any time.
Lose Weight Now!
Get My Consultation
(310) 694-4486
What are the Risks of Weight Loss Surgery?
While the bariatric surgeries that Dr. Moeinolmolki offers are all beneficial, there is still a small risk of infection or bleeding at the incision site. Bariatric surgeon Dr. Moeinolmolki monitors you closely after each procedure to ensure prompt attention to any problem.
Each procedure requires your full commitment to the weight loss process. It will make it important to follow postoperative instructions to the letter.
To find out how a weight loss surgeon can help you get rid of excess pounds once and for all, call Dr. Moeinolmolki at Healthy Life Bariatrics.