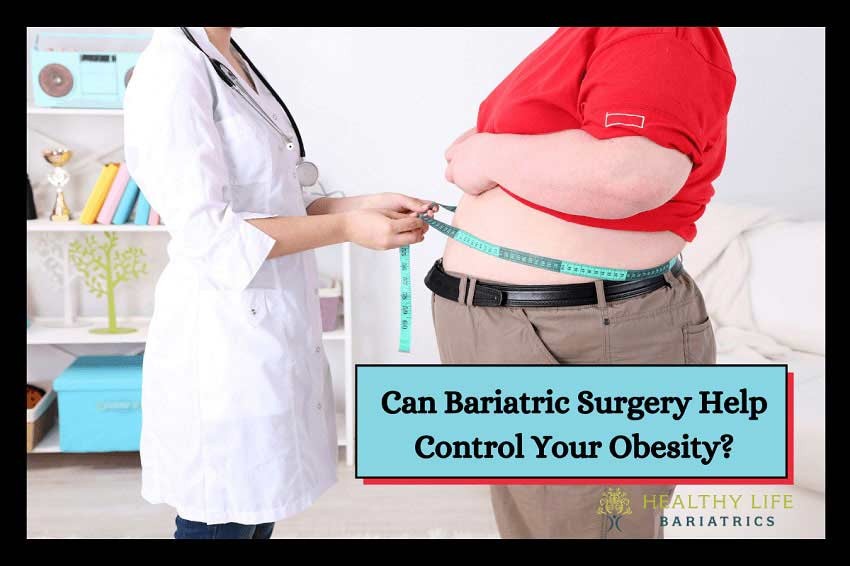 When patients come into Healthy Life Bariatrics for their initial consultation, they ultimately ask in one way or another: How effective is bariatric surgery?
By asking this question, these men, women, and even teens, want to know if by having weight loss surgery, they can effectively control their obesity.
The answer is a resounding Yes!
Being obese is never easy.
When you suffer from the disease of obesity, you are more likely to develop several health problems. You might suffer psychological distress, discrimination, and at times ostracization.
Bariatric surgery is a way to break free from the confines of obesity.
Whereas carrying all that extra weight bears down heavily on your joints and bones, losing the excess pounds will give you more mobility, energy, and freedom to live the life you want.
To answer the above question, yes, bariatric surgery can help you control your obesity. How much is up to you and several other factors? Let's examine those factors now.
"Why Should I Have Weight Loss Surgery?"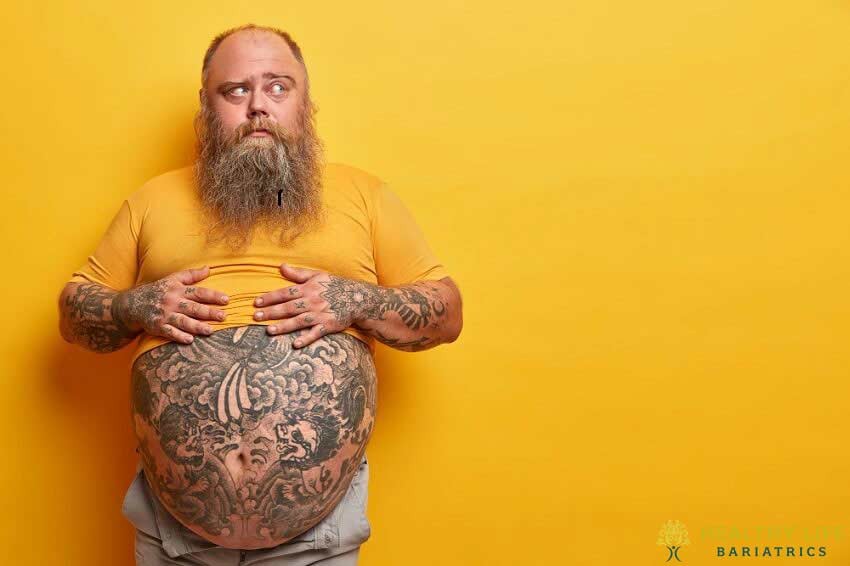 Nearly every bariatric patient has asked the above question at some point during their journey, whether they were in the research stages, consultation stage, and quite possibly in the hours before surgery.
There are several good reasons to consider bariatric or weight loss surgery if you are morbidly or severely obese.
Obesity is a common disease shared by millions of other Americans. When you have severe obesity, you leave yourself open to developing additional illnesses, like type 2 diabetes, heart disease, and osteoarthritis.
Weight loss surgery is the most effective therapy we have for weight loss and obesity-related comorbidities in those suffering from severe obesity.
Many people with obesity have attempted to lose the excess pounds on their own. Countless diets and exercise programs later and many are left right where they started, exhausted, frustrated, and as heavy or heavier than when they began.
It's a myth that this failure to lose weight is based on willpower.
Lifestyle Habits and Obesity
Lifestyle habits can indeed contribute to obesity. A sedentary lifestyle and poor diet will not help obesity and may make your condition worse.
However, obesity has a detrimental effect on hormones, making you constantly hungry, and unable to drop a single pound. No wonder you find it so hard to lose weight as someone suffering from obesity.
Obesity is measured on the body mass index scale. When you reach a BMI of 35, which is considered obese, your chances of reaching a normal body weight for a significant period are less than 1%.
This is why surgery is such a good option.
Weight loss surgery removes the barriers to weight loss. Food restriction forces you to eat less. Hormonal changes make you feel less hungry and more satisfied during meals. These changes help the weight melt away.
Bariatric procedures don't just treat the disease of obesity. These advanced techniques treat other conditions like heart disease, high blood pressure, diabetes, and acid reflux.
How Does Weight Loss Surgery Help You Lose Pounds?
Popular bariatric surgery procedures like the Roux-en-Y gastric bypass, laparoscopic sleeve gastrectomy (gastric sleeve), and duodenal switch work by altering your anatomy.
The majority involve shrinking the capacity available for food in your stomach. This change forces you to eat less food. The gastric bypass and duodenal switch take extra steps, connecting your stomach to your small intestine. These changes limit the ability of your body to absorb certain nutrients and calories.
Bariatric surgery doesn't just make physical changes inside your body. Hormonal changes take place inside your body after a bariatric procedure, such as those affecting hunger, satiety, and metabolism.
With you feeling less hungry, fuller faster during meals, and more energized, losing weight will no longer feel physically impossible.
How Much Weight Can You Lose with Bariatric Surgery?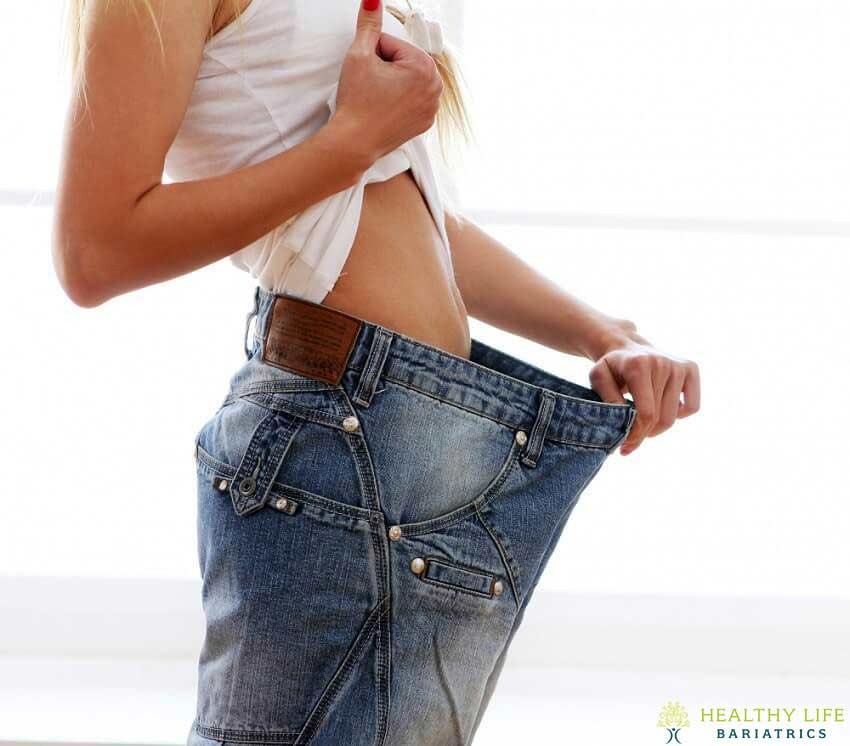 The amount of weight you can lose following bariatric surgery depends on a few factors.
Type of Surgery
Gastric sleeve patients can hope for excess weight loss of 50% or more while duodenal switch patients might experience 70% or greater weight loss.
Age and Healthy
The younger and healthier you are, the easier it will be to lose weight. Younger skin is also more able to bounce back after significant weight loss, reducing the risk of hanging skin after a bariatric procedure. Keep in mind that post-bariatric body contouring can remove hanging skin once you have succeeded with bariatric surgery.
Ability to Exercise
Weight loss surgery is not a magic wand. You are required to make lifestyle changes, such as dietary and exercise improvements. Having limited ability will also limit your ability to maximize your weight loss. However, if your loss of mobility is caused by significant weight gain, bariatric surgery may remove the impediment to exercise that allows you to eventually drop the excess weight.
Your Commitment to Living a Healthy Lifestyle
Take time to find the best bariatric surgeon, who will guide you on the steps required to succeed at bariatric surgery. Your surgeon will advise you on how to maintain the dietary guidelines required to lose the most weight safely.
Follow-up meetings with your bariatric surgeon can also help you stay on track. Don't forget to find motivation by surrounding yourself with supportive friends and family. Support groups, online and off, can further help spur you on when it comes to achieving your weight loss goals.
Bariatric Surgery Treats Obesity-Related Health Conditions
Bariatric surgery is effective at improving and controlling a wide variety of weight-related ailments.
There are over sixty obesity-related health conditions, and the right bariatric procedure can potentially treat them all.
Imagine undergoing surgery to alleviate diabetes, high blood pressure, sleep apnea, even back pain, and depression.
If you are currently taking medication for these ailments, your doctor may advise you to stop taking them once your weight loss journey begins.
What Does Success with Bariatric Surgery Mean?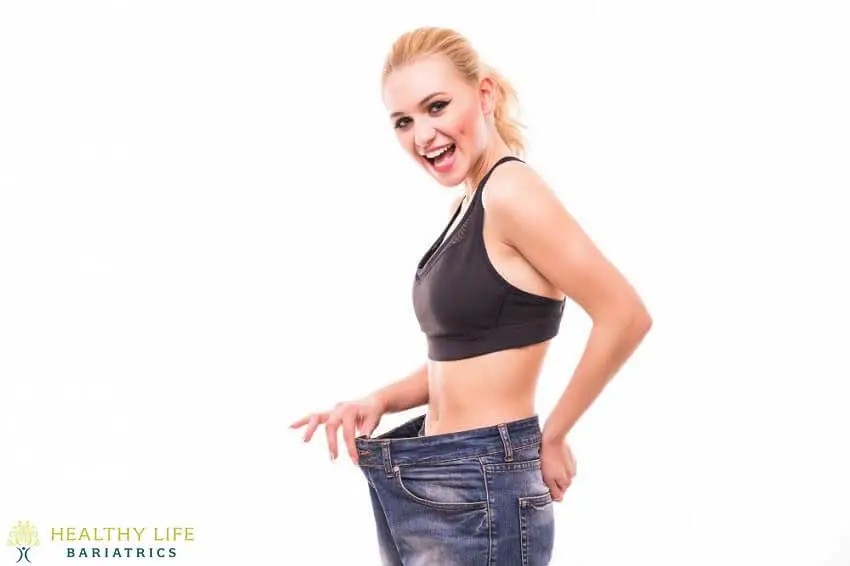 You know you are successful as a bariatric surgery patient when you have achieved a 50% or greater loss of excess body weight and maintained that loss for at least five years.
After undergoing a particular procedure, most weight loss surgery patients begin losing weight quickly. It is not uncommon to experience a loss of 30% to 50% of your excess weight in the first six months, for example.
Seventy-seven percent loss 12 months after surgery is also realistic. Some of that weight may be regained before you settle on a stable weight for the long term.
Is Long-Term Weight Loss Possible with Bariatric Surgery?
According to the American Society for Metabolic and Bariatric Surgery, 90% of weight loss surgery patients go on to lose 50% of their excess weight and keep it off long-term.
In addition to weight loss, patients report feeling more energy, less pain, and a greater zest for life.
For the first time in a long time, or for the first time in their lives, these patients want to do things they never thought possible, like hiking or even skydiving.
Significant and rapid weight loss can lead to hormonal changes that lead to even greater weight loss.
Keeping to a healthy diet and regular exercise routine can further contribute to weight stability after bariatric surgery.
Bariatric Surgery Can Help You Live Longer!
Weight loss surgery has been shown to reduce your early risk of death by over 40%.
What more convincing do you need?
Ready to Discuss Bariatric Surgery with a Weight Loss Surgeon?
Dr. Babak Moeinolmolki is a world-renowned bariatric surgeon who is an expert at popular techniques like gastric bypass, gastric sleeve, and duodenal switch. Along with his professional and compassionate staff, Dr. Moeinolmolki cares about your long-term health and bariatric surgery success.
Get a customized treatment plan that includes a fast and effective weight journey. Dr. Moeinolmolki is also one of the only surgeons in Southern California who possesses dual fellowships in laparoscopic surgeries and post-bariatric body contouring. Get your dream body after the weight comes off with popular techniques like smart lipo, an arm lift, or a tummy tuck.
Learn more by calling Healthy Life Bariatrics to schedule your private meeting with Dr. Babak Moeinolmolki. Ask about our medical tourism program if you reside outside of Los Angeles. Dial now (310)694-4486.