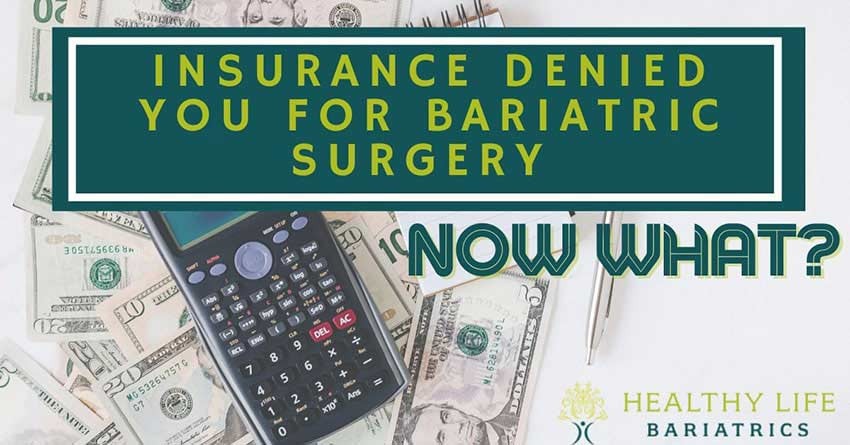 With diabetes on the rise and obesity being recognized as a life-limiting illness, many health insurance companies now cover weight loss surgery.
That's good news for individuals whose economic situations might prevent them from ever considering bariatrics.
With the average cost of gastric bypass surgery standing at $23,000, and a gastric sleeve procedure at $15,000 respectively, insurance has leveled the playing field. Now more people than ever before can opt for surgery without breaking the bank.
Unfortunately, the reality is that some bariatric surgery claims are denied. This begs the question:
What do you do when insurance denies you coverage for weight loss surgery?
Find Out Why Your Claim Was Denied
Health insurance companies have strict criteria patients must follow to be accepted for bariatric coverage. As a general rule, you must have a body mass index (BMI) of 40 and above. A BMI of 35 and above can be acceptable if you also suffer from one or more weight-related comorbidities, such as type 2 diabetes. You will want to familiarize yourself with the required criteria to ensure there are no hang-ups on the path to insurance approval.
Are You Compliant with Your Insurance Provider's Pre-Surgery Criteria?
If your insurance policy does cover surgery, read and understand the "certificate of coverage" that the company is required to give you by law. Once you have confirmed your benefits, the next step is to meet with the best bariatric surgeon in your area. Some insurers require that you get a recommendation from your general practitioner before scheduling with a surgeon. Check the details of your policy to be sure you are following the right protocols.
When meeting with the surgeon, bring along your medical records. That includes your history of attempts to lose weight through diet and exercise alone. The best-case scenario would have you documenting every step you took to lose weight, including your attendance in diet classes and memberships to fitness clubs. This documentation can be bolstered by including any receipts you can find.
During the initial consultation, the surgeon will document your height, weight, and BMI. If comorbid conditions are present, those will be listed, as well as any efforts made by you to control your obesity through non-surgical weight management. Some insurance companies will also require a psychological evaluation to rule out eating disorders and other mental health issues that could hinder your ability to provide informed consent for surgery or comply with the surgeon's pre-and post-surgical recommendations.
The authorization process for bariatric insurance coverage can take time. It could take two weeks or two months. During this period, your relevant medical records will be gathered and submitted to your insurance company.
When you hear back from the company, you will be notified of the approval or denial. If you have been approved, surgery is scheduled. You will be able to have the surgery while paying less out of pocket.
If you are denied, you should take the following steps.
The Right to Appeal Your Denial
Just because the insurance company says "No!" does not mean all hope is lost. When your claim is denied, you will receive a letter of denial. This letter lists the reasons for the lack of coverage. You may find that certain documentation is missing or that you didn't meet the BMI requirements. If the reason is straightforward, correct the matter and you may be approved. Otherwise, appeal your decision and hope for the best.
The appeals process can be lengthy. Respond in a timely manner and make sure all your documentation is thorough and correct. Doing so will improve your chances of overturning the insurance company's decision. When appealing, write a letter to the insurance company stating the facts. Keep the tone professional, polite, and be as persuasive as possible.
Your appeal letter should include the following:
Identification: Tell the insurance company who you are. List your name, as well as your policy number, claim number, and group number.
Denial Reason: State the reason for your denial as explained to you in your letter of denial.
Health History: Include a brief paragraph about your health history with the letter. Be sure to include any health conditions you suffer from, previous weight loss attempts, and why you feel weight loss surgery is necessary.
Error Corrections: If the denial was caused by a documentation error, such as listing the wrong surgery or procedure code, issue a correction and back it up with referral documentation.
Purpose of Your Letter: Tell the insurance company that you disagree with the denial and why. Tell them that the information was incorrect or incomplete and provide facts. State the purpose of your letter, which is to get your denial reversed so that you can choose to have weight loss surgery for health reasons.
Always keep copies of the documents you send to and receive from the insurance company. While you're at it, keep a written record of all contact with the insurance company's representatives, including any conversations you have over the phone. Be persistent, never give up, and your appeal is more likely to be overturned.
If your appeal is denied, keep appealing until you have exhausted all of your efforts. Try to advance the appeals process if you can. For instance, some insurance companies allow you to have the appeal reviewed by an independent board of experts. Once your appeals have been exhausted, it's at that time that you will be forced to pay for surgery out of pocket.
Lobby HR on Your Own Behalf
Some companies and health insurers cover bariatric surgery on a case-by-case basis. That means you may have to ask if you hope to receive. If your company doesn't offer coverage at all, put a presentation together and educate your HR department on the benefits of weight loss surgery.
You might mention that healthier employees are more productive and happier when coming to work. Healthy employees work harder and require fewer sick days. The company could save money and receive a boost in productivity by making bariatric surgery an option.
If all else fails, there are other ways to pay for bariatric surgery.
Medicaid or Medicare
While 80% of bariatric patients pay using insurance, 8% of patients use Medicaid and 6% use Medicare, respectively.
Medicaid is for low-income individuals and families. Medicare can help patients aged 65 or older pay for the weight loss surgery they want. In some cases, Medicare policies will cover someone under 65 if a disability is also present, such as end-stage renal disease.
Like health insurance, these policies come with their own criteria before you can be considered for weight loss surgery coverage. Check with your state and local health and social services to determine if bariatric procedures are covered, as well as the criteria you need to follow.
How to Pay for Bariatric Surgery Out of Pocket
It is possible to pay for the surgery you want without insurance. By examining all angles, you may find that you can scrape together the funds you need to pay for your life-changing procedure.
Medical Loan
Some banks and credit unions offer medical loans. To get approved for a medical loan, you will have to offer up some kind of collateral. With due diligence, you should be able to find relatively low interest rates on these types of loans. It's worth a shot to see if your bank (or a bank near you) offers medical loans for bariatric surgery.
Other options for loans include a life insurance policy loan and money that you can potentially borrow from family or friends.
Medical Credit
CareCredit and Prosper Healthcare Lending are two examples of companies that offer credit lines that can help pay for surgeries like the gastric sleeve. You may be able to use these credit accounts by applying at your surgeon's office. Ask about credit lines during your initial consultation.
Savings
You may be saving up for a home or car but what good are those things if you don't have your health? Investing in bariatric surgery can set you up for a better and longer life, which makes the expense well worth it.
How to Save on Weight Loss Surgery
Deduct the Expense of Surgery on Your Taxes
The IRS considers some medical expenses tax-deductible. If the cost of surgery amounts to more than 10% of your gross annual income, you may be able to deduct those costs from your taxes. That includes surgeon's fees, doctor's fees, hospital costs, prescription medications, and transportation costs. Speak to a tax accountant and do the necessary research so that you can save as much as possible on next year's tax return.
Conclusion
The outcome of weight loss surgery is priceless, especially when you consider that 28,000 adults die from obesity-related conditions each year in the United States. Bariatric procedures like the gastric sleeve can add years to your life. The surgery can also improve your quality of life. Therefore, you can squeeze more living out of your extended years.
To help pay for bariatric surgery, check with your insurance company. Lobby to your HR department if you must and keep accurate records every step of the way. If you are denied coverage by your insurance provider, appeal, appeal, appeal until you've used up all your chances. Being persistent is key to getting covered for gastric sleeve, bypass, and other weight loss procedures.
Learn more about insurance and bariatrics by calling the local leader in weight loss surgery. Healthy Life Bariatrics in Los Angeles is the home of world-renowned bariatric surgeon Dr. Babak Moeinolmolki. The doctor and his surgical staff can answer your questions about insurance coverage as it pertains to bariatric surgery. Our front desk staff can even communicate with your insurance provider on your behalf. Get started by calling our office at (310)807-1735.