Post-Bariatric Belt Lipectomy (Body Lift)
If you have excess skin in equal amounts around your abdomen, back, and hips, you can opt for a belt lipectomy. Dr. Moeinolmolki a bariatric surgery expert in Los Angeles, performs this procedure by making an incision that extends around the abdomen, at about the same height where you typically wear your belt. In some cases, an additional incision is made down the belly's front to the groin area. In most cases, the patient can go home on the day of his/her abdominal skin tightening surgery. At the end of the surgery, Dr. Moeinolmolki places two drainage tubes at the site of the incision. And within seven to ten days, Dr. Moeinolmolki removes the tubes and examines the progress of healing. The patient is also required to wear a binder around the abdomen for around six weeks in order to speed up recovery as well as to protect the sutures.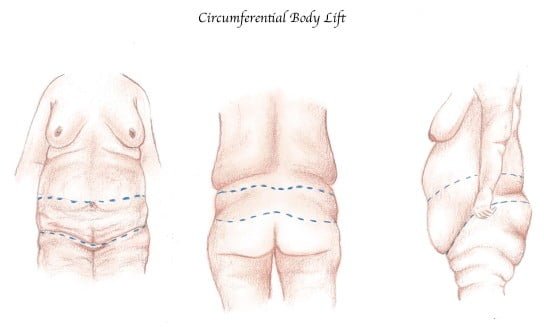 Tummy Tuck Surgery (Body Lift) – Any Risks?
Post-bariatric abdominal tightening procedures and tummy tuck surgery have an excellent safety profile. Like any surgical procedure, these procedures are associated with some risks and complications. But, the risks are few and can be minimized if your surgeon uses meticulous surgical techniques and sound judgment. Using years of experience in the field, Dr. Moeinolmolki aims at making these procedures even more comfortable and safe so that the risks and complications can be minimized.
Many patients are often confused about what type of surgery is most appropriate for their body and physiology. Having the knowledge base that combines weight loss surgery procedures with body contouring allows our revisional bariatric surgery expert, Dr. Moeinolmolki to make the most suitable recommendation to ensure long-term success and consistent results that HLB patients can be proud of. In addition to monitoring your healing progress after body contouring surgery, Dr. Moeinolmolki also offers nutritional guidance while adjusting your diet and physical activity to get the best long-term results. This multidisciplinary approach is part of the difference that you will experience at Healthy Life Bariatrics the best bariatric surgery clinic in LA.