Lap Band Specialist
Laparoscopic adjustable gastric banding, also known as LAP-BAND® surgery, is a highly-effective bariatric procedure. However, in about 9% of patients, We need to remove the lap band and perform another procedure. In such instances, you want the most experienced and skilled surgeon available. In Los Angeles, Glendale, and Encino patients in need of gastric band revision surgery turn to Bariatric Surgeon Dr. Babak Moeinolmolki of Healthy Life Bariatric, located in the city's Century City area.
Want more information? CALL (310) 694-4486!
---
Lap Band Q & A
What is a LAP-BAND and How Can it Help Patients Lose Weight?
As with all bariatric procedures, the Lap-band works by restricting the patient's stomach volume. Less space within the stomach means a reduction in the number of calories that we can consume at any time. That translates into weight loss, which will have a number of positive impacts on an individual's health and wellness. As weight loss progresses, many patients are invigorated by being able to measure and observe the changes in their body, health, and level of energy. That can have a powerful cumulative effect, helping patients to take control of their health and wellness.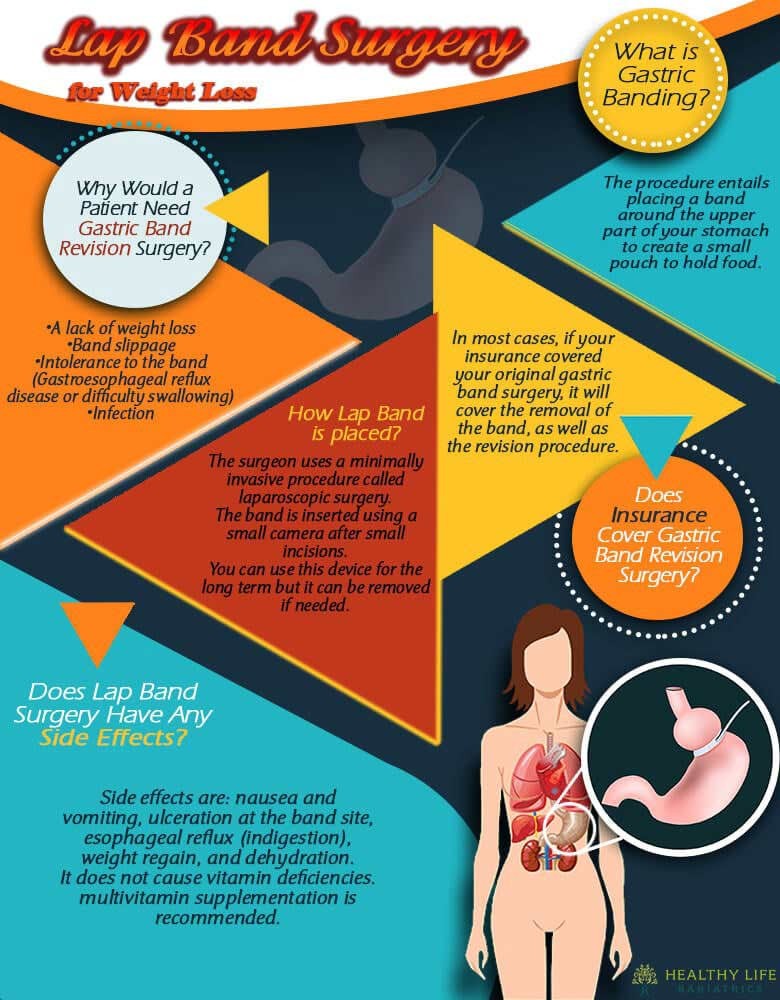 What is Gastric Banding?
Gastric banding, also known as LAP-BAND surgery,  is a laparoscopic surgery used to aid in weight loss. The procedure entails placing a band around the upper part of your stomach to create a small pouch to hold food. The band limits the amount of food that we consume comfortably, causing you to feel full after eating smaller amounts.
What is Gastric Band Revision Surgery?
When gastric band surgery is unsuccessful or complications occur, as is the case in a small percentage of cases, removal of the band is necessary. Following removal of the band, four revision surgery options exist. These are:
Bariatric Surgeon Dr. Moeinolmolki has extensive experience in all of these procedures and recommends the best revision surgery for each patient's health and weight loss success. We might perform revision surgery in a single-stage. We perform band removal and a new weight loss surgery technique at the same time. Or we perform a two-stage procedure in which removal is followed by the revision option at a later time.
Which method is best for you will depend on your situation, but most surgeons recommend a single-stage procedure.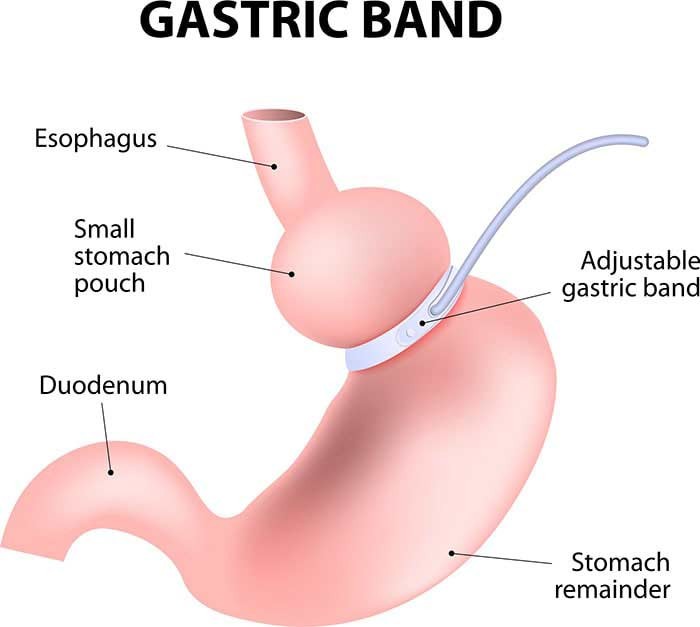 How We Put The LAP-BAND into Place?
As the name implies, we place the Lap-band into position using laparoscopic surgery, which is minimally invasive. We make a few very small incisions in the abdomen and we use a tiny camera to guide the insertion of the band. We use special surgical instruments to place the band around the stomach and then to constrict the band. The band can be adjusted through an access port that is situated just under the patient's skin. The device is designed for long-term use but can be removed through another  if needed.
What Role Does the Patient Play in Supporting the LAP-BAND Weight Loss Process?
Each individual must take control of his or her own weight loss journey. The LAP-BAND system, as with any other bariatric tool, should be considered as a means of supporting weight loss and is not a complete solution in and of itself. Patients must educate themselves on healthy choices, including nutrition and lifestyle modifications. It can take up to 45 days before the patient will be able to consume food that has not been liquefied or softened, and that is a great opportunity to learn to listen to the body's signals regarding hunger and satiation. Steady, gradual change is the best way to achieve success after a LAP-BAND procedure.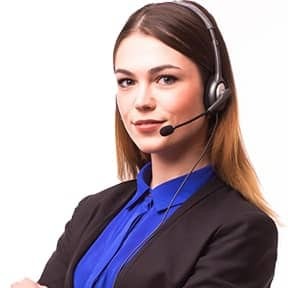 Why Would a Patient Need Gastric Band Revision Surgery?
The most common reasons gastric band revision surgery is necessary include:
Band slippage
Intolerance to the band (Gastroesophageal reflux disease or difficulty swallowing)
Infection
What Do We Consider as Unsuccessful Weight Loss?
Generally, we consider unsuccessful weight loss to be less than 25-30% or less of your excess weight. On the other hand, complete success generally means 50% or more of excess weight loss.
Does Insurance Cover Gastric Band Revision Surgery?
In most cases, if your insurance covered your original gastric band surgery, it will cover the removal of the band, as well as the revision procedure.
LAP-BAND Removal Surgeon Dr.Moeinolmolki in Los Angeles CA
The laparoscopic adjustable gastric band (Lap-Band) is a bariatric procedure most people have heard about. The technique was the most popular weight loss surgery until around 2011. While many patients found initial success with Lap-Band technology, doctors and their patients soon realized that laparoscopic banding – which uses a prosthetic device to shrink the stomach's capacity for food – invited quite a few complications. Problems like slippage, recurring acid reflux, and vomiting caused the Lap-Band to fall out of favor. That being said, the Lap-Band is still prescribed for patients with special medical conditions that make them poor candidates for other bariatric procedures. For these patients, laparoscopic adjustable gastric banding can still be an effective means of attaining long-term weight loss. Generally speaking, however, bariatric specialists tend to prescribe safer and more effective bariatric techniques, such as laparoscopic sleeve gastrectomy (gastric sleeve surgery). At Healthy Life Bariatrics, Doctor Babak Moeinolmolki has vast experience converting the Lap-Band to the gastric sleeve. Call us in Los Angeles, California to schedule a consultation to determine if you are a candidate for the Lap-Band or the low-risk alternative, the gastric sleeve.
Start Your Weight Loss Journey Now!