Be Free Of Excess Skin And Attain A Shapelier Figure.
What is the difference between bariatric weight loss surgery and body contouring?
Bariatric surgery (weight loss surgery) helps patients lose excess weight through calorie reduction and lifestyle modification. Body contouring procedures help you achieve your body-shape goals after you have attained your ideal weight.
Bariatric surgery aims to promote weight loss. After the weight has come off and stabalized, post-surgical body contouring can help to remove any excess skin left behind. Used in conjunction, these two methods can improve your body shape and self-confidence.
At Healthy Life Bariatrics, both types of surgery can be used together to help patients lose excess weight and feel more confident while under the care of a single world-renowned plastic surgeon, Dr. Moeinolmolki.
Get a Body Contouring Plan Customized for Your Physique Shaping Goals
When you are under Dr. Moein's care, you never have to wonder when to schedule one or more body contouring procedures. Many patients opt for body contouring only, while others require bariatric treatment before body contouring can be performed.
If weight loss is your goal, Dr. Moein will schedule body contouring only after you have properly recovered from bariatric treatment. The precise timing of treatment alleviates you from having to track your own recovery and will ensure optimal results while keeping your physique-building goals on track.
Weight loss medication or surgery is not always necessary for patients to achieve their body goals. When body contouring is sufficient to treat stubborn areas of fat, Dr. Moein provides an unbiased recommendation, as he is not limited to only weight loss interventions or body contouring. Schedule an initial consultation with Dr. Moein to receive a customized and comprehensive body contouring treatment plan to achieve the physique you desire.
Here are just a few of the body contouring procedures available to you. Learn if one or more of these body shaping treatments are right for you during your initial consultation.
Smart Lipo for Body Sculpting and Contouring
Smart Lipo is a low-risk cosmetic procedure that delivers the results of traditional liposuction without invasive techniques or extended recovery times. Since laser technology is used, you can expect less bruising, swelling, and discomfort when compared to other cosmetic procedures. The procedure can remove up to eight pounds of body fat, providing a slimmer, more youthful appearance.
SmartLipo is useful for patients who feel unsatisfied with the contours of their body, and remain frustrated by fat deposits that won't budge, despite healthy diet and exercise.
Post-surgery, you will be required to wear a compression garment that serves to support and protect the treated area. You may experience minor swelling that will subside over time.
Healing is generally swift for the SmartLipo procedure, with most patients returning to normal activity levels within a day or two.
Tummy Tuck/Abdominal Tightening for Greater Aesthetics & Comfort
Abdominoplasty, more commonly referred to as the tummy tuck, is a surgery designed to flatten the abdomen by removing excess fat and skin and tightening the muscles in and around your abdominal wall. This procedure can give you a flatter tummy and boost of confidence following significant weight loss aided by bariatric surgery like gastric bypass, ballon, and etc.
A tummy tuck is recommended for patients who remain unsatisfied with excess fatty deposits and/or loose skin around the belly area.
Patients can opt for a full and partial or mini tummy tuck. The mini tummy tuck is useful when fatty deposits are limited to the area below the belly button. Both procedures involve the surgical contouring of your skin, tissue, and muscle. The surgery can take anywhere from one to five hours and is conducted under general anesthesia.
Dr. Moein generally recommends up to a month off work post-surgery, depending on your job description. Generally, most patients are able to return to full normal activity levels in about six weeks following surgery.
If diet and exercise have failed to get you the flatter tummy you desire, ask Dr. Moein if a tummy tuck is right for you.
Belt Lipectomy/Body Lift for a Slimmer Physique
A post-bariatric belt lipectomy is designed to remove excess skin from your abdomen, back, and hips. This procedure gives your midsection a slimmer appearance, making clothes fit better and enhancing your appearance after you've lost the excess weight.
The procedure is particularly life-changing for patients who achieve massive weight loss resulting in loose skin on the abdomen, back, and buttocks. The surgery uses an incision that extends around your abdomen, through which Dr. Moein shapes the underlying contours and removes excess skin and fat until the desired effect is achieved.
Skin Removal After Weight Loss Surgery – What You Should Know
Thigh Lift for Shapelier Legs
After bariatric surgical weight loss, you may find that the skin around your inner thighs has become loose, obscuring the true shape of your thighs. Aging produces the same sagging effect as your skin loses its natural elasticity. A thigh lift removes excess skin that can result from bariatric weight loss surgery. The procedure smooths the contours of your thighs, giving you slimmer legs and a boost of newfound confidence. Thigh surgery involves the removal of excess thigh skin to restore a proper contour to the upper thighs. Dr. Moein is a thigh lift surgery expert and will ensure your comfort and satisfaction throughout surgery and beyond.
Butt Lift/Butt Augmentation for a Firmer & Rounder Backside
Post-bariatric butt augmentation is designed to give you shapelier buttocks to compliment your new figure. The procedure makes use of both implants and fat grafting to make your backside appear more rounded.
Dr. Moein will recommend a butt lift procedure for patients who experience significant sagging to their buttocks area post-surgery.
The procedure involves the removal of excess skin before fat grafting and implants are applied to give the butt a fuller look.
In some cases, the butt lift can be combined with the thigh lift to provide an effect known as a Spiral Lift.
Ask Dr. Moein in Los Angeles CA if a butt lift will support you in achieving your body goals.
Breast Lift (Mastopexy)/ Augmentation for a Perkier Chest
Women undergoing bariatric surgery often worry about the appearance of their breasts after losing excess weight. A breast lift or breast augmentation is designed to reconstruct the contour of the breasts to restore a youthful size and shape. The procedure can enhance the size and shape of your breasts to complement your body frame following the significant fat loss.
A breast lift or augmentation procedure is recommended for patients concerned about flattening or sagging of the breasts following bariatric surgery.
The procedure involves the surgical contouring of the breasts and in some cases implants and repositioning of the breasts and/or nipples to enhance their appearance.
Patients who undergo a breast lift or augmentation procedure report more body confidence and comfort in form-fitting clothes.
Ask Dr. Moein if a breast lift or augmentation is right for you during your initial consultation.
Arm Lift/ Arm Reduction Surgery for Slimmer Upper Limbs
After bariatric weight loss surgery, many patients experience arm skin sagging, particularly around the upper arms. An arm lift or arm reduction surgery can give your upper limbs a firmer contour to match your new slimmer body. The procedure uses general anesthesia and involves the surgical reshaping of the upper arm. Dr. Moein will remove the excess skin and tighten your underlying arm tissues.
By removing the loose skin, an arm lift or reduction can give your arms a far more toned appearance.
Varicose Vein Treatments for More Beautiful Looking Skin
Varicose vein treatment is designed to treat unsightly varicose and "spider" veins, along with any associated symptoms. Using laser technology, Dr. Moein can diminish the appearance of varicose veins, eventually causing them to disappear altogether.
Varicose veins are raised and bumpy veins that appear on the legs, but also the face in some cases. These veins are separate from "spider" veins, which are blue, red, or purple. Both types of veins consist of twisting and turning veins that are visible just below the skin's surface and sometimes accompanied by a dull ache, fatigue, and/or severe pain.
Varicose vein treatment is recommended for patients who want immediate relief from varicose or "spider" veins with a fast, comfortable procedure.
Dr. Moein uses several treatments for varicose veins, depending on the severity of the condition, including spider vein injection, laser ablation, or vein stripping.
Spider Vein Injection
Dr. Moein will inject the problem veins with a sodium solution, that causes the veins to collapse and clot. Over time, the blood vessels will turn to scar tissues and the spider veins will fade entirely from view.
Laser Ablation
Laser technology will be used to blast varicose veins with powerful bursts of light. The light particles will fade the veins until you can't see them at all.
Vein Stripping
During this procedure, Dr. Moein will place you under a general anesthetic before "pulling" the veins from underneath your skin. While spider vein injections and laser ablation may offer shorter recovery times, it can take up to two to four weeks to recover from varicose vein stripping.
More severe varicose veins may require additional and more complex treatment. Ask Dr. Moein for details regarding the specifics of your case, and if varicose vein treatment may be right for you.
Combine Weight Loss Treatment & Cosmetic Body Contouring for a Whole Body Transformation
These are just some of the procedures Dr. Moein may recommend for you on your weight loss journey. Since Dr. Moein is a unique surgeon practicing both bariatric weight loss surgery and cosmetic body contouring procedures, you get to take advantage of a complete body makeover using proven medical techniques.
Bariatrics helps you defeat obesity while body contouring can restore your body to match your weight loss progress. By working with a single skilled and artistic surgeon, you will receive a customized bariatric and body contouring program tailored toward your unique goals and budget.
Destination Surgery – Life-Changing Results from Anywhere in the World
While Dr. Moein proudly serves the Los Angeles area, destination surgery is also an option. Patients regularly arrive from as far away as Asia and the Middle East to experience life-changing results under the care of a single renowned surgeon, Dr. Moeinolmolki.
Get the Destination Surgery Experience by visiting beautiful L.A. and Healthy Life Bariatrics. You can expect impeccable results and utmost care in a professional office with friendly and helpful staff.
Get the physique and shape you desire, no matter where you happen to be, by scheduling a virtual consultation with Dr. Moein.
Are You a Good Candidate for Post-Weight Loss Body Contouring?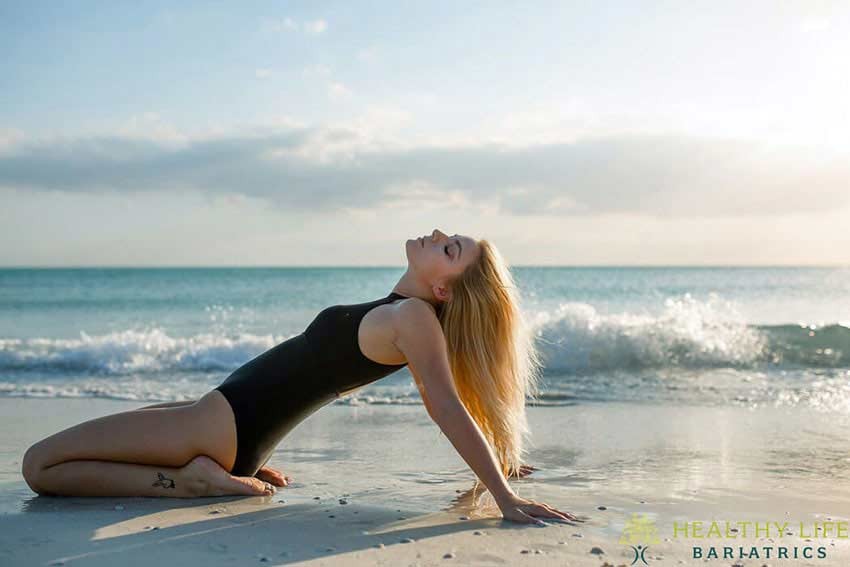 A breast lift, arm lift, or tummy tuck may be just what you need for the ultimate body contour and a surge of confidence following bariatric weight surgery. While these are considered cosmetic procedures, they are still surgery and thus do come with some risks. However, you are at a distinct advantage by choosing renowned surgeon Dr. Moeinolmolki. Dr. Moein cares about your well-being and post-surgery satisfaction. That is why he uses a combination of bariatric surgery, body contouring, medically supervised diets, and dietary medicines to help you achieve a life-changing outcome.
Ask Dr. Moein about combining bariatric weight loss surgery and cosmetic body contouring into a single life-changing package during your initial consultation.