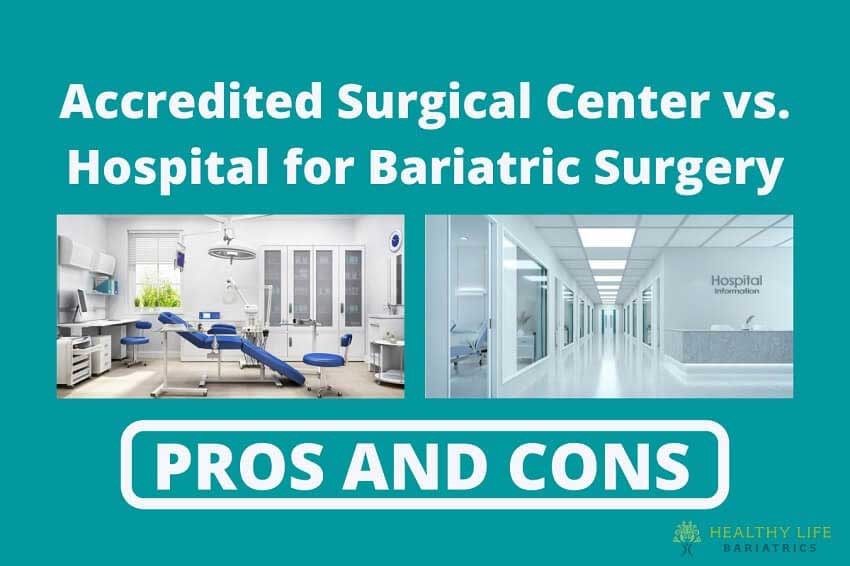 In the past, it was understood that hospital facilities were meant for the sick and for those who needed surgical procedures. You also knew that if you had to go to the hospital for surgery, your inpatient treatment and recovery could take weeks or even months before you were well enough to return home.
Read our article: Recovery After Weight Loss Surgery: 7 Tips for an Easier Time
Things are much different today thanks to improvements in medical technology. With techniques like minimally invasive surgery, surgeons can performprocedures like bariatric surgery on an outpatient basis. Not only that, but many accredited surgical centers have now replaced hospitals as the places to be if you want to receive bariatric treatment.
Otherwise referred to as ambulatory surgery centers (ASCs), these accredited centers are designed to streamline low-risk procedures.
If you are considering bariatric surgery for the treatment of morbid obesity and weight-related ailments like type 2 diabetes, high blood pressure, and sleep apnea, you might be wondering which location might be the best for your needs and health. Should you choose a hospital, or should you choose an ASC?
This article will help answer your questions and alleviate your concerns. What follows are the pros and cons of choosing an accredited surgical center over a hospital when considering a bariatric procedure.
What is an Accredited Bariatric Surgical Center?
An accredited or ambulatory surgical center (ASC) is a healthcare facility that allows you to have a same-day surgery, such as laparoscopic gastric sleeve surgery (sleeve gastrectomy) or Roux-en-Y gastric bypass surgery. Other procedures you might opt for include laparoscopic gastric banding (Lap-Band), duodenal switch surgery, and the non-surgical gastric balloon.
Read our article: Gastric Balloon Dietary Guidelines for Astonishing Weight Loss
Instead of staying for a night or multiple nights in the hospital for one of these procedures, an ASC allows you to walk in and be home before you know it as you prepare to heal from your life-saving surgical procedure.
Why would you want to do that? Here are some benefits of choosing an ASC over a hospital, otherwise known as the pros of your decision.
Benefits of Choosing a Bariatric Surgery Center Over a Hospital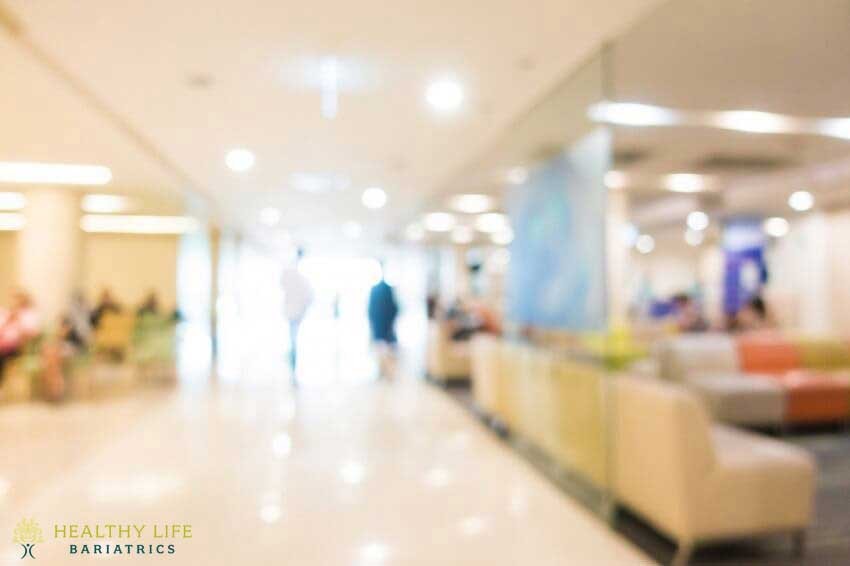 Less of a Wait
Everyone knows hospitals are known for their quality of care, but the care you receive isn't always fast. If you go to a hospital, you may find yourself staying overnight or up to a week as the staff hustle, bustle, and tend to other patients.
After bariatric surgery, you may feel stressed and anxious. The last thing you want to do is languish in a hospital room. Wouldn't you rather be home to rest up from your procedure with all of your familiar comforts? Of course you would! The speed of care is one of the most significant benefits of choosing an ASC over a hospital for bariatric surgical care.
When you choose a bariatric surgical center, you can be home the very same day, allowing you to recover conveniently at home.
Lower Bariatric Surgical Costs
Everyone knows that a single night's stay in a hospital can be expensive. Look at the bill after a few nights and you might get a nosebleed from the tally being so high. This is due to the fact that hospital stays and insurance deductibles keep rising. This has caused many bariatric surgery patients to choose accredited surgical centers over hospitals in the hopes of keeping their costs as low as possible.
Read our article: Cost Breakdown of Weight Loss Surgery
Studies have shown that having outpatient surgery at an ASC is more cost-effective than choosing a hospital for the same procedure. Why are surgical centers less expensive? One major reason is that ASCs don't have the overhead costs of emergency surgery equipment and staff. This helps to make bariatric surgery more affordable.
Personalized Care
Accredited bariatric surgical centers aim to cater to only a handful of surgeries, such as the gastric sleeve, gastric bypass, and Lap-Band.
Read our article: Gastric Sleeve Surgery: How Do You Know It's Time?
This narrow focus allows staff to schedule appointments quickly and effectively to avoid overbooking procedures. The staff is also less likely to be overworked, which isn't always the case in a hospital setting. Talk to any nurse in a hospital and they'll lament about all the patients they have to see during an average shift, which can negatively affect the quality of care.
When you choose an ASC for your bariatric surgical needs, you get 1:1 care, making you feel like a person instead of just another patient file number.
Accredited Surgical Centers Can Be Safer
Hospitals house many distinct types of people who require care, including those with transmissible illnesses. Even though you may be in the hospital for a safe and effective procedure like gastric sleeve surgery, you could find yourself with an infection due to your close proximity with other sick patients.
ASC staff will be quick to reschedule you if you are ill to prevent the spread of infection to other surgical patients. This means there is fewer risk when you choose an ASC over a hospital setting for weight loss surgery. You also spend less time in an accredited surgical center when compared to a hospital, which further lowers health risks.
As you can see, there are many benefits to choosing an accredited center over a hospital. Now let's see if there are any negatives or cons to making that choice.
Downsides of Choosing an ASC Over a Hospital for Weight Loss Surgery
Surgical Centers Offer Varying Levels of Quality Care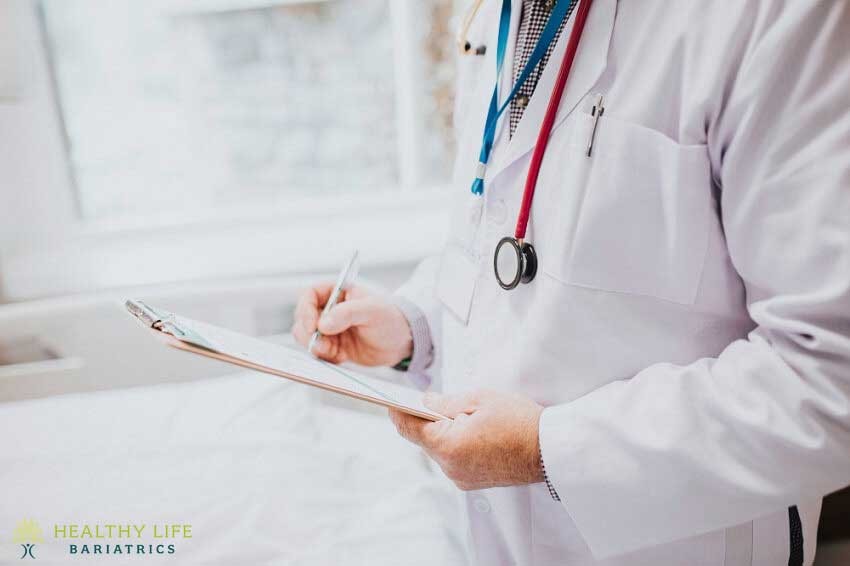 A study showed that chain bariatric surgical centers sometimes offer lower quality of care when compared to a hospital for the same surgery. When you go to a chain business, you expect to receive the same level of care whether you go to one facility or another across town. This might not be the case when a company has a large number of facilities to keep track of.
On the other hand, surgical centers that offer an individual location have not been shown to have this issue. You can guard against any risks to your health by asking the bariatric surgeon about the quality of care and why you should choose their surgical center over a hospital.
Ask the surgeon about the health and outcomes of their patients. You don't want any surgeons that cut corners. That is less likely to happen when you visit a surgical center that doesn't work with the franchise or chain model.
Some Surgical Centers Don't Prioritize Sanitation and Cleanliness
State inspectors are tasked with gauging infection control with regard to discarding surgical items, sanitizing supplies, and clearing dust from equipment, just to supply some examples.
Hospital settings are known for focusing on sanitation and cleanliness. Staff washes their hands regularly and everything, from beds and equipment to countertops and floors, is cleaned regularly.
If you want the speed and personalized care that an ASC supplies but you're worried about cleanliness, ask to see the inspection reports the center recently received. You can also gauge the cleanliness of the facility when you walk in for the consultation. Is everyone washing their hands? Is there dust everywhere? If the bariatric surgeon mentions cleanliness and everything is clean when you enter the environment, you are more likely to receive safe care, just as you would in a hospital setting.
Surgery Centers May Not Be Equipped for Emergencies
As with any surgery, bariatric procedures do come with some semblance of risk. The risks involved with surgery include blood clots, infection, and excessive bleeding, to name a few.
In a hospital setting, emergency equipment is close at hand. The nursing staff is also trained to deal with surgical complications as they arise.
In an ambulatory surgical center, the staff may need to transfer you to a hospital if you undergo an emergency situation during or after your bariatric procedure. But not always.
You can guard against this negative aspect of ASCs by asking the bariatric surgeon during your consultation about emergency protocol. Many surgical centers have agreements with local hospitals that allow the staff to transfer patients quickly to the hospital if emergencies arise. The surgical center may also have emergency equipment. This will allow the staff to deal with infections, blood clots, or other emergencies in-house.
Should You Choose an ASC or Hospital for Bariatric Surgery?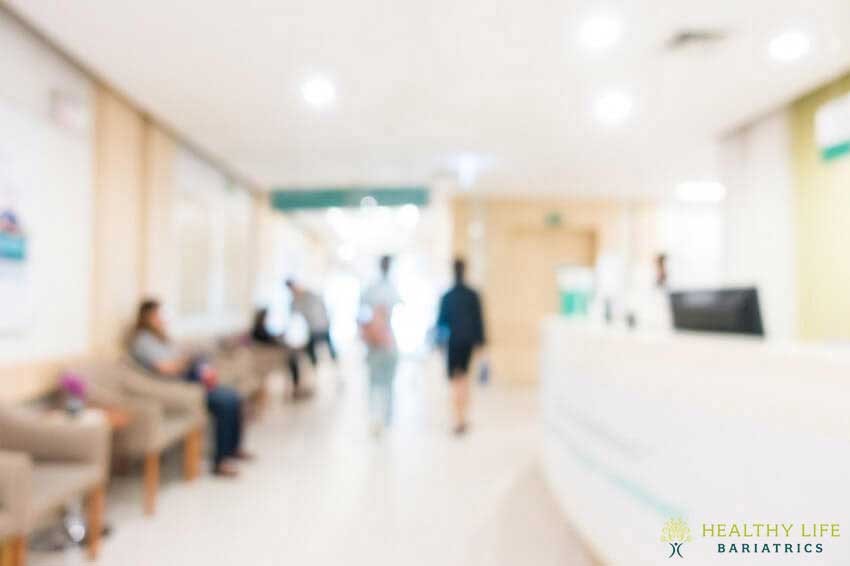 If you want faster service, personalized care, lowered costs, and to be home in a flash following your procedure, the choice is clear. An accredited ambulatory surgical center is the best way to get all that when compared to a hospital setting.
To guard against any of the negatives we mentioned above, here is what you should do:
Make a list of local bariatric surgeons. You can type "bariatric surgeon near me" into Google and you'll receive several listings for surgeons in your area.
You can narrow down your list by reading the Google My Business profiles (GMBs) of the surgeons you are considering. Pay attention to the Google reviews listed with each GMB listing. Google reviews are excellent for finding patients who had positive experiences when choosing that bariatric surgeon for their needs.
Gauge each surgeon's experience and training. You can determine the level of experience and quality of training by visiting the websites of each surgeon on your list. Read the about pages for each surgeon to decide which one will give you the care and outcome you expect.
Look at Before and After photographs. Most bariatric surgeons publish before and after photos on their websites.
Choose bariatric surgeons that work out of an ambulatory surgical center as opposed to a hospital if you want all the benefits we've listed above.
Schedule a consultation with the best bariatric surgeon on your list. A consultation is a sit-down meeting with the surgeon. It allows for a physical examination and discussion related to the state of your health and weight loss goals. You can also learn about the risks of surgery as well as the lifestyle changes you will have to make if you hope to be successful with bariatric surgery.
During the consultation, ask about cleanliness, sanitation, the most recent inspection reports from state inspectors, and emergency protocol in case anything goes wrong.
It may take one or a few consultations with bariatric surgeons before you find one that suits your needs. Or you could choose the best bariatric surgeon in Southern California, Dr. Babak Moeinolmolki.
Dr. Moeinolmolki of Healthy Life Bariatrics in Los Angeles is compassionate, caring, skilled, and has a friendly bedside manner – everything you could want in a bariatric surgeon.
Healthy Life Bariatrics is an accredited ambulatory surgical center that focuses on sanitation, cleanliness, safety, and personalized care.
Visit the office's about page to learn more about the center and about Dr. Moein's experience and training. While you're at it, read HLB's Google reviews to see just how much the doctor and staff prioritize cleanliness and patient safety.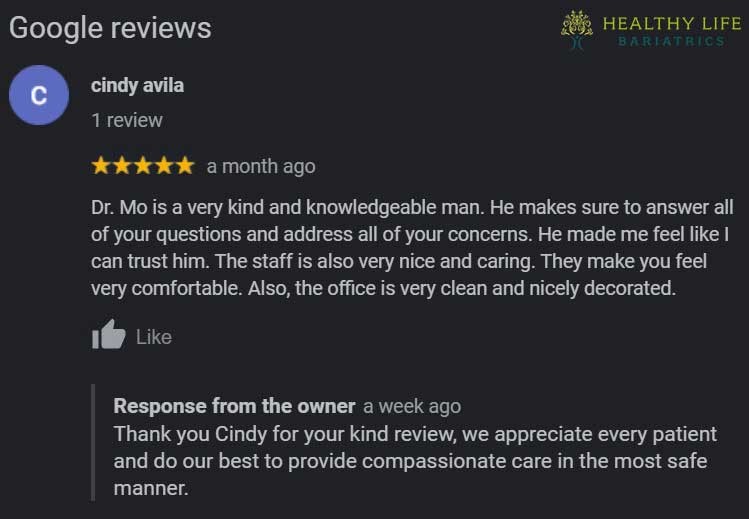 With morbid obesity becoming an epidemic worldwide, bariatric surgery is one of the best ways to treat both obesity and weight-related ailments like type 2 diabetes, heart disease, joint pain, and several cancers.
If you are considering bariatric surgery and you live in or near Los Angeles, California, schedule a consultation with Dr. Moeinolmolki and his compassionate staff. What do you have to lose? A single phone call could lead to a greater quality of life, a healthier life, and a potentially longer life as well. Call today to get started (310)694-4486.