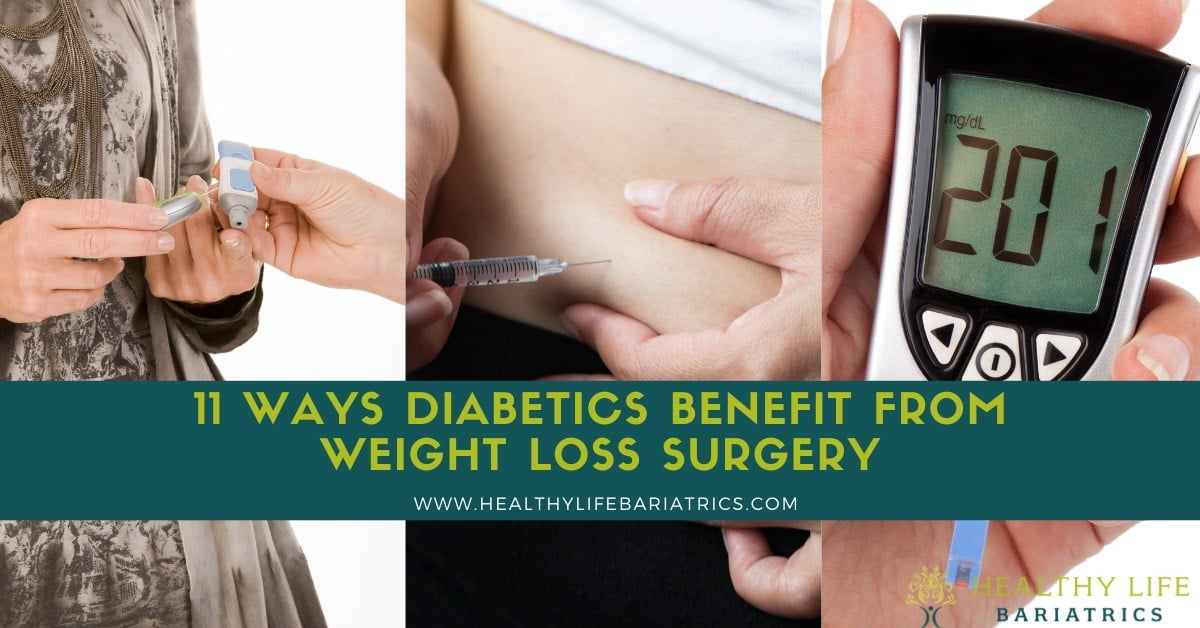 Type 2 diabetes and weight loss surgery (bariatrics) are often discussed together.
That's because, with over 98 million people currently struggling with obesity, many obesity-related ailments are wreaking havoc on people's health.
Type 2 diabetes is one of those conditions.
According to the Obesity Action Coalition, obesity and type 2 diabetes can substantially decrease your life expectancy, diminish your quality of life, and cause your healthcare costs to rise.
Weight loss surgery, such as the gastric sleeve (sleeve gastrectomy), holds many benefits for those with diabetes. The surgery may even mitigate the disease entirely.
Here are eleven benefits to expect as a diabetic undergoing weight loss surgery, some of which may surprise you.
1- A Significant Drop in Weight
Weight loss procedures like the gastric sleeve and gastric balloon can contribute to a loss of 40% to 60% of your excess weight within the first two years. That can contribute to a lower number on the scale and lost inches on your waist.
With the weight melting off, you should begin experiencing a boost of energy. You should have more motivation to continue along on your weight loss journey, without the symptoms of type 2 diabetes getting in your way.
2- Improved Blood Pressure
Hypertension (high blood pressure) is a symptom of both obesity and type 2 diabetes. Weight loss surgery tends to help patients with t2d and obesity get their blood pressure under control.
3- Better Cholesterol
Type 2 diabetics who are also obese are at greater risk of developing high cholesterol. A number of factors contribute to this condition, including a lack of exercise, poor eating habits, and excess weight. Women tend to be at higher risk than men for this condition.
Bariatric surgery can help to reduce cholesterol in type 2 diabetics. In fact, the Mayo Clinic states that losing as little as 5% to 10% of your excess weight can significantly improve your cholesterol levels.
4- Reduced Triglyceride Levels
When your doctor measures your cholesterol, he or she measures your HDL (good) and LDL (bad) cholesterol levels. Your doctor will also measure your triglyceride levels.
Triglycerides are the most common type of fat in the human body. A diet high in calories (especially carbohydrates) can increase the production of triglycerides. These triglycerides are then stored in your fat cells. When your body releases these triglycerides, they get released as fatty acids that create heat, fuel your body's movement, and provide energy for certain body processes. Too much fatty acids in your body can be harmful.
Bariatric surgery has been shown to decrease triglycerides in patients suffering from t2d and obesity.
5- Lower Risk of Heart Disease and Early Death
A Harvard study found that weight loss surgery patients with t2d and obesity reduced their risk of death by 40% over the eight years the group was observed. The group also saw a significant reduced risk of heart disease. This will contribute to significant benefits for all cardiovascular (CV) outcomes compared to individuals who did not opt for surgery.
6- Low Risk of Complications
The FDA has approved the use of bariatrics to treat obesity and obesity related conditions. The risk of complications and death with bariatric surgery is incredibly low. In fact, weight loss surgery is similar in risk to well-accepted procedures like gallbladder surgery.
7- Improvement of Diabetes Related Health Problems
As a type 2 diabetic, your body does not make enough insulin (or doesn't make insulin at all). When that happens, the glucose in your body cannot get to your cells. This causes the sugar to stay in your blood, which can lead to a range of health problems if left unchecked. These ailments can go on to affect the nerves, eyes, and kidneys.
Weight loss surgery has been shown to reduce the effects of type 2 diabetes immediately following the bariatric procedure.
8- Lower Health Care Costs
Having weight loss surgery performed as a type 2 diabetic might mean greater health care savings. A large national study of insured patients with obesity and t2d showed a reduction in the diabetic patients' annual health care costs within two years following their procedures.
9- Lessens Your Need for Diabetic Medication
A high number of weight loss surgery patients with t2d go on to experience a complete independence from diabetes within the initial months after surgery. Those patients are able to toss out their medications (with their doctors' advice, of course).
10- Bariatrics Can Reverse Diabetes
Metabolic and bariatric surgery is the most effective treatment for type 2 diabetes among individuals affected by the disease of obesity. In almost all cases, type 2 diabetics who undergo gastric surgery experience an improvement in t2d symptoms or complete remission of the disease entirely.
Bariatric patients who have weight loss surgery within five years of their diabetes diagnoses have the highest likelihood of complete remission of the disease.
11- Assistance with Living a Healthier Lifestyle
Weight loss surgery, also referred to as bariatric surgery, can not only help you lose weight and reverse diabetes, but you can get help living the ideal (healthy) lifestyle.
Bariatric surgery must be performed within accepted guidelines. This includes ongoing patient education and follow-up care. Your surgeon wants to ensure that you are living a healthy lifestyle, which includes eating nutrient rich foods and getting adequate exercise. This level of care can help you put diabetes behind you so that you can get used to your new, healthful, and energized life.
Many insurance companies do cover weight loss surgery, since studies are showing that bariatrics contributes to health and can help treat type 2 diabetes.
Your insurance company may ask you to complete a weight loss program before turning to bariatric surgery. This shows the agency that you attempted to lose weight the conventional way before opting for surgery.
If you don't have coverage by your health insurance provider, the surgery can cost between $11,500 and $26,000, but you may be able to deduct the costs from your federal income taxes. Ask your bariatric surgery about financing options with companies like CareCredit and Prosper Healthcare Lending.
Want to Know if You're a Good Candidate for Weight Loss Surgery?
You now have eleven reasons to seek out weight loss surgery as a person suffering from obesity and type 2 diabetes. Imagine being able to shed the weight and toss out your medications because your t2d went into remission? That reality can be yours. The first step is to schedule a consultation with world-renowned weight loss surgeon Dr. Babak Moeinolmolki.
Dr. Moein (for short) will assess your health and body shape goals. From there, the doctor can recommend popular weight loss surgeries like the gastric sleeve or the non-surgical gastric balloon. Choose a time that works best for you by calling (310)694-4486.