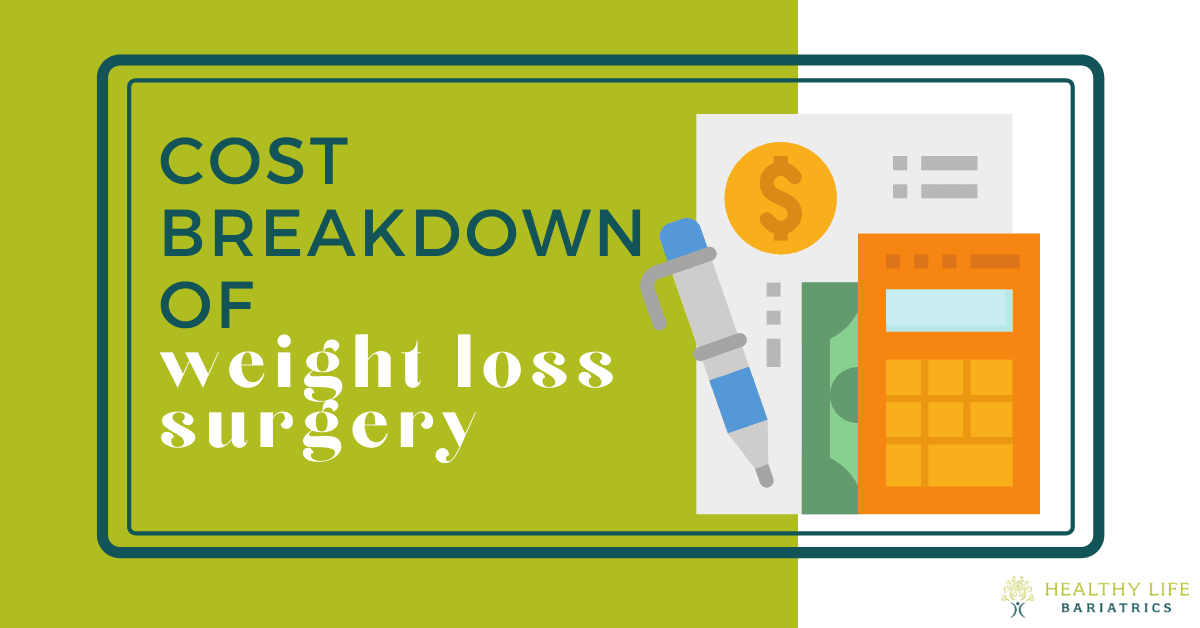 Disclaimer: The following cost breakdown of weight loss surgery is a generalization only. Schedule a consultation with Dr. Moeinolmolki to receive a more accurate quote for a specific bariatric procedure.
The cost of weight loss surgery is a topic that gets brought up during every weight loss surgery consultation. That's understandable, as most people don't want to commit to bariatric surgery until they know they can afford it. That being said, you should never let a thing like the cost of surgery keep you from enriching your life with improved health.
Weight loss surgeries range in cost between $6,000 and $25,000 or more. But that's not the whole story. Instead of seeing the cost as a single figure, it helps to break the costs down into their individual counterparts. Then it helps to change your perspective. Do that and you'll soon see that the costs involved with weight loss surgery are not that high at all. In fact, it is well worth it.
Here is a breakdown of the fees associated with weight loss surgery, starting with the total cost of today's most popular bariatric procedures.
How Much Does Bariatric Surgery Cost in Los Angeles, CA?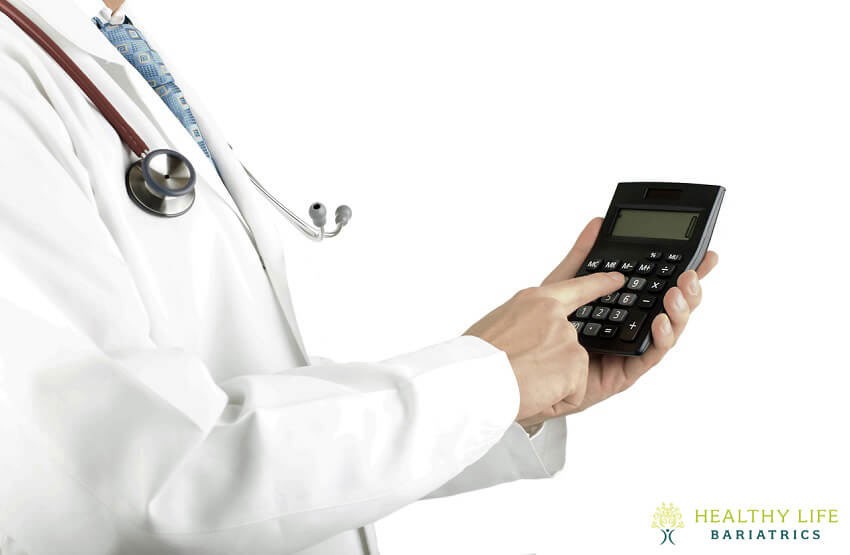 The first factor that goes into determining the cost of bariatric surgery is the type of procedure performed. The most popular weight loss procedures in use today include:
Cost of Gastric Bypass
Medically speaking, this surgery – which is considered the gold standard of bariatric procedures – is referred to as Roux-Gen-Y gastric bypass surgery. During the procedure, your stomach is made smaller before your digestive system is slightly rerouted. The result is rapid weight loss, more energy, and a renewed zest for life. On average, patients of gastric bypass surgery lose 70% of their excess weight for a total cost of $23,000.
Cost of Gastric Sleeve
The Sleeve Gastrectomy or Laparoscopic Sleeve Gastrectomy (LSG) involves the cutting away of 75% of your stomach. The resulting tissue is formed into a sleeve-like pouch that restricts your eating. The alteration of your stomach also affects the hunger and satiety hormones. This makes you feel less deprived as the weight melts away. Weight loss surgery patients who opt for the gastric sleeve go on to lose 50% or more of their excess weight for the long term. The gastric sleeve comes with an average price tag of $15,400.
Cost of Lap Band
Laparoscopic Gastric Banding or Lap-Band is a surgery that uses an adjustable band to shrink your stomach's capacity for food. Patients go on to lose 25% or more of their excess weight for a total cost ranging from $9,000 to $18,000.
Cost of Gastric Balloon
The intragastric balloon is an inflatable device that gets implanted into your stomach using a thin tube inserted into your esophagus. The device is inflated using laparoscopic tools so that it takes up room in your stomach. You will eat less as a result, leading to rapid weight loss. Patients average around 10% weight loss while other reports indicate weight loss between 15% and 20%. You can expect to spend between $6,000 and $9,000 for a round of gastric balloon treatment, which lasts for around six months.
Now you know the total cost of the most popular bariatric procedures. It helps to understand how those costs are broken down.
Breakdown of Bariatric Surgery Fees in Los Angeles, CA
Surgery Type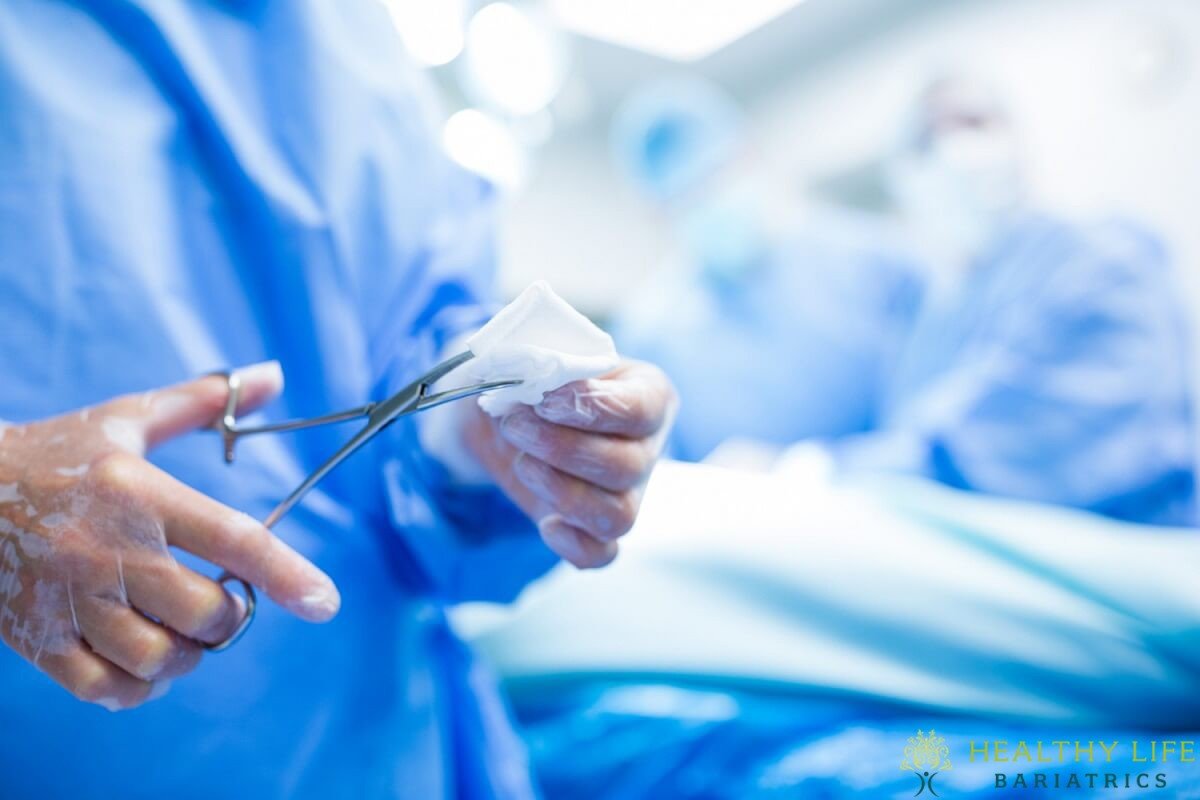 We've already discussed the various types of surgery. Your doctor will recommend a surgery type based on your BMI and health goals.
Surgeon's Fees
Your bariatric surgeon has undergone extensive medical training and has honed his or her surgical techniques over many years of caring for patients just like you. The surgeon will charge a fee that will be added to the total cost of surgery based on the professional's expertise, your location, and the complexity of the procedure.
Surgical Center
If the surgeon conducts your surgery at a hospital, your total costs may include the operating room fees, a short hospital stay, and associated fees. Or your doctor may have an accredited surgical center, which will include a separate set of fees, including any follow-up aftercare.
Professional Fees
Your surgeon is one of several people who will be present during your surgery. For this reason, you may see added charges for professionals, such as a surgical assistant, anesthesiologist, and one or more nurses.
Medical Devices
Your procedure may involve high-tech equipment, such as a laparoscopic camera and other minimally-invasive tools, which can also add a tiny bit to the final bill.
Aftercare
When you are preparing for a bariatric procedure, the day of surgery can seem like such a final event. Rarely do patients look beyond surgery to any degree before the procedure has occurred. However, you should know that you will be receiving follow-up care. This care is necessary for helping you achieve your health goals. It can include nutritional counseling, psychological support, and follow-up appointments with your bariatric surgeon. Each of these elements carries its own set of fees.
Why is Bariatric Surgery so Expensive?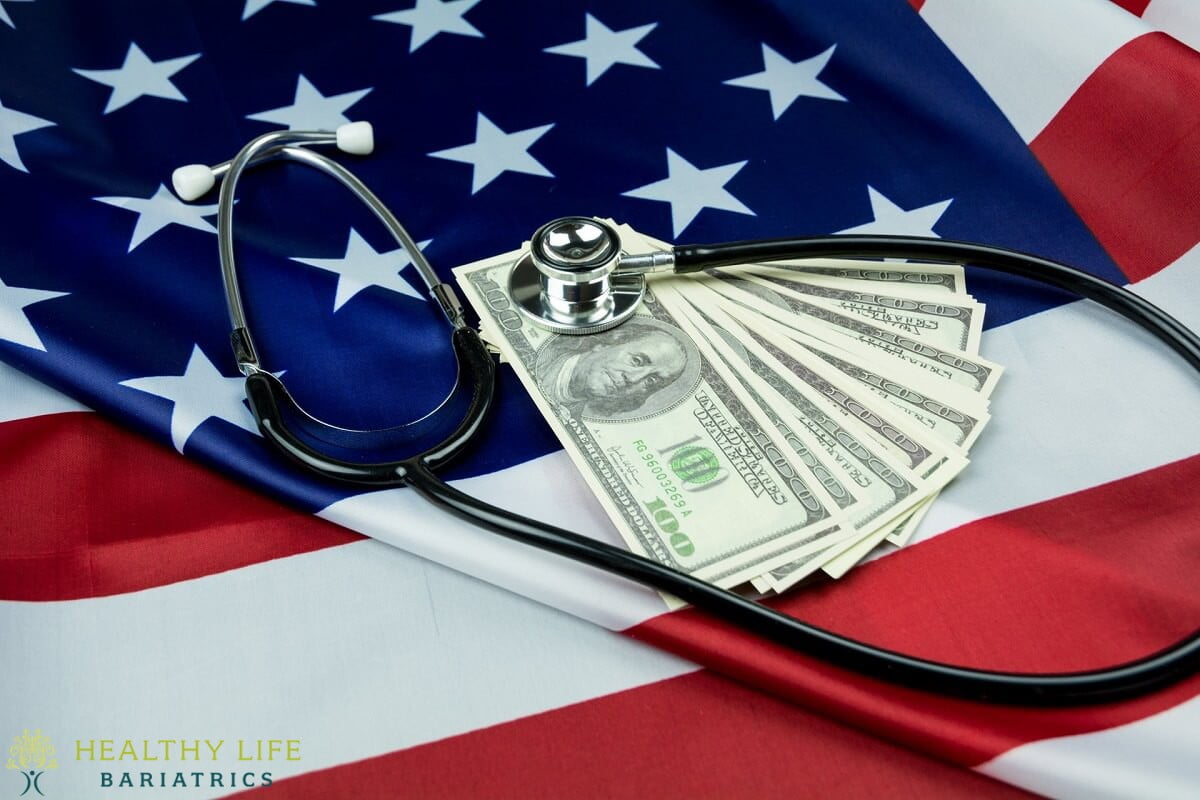 By now the methods doctors use to determine their fees should become more apparent. If you feel that the fees being charged for bariatrics are too expensive, it may help to alter your perspective. For instance, consider this: You will potentially spend more on medical expenses for obesity-related health problems than you will on a single bariatric surgery.
Here's the proof: According to a report by U.S. News, health care costs for obese individuals are $1,900 higher than those paid by their normal-weight peers. The severely obese pay an additional $3,100 per person based on Americans with a normal BMI.
The body mass index or BMI scale considers someone with a 25 BMI to be of normal weight. BMIs of 40 and above are considered morbidly obese or severely obese. If you fall within these categories, you may face rising medical costs to the tune of tens of thousands of dollars over the next five to ten years. You could've already paid off a weight loss procedure and enjoyed a slimmer, healthier body in that same span of time.
The fact is, weight loss surgery costs as much as a vehicle, and people sign finance agreements for those all the time. Weight loss surgery should be seen as no different. Instead of stepping into a new car, truck or SUV, you get to choose a new body with more energy and life enjoyment than before.
A vehicle will depreciate, but weight loss surgery results progress over time, allowing you to enjoy the fruits of your decision for years into the future.
Once you put the costs of weight loss surgery into better perspective, you'll see that the price isn't that high at all.
But what if you don't have the money for weight loss surgery?
How to Afford Weight Loss Surgery 
Few people can immediately hand over $5,000, $10,000, or as much as $29,000 for weight loss surgery. This is why it helps to understand all of your options as far as payment is concerned.
Insurance
Health insurance providers are increasingly adding weight loss surgery coverage to the policies they offer. Ask your insurance provider for your coverage options. You may find that you need a letter of necessity from your doctor, which states that bariatric surgery is needed for health reasons. Health insurers often want to see proof that you have tried to lose weight through conventional means. They do it before giving the green light for coverage. You may need to show receipts for gym classes, nutrition programs, and possibly proof of a psychological examination.
Financing
Even with insurance coverage, you may find yourself facing a hefty out-of-pocket expense. This is where medical financing can help you foot the rest of the bill. CareCredit and Prosper Healthcare Lending are but two examples of organizations that can give you fast approvals and significant loan amount to pay for your bariatric procedure.
Crowdfunding
Asking friends, family, and internet strangers to help cover the costs of your weight loss surgery may feel awkward at first. But you must remember that you're not doing this for vanity's sake. Bariatric surgery is about more than slimming your body down and looking your best. It's about taking back control of your health. It's about regaining mobility and reinvigorating your love of life. Put your crowdfunding description in those terms and you're bound to find a few sympathetic folks willing to donate their share.
Out-of-the-Box Thinking
To pay for weight loss surgery, you can take out a personal loan from your bank or credit union. You can rally your friends and family together to see if anyone will pitch in. When you consider that weight loss surgery is the best treatment available for obesity, and is a viable treatment for weight-related ailments like type 2 diabetes, heart disease, osteoarthritis, and respiratory problems, it helps to examine every payment option for the sake of your health and longevity.
Get an Accurate Quote for Weight Loss Surgery in Los Angeles, CA
Now you know how they determine the costs of weight loss surgery. Then, you might want to know how to take a more proactive step. To be considered for weight loss surgery, you must be examined by a bariatric surgeon. For those in the Los Angeles, Encino, and Glendale areas, Healthy Life Bariatrics is the center to call if you wish to meet with Dr. Babak Moeinolmolki.
Dr. Moeinolmolki is the only bariatric surgeon in Los Angeles CA California with fellowships in both minimally invasive bariatric surgery and cosmetic body contouring surgery. That means Dr. Moein can perform weight loss surgery and post-surgical body contouring after the weight comes off. With the gastric sleeve, gastric bypass, and body lift procedures among his menu of services, you now have a single destination for all your health and body shape goals.
Call now to schedule a consultation with Dr. Moeinolmolki at Healthy Life Bariatrics (310) 694 4486.