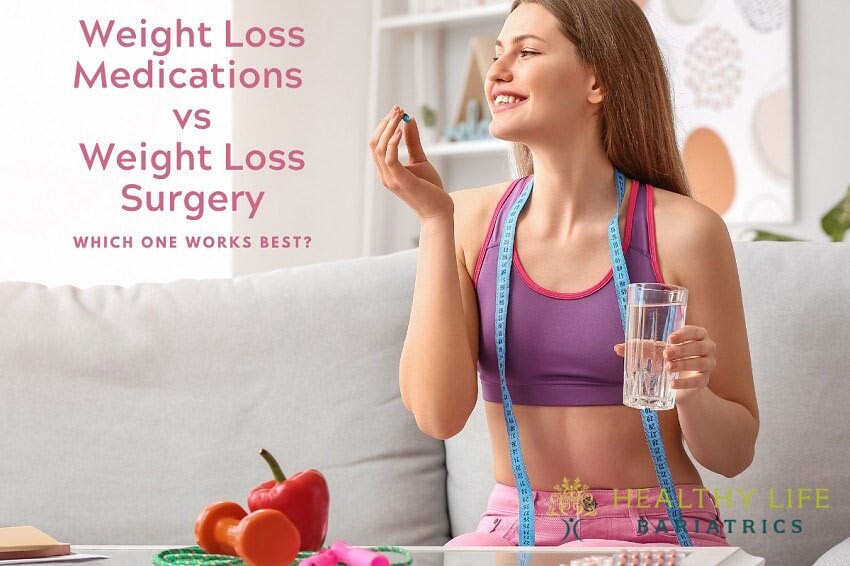 With obesity a worldwide epidemic, some people want to know why you can't take a pill to lose weight and be done with it. Here are the facts.
The Truth About Weight Loss Medications
Are you an adult suffering from the disease of obesity? Have you struggled with weight loss using diet and exercise, but to no avail? If you answered yes to both of those questions, you may be wondering if there are prescription weight loss medications you can take to lose weight instead of undergoing surgery.
You may have heard about bariatric surgical procedures like gastric sleeve surgery and gastric bypass surgery. Both of these techniques involve restricting how much food you can eat. You also feel fuller faster during meals. But surgery is permanent, and many people fear the unknown aspects of surgery, such as side effects, and what if the surgery fails to work?
Read our article: How Gastric Bypass Makes Weight Loss Easier
Read our article: Why Gastric Sleeve Surgery is Becoming a Favorite of Patients Worldwide
Because of this fear of surgery, patients are quick to ask about weight loss medications. After all, it is far easier to pop a pill in the morning or throughout the day than it is to be sedated and undergo surgery.
While that may be true, prescription weight loss drugs may not help in the ways you think. There are drugs that are prescribed by doctors for weight loss. But they may not offer the long-term weight loss potential that is provided by tried and true bariatric surgical procedures.
Who is a Suitable Candidate for Weight Loss Drugs?
Doctors who prescribe weight loss drugs usually do so only if you have serious health problems on account of your weight. You should be able to demonstrate that you have tried everything to lose weight, including diet and exercise, but have not lost a pound. These are the same requirements doctors look for when prescribing weight loss surgery. Doctors also go by the BMI scale.
Your body mass index (BMI) is a measurement of your height compared to your weight, which indicates how much fat you might be carrying. To be qualified for weight loss medications, you must have a BMI of 30 or higher. A BMI of 27 can also be considered if one or more obesity comorbidities are present such as type 2 diabetes.
Before putting you on medication, the bariatric surgeon or doctor will examine your medical history and health difficulties. Your doctor will then discuss the various types of weight loss drugs with you during a consultation.
Weight loss medications are not for everyone. They should not be used if you are pregnant, for example, or if you are breastfeeding.
How Do Weight Loss Medications Work?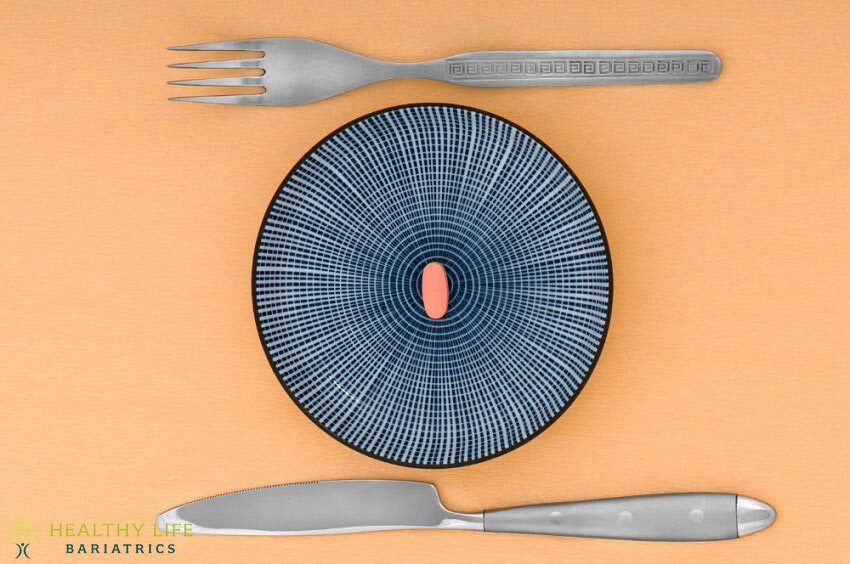 Most prescription weight loss drugs decrease your appetite and induce feelings of fullness. Some do one or the other and some do both. One of the drugs on the FDA-approved list (Orlistat) interferes with fat absorption.
Prescription weight loss drugs produce significant weight loss when approved for long-term use (more than 12 weeks). Just as with weight loss surgery, you must commit to adequate lifestyle changes for the drugs to have the full effect. You will lose more weight with diet and exercise combined with the drugs than you will with only the medications by themselves.
How Long Do People Usually Take Weight Loss Medications?
The duration of treatment depends on the state of your health and how much weight you have to lose. But first, you have to demonstrate that weight loss is possible with medication. You may find that weight loss drugs do not work in your instance, which is possible. On the other hand, your doctor may place you on the drugs indefinitely if you've lost enough weight to improve your health and have not experienced any side effects. Every case is different.
Your doctor will monitor you closely after prescribing the medications. If you haven't lost at least 5% of your body weight after three to six months, your doctor may increase your dose or change your treatment to a different medication entirely.
Which Weight Loss Drugs Have Been Approved by the FDA?
The U.S. Food and Drug Administration has approved four weight loss medications for long-term usage.
Phentermine-Topiramate (Qsymia)
Phentermine acts like an amphetamine. Topiramate is an anticonvulsant. Together, the drug helps with appetite and fullness. Because phentermine acts like an amphetamine, there is the potential for abuse. The drug comes with side effects including an increase in heart rate and blood pressure, insomnia, nervousness, and constipation. Topiramate's side effect is that it can increase the risk of birth defects, so should never be taken or handled by pregnant women.
Liraglutide (Saxenda)
This weight loss drug is mainly prescribed to manage diabetes. Unlike the other medications on the list, this one is administered via injection. The common side effect is nausea, though vomiting may also occur.
Orlistat (Xenical)
This medication can also be obtained over the counter under the brand name Alli. The drug can cause gastrointestinal side effects, such as loose stools and flatulence. A low-fat diet is necessary when taking this medicine. Rare cases of liver injury have been reported by some taking this medication, though no cause and effect relationship has been officially established.
Bupropion-Naltrexone (Contrave)
Bupropion is an antidepressant drug that is sometimes used as a quit-smoking aid. Naltrexone is used to treat alcohol and opioid dependency. Together, the two can lead to significant weight loss. Bupropion carries a risk of suicide, like all antidepressant drugs. Taken in conjunction with naltrexone, the drug can raise blood pressure. Regular blood pressure monitoring is recommended when starting treatment. Common side effects include headache, nausea, and constipation.
How Much Can You Lose on Weight Loss Medications?
Studies show that weight loss of 3% to 7% is possible over the course of a year of taking these drugs. That may seem like a small amount, but research also shows that a sustained weight loss of 5% to 10% can produce important health benefits such as lowering blood sugar, blood pressure, and levels of triglycerides.
Read our article: How to Lose 5% of Your Body Weight to Decrease Your Health Risk During the Pandemic
Are There Side Effects to Taking Weight Loss Medications?
When placed on a prescription weight loss drug, you may experience constipation, nausea, and diarrhea. These effects should lessen on their own over time. Rarely do serious side effects occur but it is important to discuss your specific case with your doctor.
What is the Downside of Taking Weight Loss Drugs?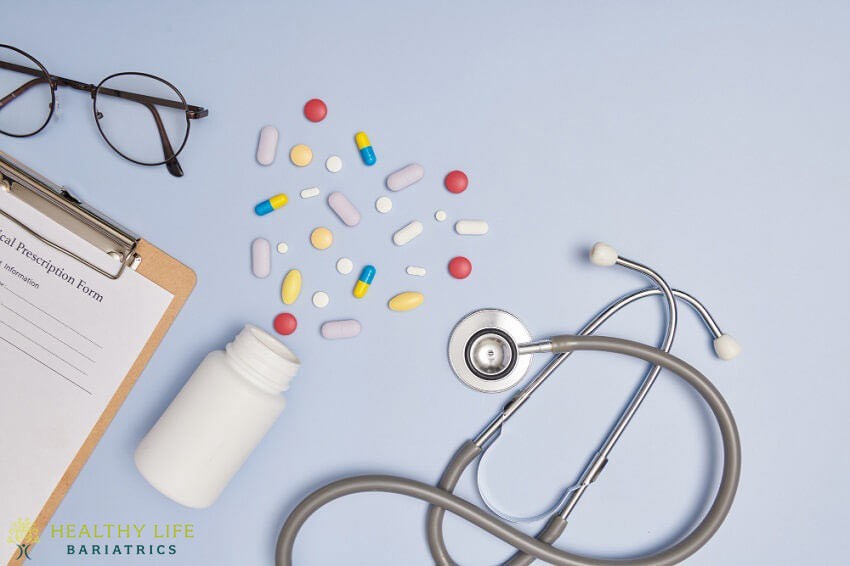 The medications prescribed by doctors for weight loss can be costly and are not always covered by insurance. You should ask your insurance provider for your coverage options to determine if these medications can be paid for in part or in full by your health policy.
Weight regain is also a possibility. Many people put on weight loss medications end up gaining back some of the weight they lost, particularly when they stop taking the drugs. You can mitigate weight regain by sticking to healthy lifestyle changes, such as a nutritional diet and regular physical activity.
Read our article: How Do Bariatric Patients Gain Weight After Surgery & How to Guard Against It?
Why Weight Loss Surgery Trumps Weight Loss Medications
Weight loss medications have their place. Some medications can only be taken for a short term before the effects wear off or the need to switch medications becomes necessary. Other people experience side effects and need to be taken off for one reason or another. As such, these weight loss drugs are usually seen as a short-term solution to a long-term problem.
Weight loss procedures like the gastric sleeve and gastric bypass are permanent. Millions of people have undergone these surgeries with successful outcomes. Patients who undergo these procedures stand to lose between 50% and 70% or more of their excess weight (gastric bypass surgery tends to produce greater weight loss than gastric sleeve surgery).
As we mentioned earlier, and similar to many of the weight loss medications we discussed, gastric sleeve and gastric bypass surgeries limit how much you can eat. With gastric sleeve surgery, up to 80% of your stomach is removed. The remaining stomach tissue is converted into a banana-shaped sleeve. This is where food passes on its way to digestion. Because the newly configured stomach is smaller, you end up eating less and feel full faster during meals.
Gastric bypass surgery works a bit differently. The upper portion of the stomach is sectioned off and becomes the new stomach. This limits how much you can eat and induces fullness. The small stomach is then rerouted to the small intestine. This combination of digestive changes limits the calories your body can absorb.
With both surgeries, a healthy diet and regular exercise can produce significant weight loss for permanent results.
Can Weight Loss Medications and Bariatric Surgery be Used Together?
Yes. In some cases, your bariatric surgeon or doctor will place you on weight loss drugs to help you lose weight before undergoing surgery. This helps to reduce the level of fat around your internal organs and makes the procedure safer overall.
In other cases, you will be prescribed weight loss drugs after surgery if you happen to regain some of the weight you've lost. Weight regain is possible following bariatric surgery. With gastric sleeve and gastric bypass surgeries, your stomach can regain some of the lost volume due to stomach stretching. Weight loss drugs can help you keep the weight off. Your surgeon may also recommend bariatric revision surgery, whereby the stomach is made smaller once more to fortify against future regain.
Find Out if Weight Loss Medications or Bariatric Surgery is Right for You
Obesity is a disease, which has been established by many medical institutions. Yet the stigma still exists where people see obesity as a choice. You should know that it may not be your fault that you have reached the level of obesity or that you cannot lose weight. Sometimes, genetic, environmental, and other factors have contributed to weight gain, and only external help can help you improve your health.
Weight loss medications are one possibility. So is bariatric surgery. The only way to determine which course of action is right for you is to schedule a consultation with a board-certified bariatric surgeon.
If you live in the Los Angeles area, schedule a consultation with Dr. Babak Moeinolmolki. During the consultation, you and Doctor Moeinolmolki will discuss your health history, struggles losing weight, and your weight loss goals. The doctor will perform a health examination and may run some tests to determine if obesity comorbidities exist, such as obstructive sleep apnea, high blood pressure, and osteoarthritis.
Weight loss surgery can be a treatment for both obesity and weight-related ailments. Or you may find that weight loss medication is the best avenue for short- or long-term weight loss. By the end of your appointment, you will have a better understanding of your health, and whether one of these bariatric treatments is suitable for you.
Call Healthy Life Bariatrics now to get the process started. This one phone call could change your life for the better, helping you live a more healthful and potentially longer life. Dial (310)807-2378.