Dr. Moein is an expert in both bariatric weight loss treatment and body contouring. That means you can access all the services you need to achieve your weight loss and body shaping goals under a single roof for maximum affordability and convenience.
Schedule an initial consultation today with Dr. Moein to discuss one or more treatment options that may be right for you.
Life Changing Bariatric Surgery for Long-Lasting Weight Loss
All surgical bariatric procedures are minimally invasive and performed laparoscopically to ensure comfort while reducing downtime.
Schedule an initial consultation with Dr. Moein to discuss one or more of the weight loss treatment options below. Dr. Moein will listen to your weight loss goals before developing a customized and comprehensive treatment plan to help you achieve your weight loss goals.
Customized Treatment & Thorough After-Care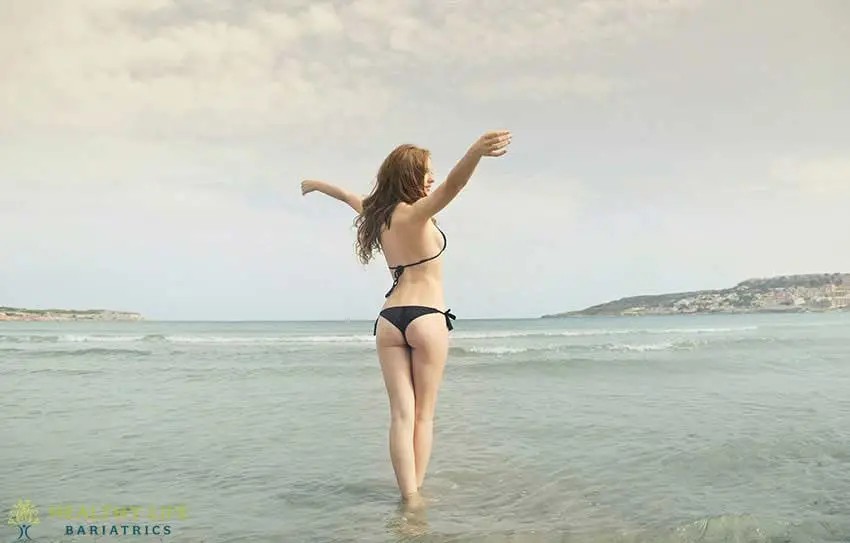 If weight loss is your goal, Dr. Moein will provide you with a customized treatment plan that comes complete with bariatrics and/or body contouring, along with thorough post-surgical care.
Every aspect of your plan will be tailored for your weight loss goals, biological makeup, and medical history. Dr. Moein begins with pain management, which can be controlled with over the counter and/or prescription medications.
Dr. Moein will schedule surgery and monitor you throughout recovery. When you have healed adequately following surgery, and depending on your progress, Dr. Moein may schedule one or more post-surgical body contouring procedures.
When it comes to aftercare recovery, Dr. Moein has been known to make home visits, he's that thorough.
Even your dietary concerns will be properly addressed so that you know when to rest and what to eat as you achieve the physique you desire.
The best part is that Dr. Moein is 100% transparent with all fees. There won't be any hidden charges or surprises, keeping your body goals affordable, convenient, and always within reach.
Ask Dr. Moein if you are a good candidate for one or more of the following bariatric procedures during your initial consultation.
Gastric sleeve surgery is a highly effective procedure that restricts the size of your stomach, causing you to consume fewer calories resulting in sustained weight loss.
Gastric Balloon
This non-invasive, non-surgical procedure is 100% reversible and uses gastric balloon technology to limit food availability in the stomach, encouraging healthier eating and better control over hunger and satiation.
Gastric Bypass
Considered the gold standard of weight loss surgery, gastric bypass divides your stomach into two sections and reroutes food to your intestines for reduced caloric intake and long-term weight loss.
Lap-Band®
Laparoscopic adjustable gastric banding is designed to reduce stomach volume, resulting in significant and long-term weight loss.
Bariatric Revision Surgery
Lap-band and pouch revision surgeries correct imperfections and/or complications from previous weight loss procedures to get your weight loss treatment back on track.
---
General Surgery for Improved Health & Well-Being
Hernia Surgery
Hernias occur when an organ or fatty tissue protrudes through muscle or connective tissue called fascia. Dr. Moein corrects hernias to alleviate discomfort and prevent future complications.
Gallbladder Disease Surgery
Cholecystectomy, also known as gallbladder removal, alleviates the debilitating symptoms commonly associated with gallbladder disease.
Hiatal Hernia Repair for the Treatment of GERD
Large hiatal hernias can cause a host of problems, such as heartburn and acid reflux. Hiatal hernia surgery can eradicate your symptoms under Dr. Moein's precise care.
Emergency General Surgery
From the appendectomy to the management of peptic ulcer disease, when the pain is great and time is short, Dr. Moein is an expert at helping patients attain optimal health in emergency situations.
Body Contouring – Precision & Art Skillfully Combined
Body contouring helps many patients achieve their ideal body shape following weight loss surgery. The doctor employs strict attention to detail and maintains a passion for helping patients attain a body shape that more closely matches their weight loss goals.
Smart Lipo
Frustrated by lingering fat in targeted areas? SmartLipo may be the cosmetic procedure for you. Get the same amazing results as liposuction without the down or recovery times.
Tummy Tuck/Abdominal Tightening
Dr. Moein can tighten the skin around your abdomen for a slimming contour and surge of confidence. This procedure can be sufficient alone, or included with weight loss treatment.

Panniculectomy Surgery
Significant weight loss can result in hanging skin that leaves you susceptible to rashes and infections. Dr. Moein can remove the excess skin to give your body a beautiful and youthful contour.
Body Lifts
A breast, arm or thigh lift may be just the procedure you need to give your body the ideal contour when age has affected skin elasticity or to restore your confidence following bariatric weight loss surgery.
Breast Augmentations
Some women are self-conscious about the appearance of their breasts following bariatric weight loss surgery. Dr. Moein can perform a breast augmentation or breast lift to give you the youthful, feminine look you desire.
Varicose Vein Treatments
Dr. Moein uses spider vein injections, laser ablation or vein stripping to rid patients of unsightly varicose and spider veins, causing the veins to fade and disappear for a smooth and even appearance.
Dr. Moein Offers the Destination Surgery Experience
As a visitor to the Los Angeles area, you can achieve the appearance and shape you want while taking in the beautiful and wonderful sites offered by our general area. Dr. Moein provides The Destination Surgery Experience for patients living around the world. It is not uncommon to see patients arriving from Europe, Asia, and the Middle East to receive Dr. Moein's life-changing treatments.
Schedule a virtual consultation with Dr. Moein to discuss your Surgery Destination Experience with renowned surgeon, Dr. Moeinolmolki.
Want to Know if Bariatrics & Body Contouring Are Right for You?
At Healthy Life Bariatrics, we treat obesity as a disease that requires treatment, not judgment. Dr. Moein and staff offer caring and compassionate weight loss treatment and cosmetic body contouring in a safe and comfortable atmosphere.
Find out if medical or surgical weight loss treatment and body contouring are right for you by calling today to schedule an initial consultation.
| | |
| --- | --- |
| Category | Status |
| Severe Thinness | < 18.5 |
| Normal | 18.5 - 25 |
| Overweight | 25 - 30 |
| Obese | > 30 |