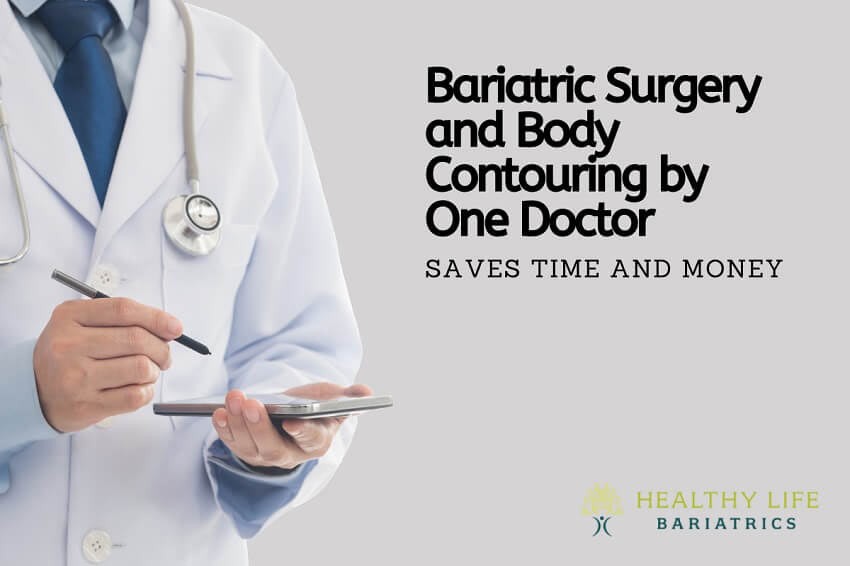 Nearly one in three adults are overweight, and two in five are obese.
When a person becomes overweight or obese, poor health, a low body image, and diminished self-esteem usually follow.
In an effort to improve their quality of life, many people who are overweight or obese turn to weight loss surgery or cosmetic surgery, depending on their goals.
Bariatric (weight) loss surgery is an effective treatment for obesity and obesity-comorbidities like high blood pressure and type 2 diabetes.
Cosmetic body contouring surgery uses techniques like liposuction, breast augmentation, and a tummy tuck to treat conditions like a big belly and saggy breasts.
Finding out which procedure(s) are right for you would necessitate seeing multiple doctors, which is both time-consuming and expensive.
As we will soon prove, seeing one doctor for weight loss surgery and cosmetic body contouring saves time and money.
If you don't want to wait until the end of the article, you can save time and money by scheduling a consultation with Doctor Babak Moeinolmolki of Healthy Life Bariatrics. Doctor Moeinolmolki is a specialist in bariatric and post-bariatric body contouring surgery, allowing you to experience better health and positive body acceptance with a single treatment plan. Call (310)807-2378.
Poor Health Drives Patients to Seek Bariatric Surgery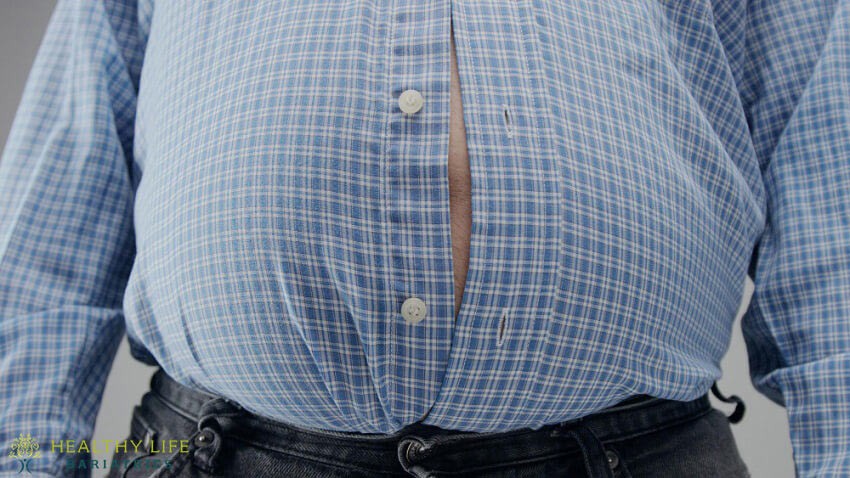 Carrying excess weight contributes to bodily disease. Being overweight or obese is hard on the organs and the joints. Then there is the problem of obesity comorbidities. There are over sixty weight-related ailments that can accompany weight gain, especially when patients get to be a hundred pounds or more overweight.
Obesity-comorbidities include obstructive sleep apnea, heart disease, and several types of cancer. Losing weight can improve your health and treat these varied illnesses.
Unfortunately, when you become overweight to a certain degree, including reaching a BMI high enough to classify as obese, losing weight all on your own is not so easy. Exercise and watching your diet may not be enough. Your hormones and metabolism may work against you, making weight loss an uphill battle.
Bariatric (weight loss) surgery makes weight loss easier. Procedures like gastric sleeve surgery and gastric bypass surgery are also effective treatments for obesity-comorbidities, contributing to better health and improved quality of life.
Read our article: Why Gastric Sleeve Surgery is Becoming a Favorite of Patients Worldwide
Studies Results
Studies show that it isn't necessarily the excess weight but the weight-related ailments that drive patients to visit a bariatric surgeon's office.
Weight loss surgery can give you a reprieve from the weight gain and any accompanying illnesses with long-term results.
Following extreme weight loss, which implies a loss of around a hundred pounds or more, patients often have excess skin to contend with.
This excess skin can rub against the body leading to rashes, infection, and diminished hygiene.
Post-bariatric body contouring surgery is an effective treatment for this excess skin. Studies show that patients who undergo cosmetic body contouring after bariatric surgery enjoy the most extended long-term results, with patients able to keep the weight off for many years to come.
We'll come back to that fact in a moment…
Insecurity Spurs Patients to Consider Cosmetic Surgery
Poor body image is not solely reserved for the overweight or obese. Even people of normal weight can feel that their body is lacking in some way.
Cosmetic procedures can help. There are cosmetic operations for nearly every part of the body. From the facelift and neck lift to breast augmentation and the Brazilian butt lift, individuals who don't like their bodies can find themselves transformed under a skilled doctor's care.
The right procedure or combination of techniques can cause a patient's self-esteem to surge. Cosmetic body contouring is particularly effective for this purpose following successful weight loss.
Cosmetic body contouring after bariatric surgery can improve the body's contour, leading to a sleeker profile. Body contouring methods can eliminate skin fretting, and the resulting rashes and irritation. Patients who undergo these procedures can fit into smaller, more fashionable clothing, and all of this contributes to an increase in self-confidence and self-esteem.
Obesity and Poor Body Image Can Force Patients to See Multiple Doctors
With bariatric surgery and cosmetic body contouring surgery being separate disciplines, conventional wisdom would dictate that you would need to visit multiple doctors in order to accomplish your health and aesthetic goals.
A bariatric surgeon specializes in medical weight loss.
A cosmetic body contouring surgeon specializes in transforming the body with one or more cosmetic surgery techniques.
For those who lose weight with bariatric surgery and find themselves with excess skin, they need to find a bariatric surgeon and a cosmetic surgeon. In order to determine if these doctors are right for your needs, the first step is to schedule consultations with each of them. This process is sure to strain your patience as well as your pocketbook.
Multiple Consultations Takes Considerable Time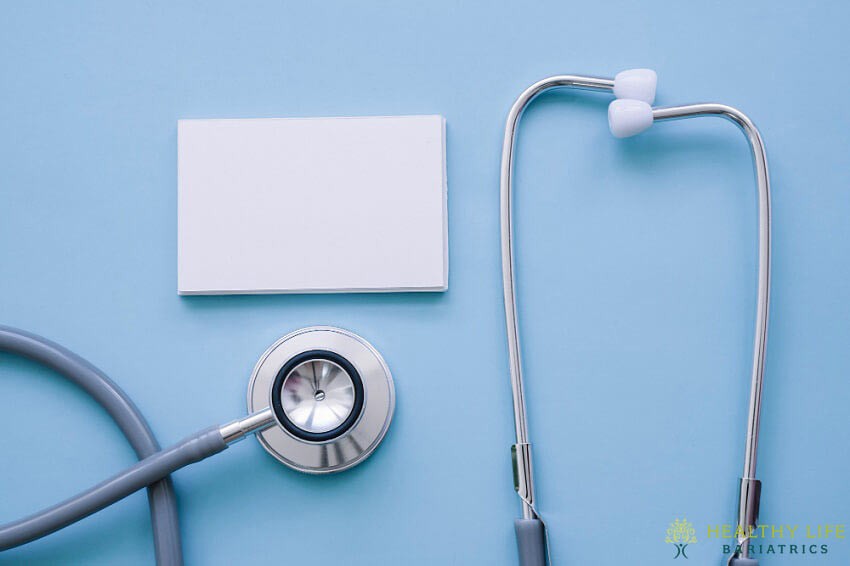 A consultation with a doctor involves much more than a sharing of introductions. During the average initial meeting with a doctor, the doctor will ask you about your goals and why you made the visit. You will discuss your medical history and past treatments. You may undergo tests, including a physical examination, blood draw, and image scans.
Once the doctor understands your medical needs, the discussion can proceed to a suitable treatment plan. At this point, you will receive a detailed quote, information about insurance and medical financing, and other details as they pertain to your specific case.
Imagine pursuing multiple doctors to undergo this process. All the meetings with different doctors and all the diagnostic tests. This amounts to hours of meetings with doctors who may be located miles apart.
As you can imagine, it can be a major headache to locate a bariatric surgeon and a post-bariatric body contouring surgeon to help you achieve superior health and body acceptance. But there is another way.
Many Doctors Charge Consultation Fees, Increasing Expenditure
Some doctors allow you to meet with them at no charge. But doctors who spend considerable time with you, administering tests, and devising customized treatment plans for you, will usually charge a fee for the consultation. Most times, this consultation will be applied to your treatment once you commit.
But seeing different doctors in the hopes of finding a bariatric surgeon and cosmetic body contouring surgeon can quickly add up. Before you know it, you've spent hundreds of dollars in fees. There's no guarantee that you'll succeed in finding the correct combination of doctors that are right for you.
Again, there is a better way.
One Doctor, One Consultation, One Treatment Plan
The better way to undergo bariatric surgery and post-bariatric body contouring surgery is by choosing one doctor to perform all the procedures under one roof. Is such a thing possible? It is when you find yourself fortunate to work with a doctor who specializes in both bariatric and cosmetic body contouring surgery.
Doctors who specialize in both disciplines are rare. But if you are fortunate to find one, you stand to save a considerable amount of time and money.
With a doctor like that, you can sit down and ascertain whether you feel a rapport with a single doctor. You can undergo one set of tests and receive a treatment plan. It will contain all the treatments you need to achieve your health and aesthetic goals.
A Bariatric Surgery Treatment Plan
Based on your doctor-administered tests and goals, the bariatric and cosmetic surgeon may prescribe a weight loss surgery such as gastric sleeve surgery. Or maybe Roux-en-Y gastric bypass surgery. These procedures work by altering your digestive system, which allows you to lose weight quickly.
You still must do your part to make weight loss successful, such as eating a healthy diet and exercising regularly. But if your body mass index (BMI) is 40 or higher or 35 or higher with one or more obesity comorbidities, you could find yourself with one of these surgeries on your medically prescribed treatment plan.
Bariatric Surgery and Body Contouring by the Same Doctor
When excess skin becomes a burden following weight loss surgery, body contouring can help.
When you work with a single doctor for both bariatric and body contouring surgery, your doctor already understands your medical history. The doctor is familiar with the surgery you recently underwent. He is more than familiar with the excess skin you are dealing with. This makes the bariatric and cosmetic surgeon uniquely qualified to help you achieve aesthetic goals.
Depending on your needs, wants, and goals, your body contouring treatment plan could include a variety of techniques, including a body lift, tummy tuck, breast augmentation, upper arm lift, upper thigh lift, and liposuction for any stubborn fat that is left behind.
Read our article: Arm Lift/Arm Reduction is What the Doctor Ordered for Dreaded "Bingo Wings"
Read our article: A Thigh Lift After Weight Loss Removes Excess Fat and Skin
Health and Beauty Help You Find Body Acceptance
With one doctor performing your weight loss surgery and body contouring surgery afterward, you can finally achieve improved health and body image, as well as a surge of self-esteem. You can feel more comfortable in your body and more confident going through life.
With Greater Health and Self-Esteem, Life Quality Improves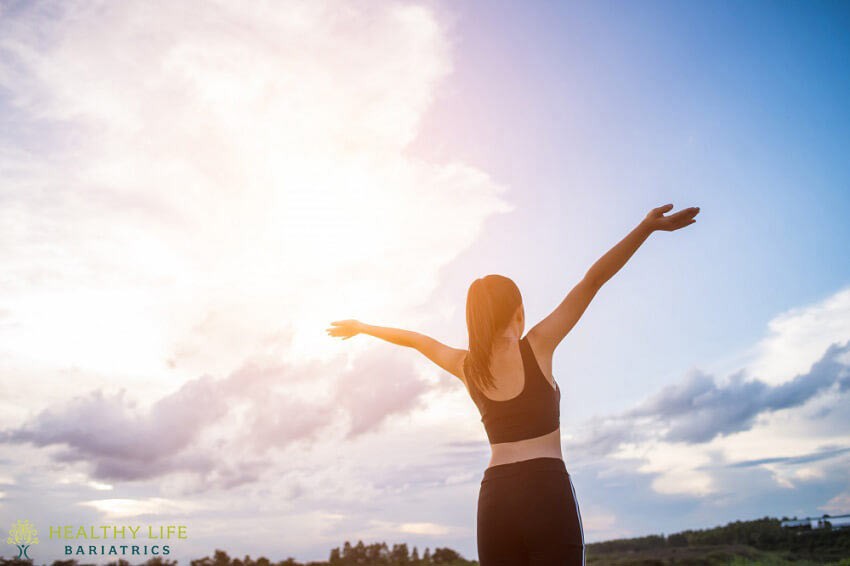 These elements – better health, body image, and self-esteem – can make life enjoyable again. Life can finally be worth living. Imagine having the energy to complete the life goals you have for yourself and a slimmer body that makes an excellent vehicle for doing all you hope to accomplish.
The Choice is Clear – One Doctor for Bariatric Surgery and Body Contouring is Best
Do you want this for yourself? If you live in Southern California, you don't have to search far to find a doctor who specializes in both bariatric surgery and post-bariatric body contouring procedures.
Doctor Moeinolmolki of Healthy Life Bariatrics is the only doctor in Southern California with the distinction of being dual board certified in bariatric surgery and cosmetic body contouring surgery. Doctor Moeinolmolki has decades of experience and a community of satisfied patients who can testify to the superior results the doctor offers.
During your initial consultation with Doctor Moeinolmolki, you will be able to discuss your health and self-esteem complications. You can receive a single treatment plan that includes weight loss surgery and cosmetic techniques such as body lift and liposuction. And you can discuss fees, insurance, and medical financing.
If you suffer from the disease of obesity and have low self-esteem as a result, Doctor Moeinolmolki wants to help. All surgical procedures are performed at Healthy Life Bariatrics in Los Angeles, California. Are you curious about what procedures might be right for you? There is one way to find out. Schedule a consultation with Doctor Moeinolmolki to discuss your health and aesthetic goals by calling (310)694-4486.