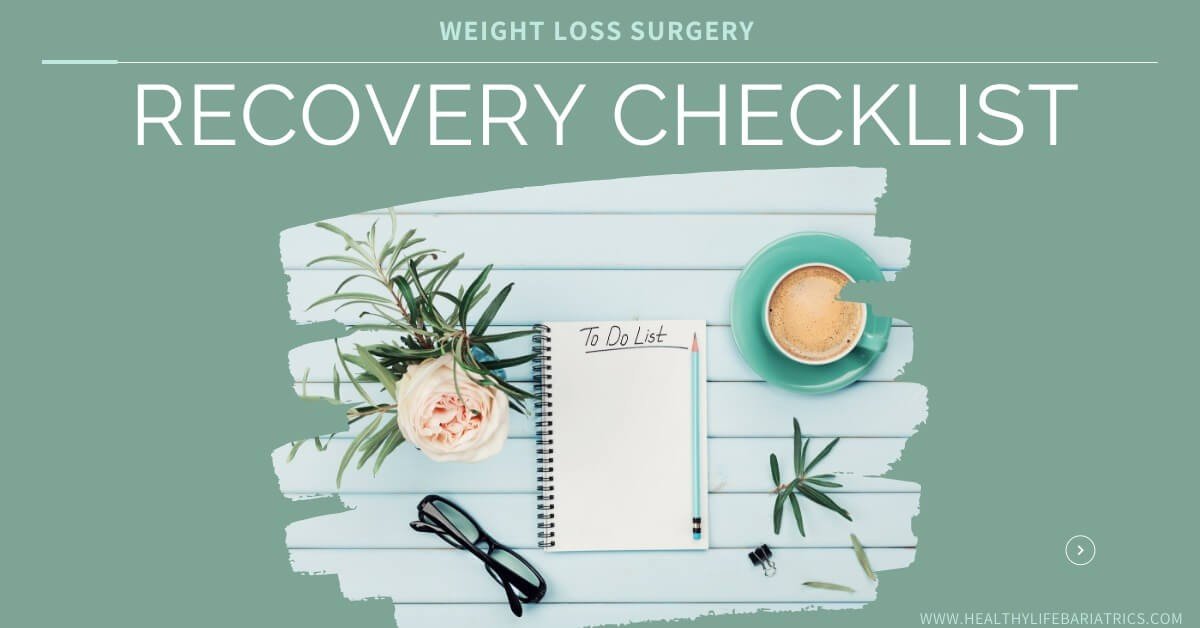 Weight loss surgery is surging in popularity.
Otherwise known as bariatrics, weight loss surgery can help you lose excess weight.
If you suffer from obesity related ailments, those ailments can diminish or disappear entirely as a bariatric side effect. Conditions often treated by weight loss surgery include type 2 diabetes, sleep apnea, and high blood pressure.
There are a variety of bariatric procedures available. The gastric sleeve, gastric bypass, gastric balloon, and lap-band round out the list of the most popular surgeries performed today.
Regardless of what type of surgery you undergo, you will go through a weight loss surgery recovery process.
We have put together a checklist to help you recover with optimal health and comfort in mind. Put the following steps into motion before you opt for surgery to experience the most comfort-inducing results.
Steps to Take Before Bariatric Surgery
As the day of your procedure approaches, make the necessary preparations to cover the following:
Accommodate Your Pets
You may wish to board your pet or find a pet sitter. Having a neighbor walk/feed your pets also works.
Prep Your Home
Go through your home and place items around your home in places that are easy to reach. Examples include the remote control, back scratcher, pitcher of water, non-spill cup to drink from, straws to drink out of, and other conveniences.
Keep your walkways free of clutter while you are at it. Remove low stools, rugs that can bunch up when stepped on, and other items you might trip on.
To make sure your home is ideal for healing from surgery, clean and disinfect the rooms you will be occupying.
Being prepared before surgery will ensure you are comfortable post-surgery. You will also reduce stress and headaches, making for an easier time healing.
How to Heal in Comfort After Bariatric Surgery
Prepare to Lose A Lot of Weight
During recovery from weight loss surgery, you are expected to lose a ton of weight, regardless of which procedure was performed. If you have a weight-related medical condition, such as type 2 diabetes or high blood pressure, you may see an improvement with those ailments. That's not to mention the immense improvement to your quality of life. You may find yourself mobile again, and able to do things you previously could not.
Plan For a Short Hospital Stay
Most gastric surgeries performed today are done so laparoscopically. Tiny incisions a little larger than an adult pinky nail act as entry points for the laparoscopic camera and bariatric tools. The doctor performs the surgery while viewing the results on a monitor positioned nearby. Scarring is minimal, and so is any discomfort you may feel. Other than a few hours of recovery in the surgery center you should be back to your normal activities within a few weeks.
Make sure you pack a bag for your short hospital stay that includes all your favorite comforts from home. Your favorite robe, pillow, or a good book could get you through this time just fine. After those initial days in the hospital, you will be back home to recover in your own bed.
Get Leg and Back Support
You might have trouble sleeping comfortably on your side immediately following surgery. Consider investing in a supportive pillow to get you through your recovery nights. The pillow can be used in the hospital and when you're back home. You can also find pillows for your knees and lower back. With this level of support, you won't toss and turn, which can tug at your incisions, causing pain.
Set Aside Comfy Clothes
At the hospital and later at home, you would do well to have a stash of recovery clothes you can change into. These garments should focus on comfort rather than style. The clothes should be loose, especially around your pelvis, lower back, and abdomen. Tight clothing can rub against the incision sites, leading to irritation. Loose clothes allow for easier movement, making them ideal for a more comfortable weight loss surgery recovery.
Don't Forget the Slippers or Flip-Flops
Take care of your feet by packing footwear that is easy to slip on and off. You will find slippers and flip-flops easier to manage than shoes you must tie. Bending down to put on shoes that aren't so easy to step into can pull on your incisions, potentially increasing your recovery time.
Drink Your Fill in H2O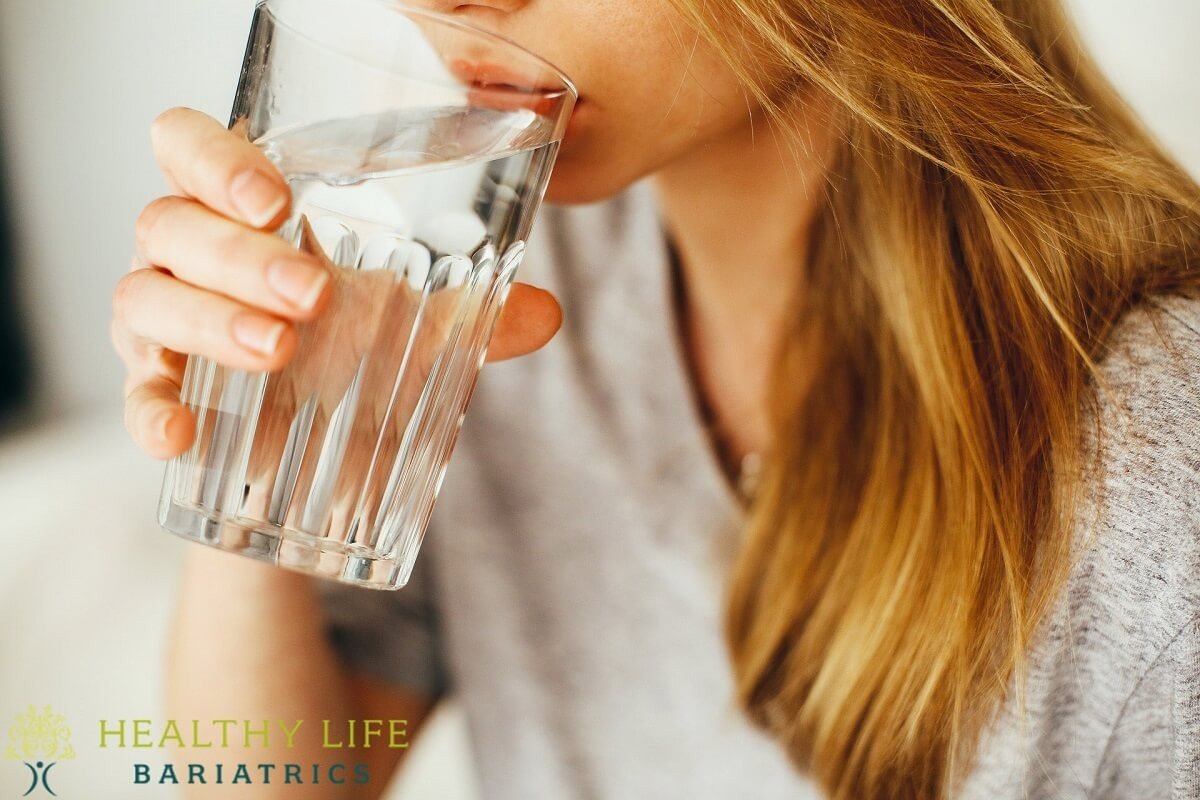 Your body needs water to carry out the essential functions necessary for a healthy weight loss surgery  recovery. Keep yourself hydrated by drinking lots of water throughout the day. Drinking more water during this time will also flush the medications from your body that were used during surgery, such as anesthesia.
Drinking 64 ounces of water each day will lower your risks of contracting a urinary tract infection and could help you successfully manage pain. Consider buying a large water bottle or plan to have a pitcher by your bedside table at all times. Doing so can remind you to drink the necessary amounts of water as you recover from bariatric surgery.
Gather Assistance
Find one or more shoulders you can lean to make weight loss surgery recovery easier. Even getting a neighbor to walk the dog or friend to wash the dishes can help. Having someone come by regularly to do the things you can't is ideal.
Having a support system helps you get things done and provides much needed emotional support as your body heals.
Prep Your Meals
For this step, we should look back to our list of things to take care of before having surgery. Prepare your meals before surgery and you will thank yourself later, when you are too sore post-surgery to cook. Your doctor may place you on a liquid diet following surgery, for at least the first week. Having ready to drink meals already stored away in your fridge is a great idea. Examples include containers of broth, unsweetened juice, decaffeinated tea, decaf coffee, or milk (1% or skim). Adding sugar-free gelatin or popsicles are great for the occasional and refreshing recovery treat.
You might want to stash some solid foods while you're at it, as you will be transitioning to regular foods after that initial week. Focus on protein-rich foods such as lean ground meat, fish, and poultry. Other foods to stock include cottage cheese, cooked cereal, soft scrambled eggs, cooked veggies, soft fruits, and cream soups (strained).
Having pre-prepared meals in your fridge and pantry keep you from ordering pizza or making a late-night burger run, which could hinder your recovery and stall your weight loss results.
Stock Up on Hand Sanitizer
Bariatric incisions, though tiny, require a couple of days to properly close. Touching them with dirty fingers can lead to complications, including infection. Keep infections at bay while you recover from bariatrics by making hand sanitizer accessible at all times.
Keeping a container of pump sanitizer beside your bed can help. You can then sanitize your hands after every meal or whenever they become dirty.
Occupy Your Mind
Recovery from bariatrics can be agonizing, but only if you allow it to be. Instead of focusing on all of the activities you are unable to engage in, keep your mind busy. Read a novel, watch a movie on your phone or tablet, or play a video game. There are times when it is important to be present. Recovery from surgery is not one of those times. Allow your mind to wander. You might even fantasize about all the new clothes you will buy, or all the activities you will engage in when the true results of your surgery are realized. Will you go skydiving? Scuba diving? Or will you traverse the Grand Canyon with your children and grandchildren? The possibilities are endless, so allow yourself to dream big during recovery, which can further help to pass the time.
Think About Post-Surgery Clothing
Your weight loss will continue to progress in the months ahead. This body transformation may mean that your usual clothes no longer fit as snugly. Before having surgery, you would do well to buy clothes in several sizes. Don't splurge on a new wardrobe just yet. Look through your closet for old clothes you no longer fit into. A thrift store is another great idea, where you can find transition clothes for less.
On average, bariatric patients lose between 40% to 60% of their excess weight, much of it in the first year. If you are one hundred pounds overweight, that means you could end up losing 40 or 60 pounds, or more.
Put this checklist into action before you undergo surgery and keep checking off items as you recover. You are sure to have a more comfortable time as you shed the pounds for optimal health.
Ready to Put Obesity Behind You?
Call Healthy Life Bariatrics in Los Angeles and let Dr. Moeinolmolki start you on a healthy weight loss journey. Schedule your virtual consultation today (310)-807-1735.