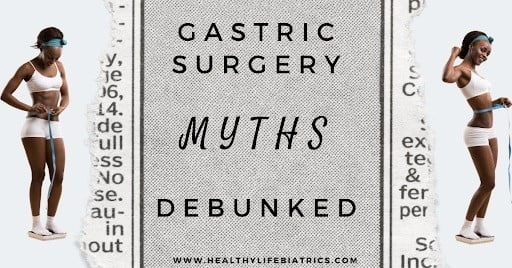 Gastric – aka bariatric or weight loss surgery – is becoming ever more popular.
Thousands of patients each year are able to shed their excess pounds to live healthier lives.
Weight loss surgery has also been hailed for its ability to treat obesity-related health conditions, such as high blood pressure (hypertension), arthritis of the joints (osteoarthritis), sleep apnea, cancer, and early death.
The term "gastric surgery" represents a host of procedures, each one designed to help you achieve a healthier BMI (body mass index). If you have a BMI of 40 or more (or 35 with an obesity-related ailment), you may qualify for gastric surgery. Examples of popular surgeries include the gastric sleeve, gastric balloon, gastric bypass, and lap-band.
Just don't listen to the myths being spread around about bariatrics. Here are the top six myths we usually encounter from patients wanting to put obesity behind them. For each point, we offer a successful debunking, just like we do in our office. Once we have helped you cut through the rumors and lies about these popular weight loss procedures, you should be ready to schedule a consultation for a procedure that interests you.
Myth #1: You Put Your Life in Your Surgeon's Hands
No one can deny that surgery in general carries some risk. Advances in weight loss surgery techniques have reduced these risks significantly. When compared to gallbladder surgery or an appendectomy, the risks of bariatric surgery are largely the same.
As long as you take the time to find the best bariatric surgeon, you can feel secure in your decision to undergo bariatrics for optimal health reasons.
Myth #2: Diet & Exercise Help You Lose Weight, Not Weight Loss Surgery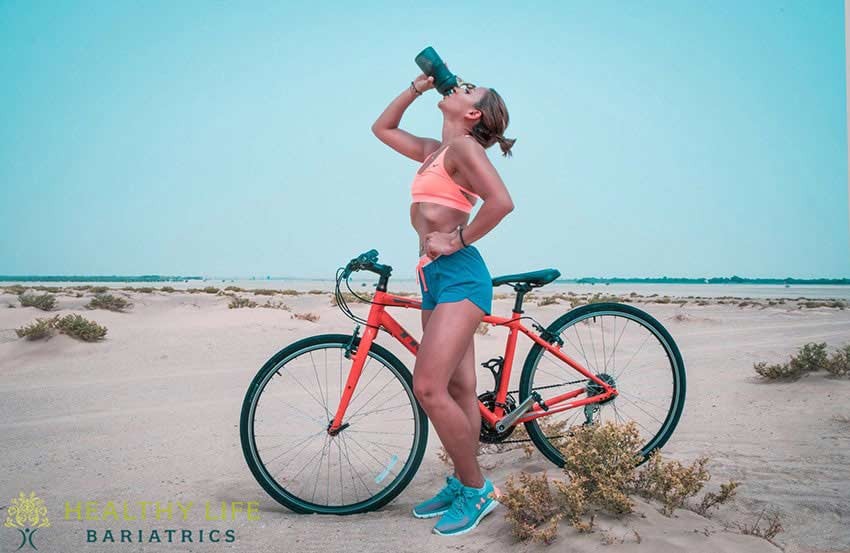 The types and amount of foods you eat matter. Exercise, too, is an important aspect of healthier living. The combination of these factors can help you lose weight. For some extremely obese individuals, however, diet and exercise are not enough. Studies have shown that changes to diet and exercise can result in weight loss, but half of those individuals are statistically expected to gain the weight back. Weight loss surgery ensures that your nutrition and fitness efforts will yield lifelong results.
Myth #3: Most Bariatric Patients Gain the Weight Back
Bariatric surgery helps patients lose, on average, between 50 and 100 pounds in the first year. Scientists who have continued to study patients for years after their procedures have found that long-term weight loss is common. More patients tend to keep the weight off compared to individuals who have lost the weight without undergoing surgery.
Myth #4: You Lack Nutrients When You Have Bariatric Surgery
Gastric surgeries vary. Some procedures alter the way the body absorbs vitamins and minerals. Deficiencies can occur with these surgeries, such as the gastric bypass procedure. This side effect can be mitigated using vitamin supplementation. Your gastric surgeon will follow up with you after surgery to test your vitamin and mineral levels. If deficiencies are found, they can be addressed at that time.
Of course, your gastric surgeon can recommend surgeries that don't interfere with nutrient absorption. The gastric sleeve or gastric balloon are two examples. One is surgical, the other non-surgical, and both can help you achieve extreme weight loss without affecting the way you digest food. Only your stomach is affected, not your digestive system. These are points to bring up at your consultation with your weight loss surgeon if a nutrient deficiency is a concern.
Myth #5: Insurance Does Not Pay for Weight Loss Surgery
More health insurance companies are coming around to recognize weight loss surgery as a medical necessity. Your policy may vary and the rules can differ according to your state. Your policy may also have unique rules that govern coverage for bariatrics if your insurance is provided through work.
Speak with a bariatric clinic or call your insurance provider to see if you meet the bariatric requirements. You may find that your out of pocket expense is less than you think. There is also medical financing to consider.
Myth #6: Bariatric Surgery Leads to Mental Health Issues
You may have heard that bariatric surgery leads to alcoholism. Some experts link weight loss procedures and suicide. However, studies exist that show there is no clear link between bariatric surgery and the use of alcohol. Patients are advised to cut down their alcohol usage following surgery. That is because the effects of alcohol can be greater following surgery, so caution is advised.
As far as suicide and other mental health effects, it is true that bariatric surgery can lead to bodily changes. These alterations can have profound psychological and emotional implications. The weight loss may even change your personality to some degree. Studies have shown an increase in suicide rates following weight-loss surgeries. However, in almost all cases, those patients tended to have undiagnosed psychological conditions prior to undergoing surgery. That is why a consultation is critical, allowing you to be screened for mental health issues before opting for surgery.
Myth #7: Scarring is Common
Traditional surgery became known in the past for leaving deep scars behind. If you had surgery, you expected an ugly scar. Today, things are different. Thanks to advances in medical technology, bariatric surgery is a walk in the park compared to twenty years ago. The surgery involves a technique known as "pinhole surgery." Also referred to as laparoscopic surgery, these procedures leave less scarring behind than open surgeries. The incisions are between 1 and 1.5 centimeters in length, which is as long or a little longer than an adult pinky nail. Those cuts then act as openings for a serpentine (laparoscopic) camera, along with other bariatric tools. Your surgeon views the minimally-invasive surgery on an HD-monitor, as opposed to cutting you open. The result is a quick surgery that comes with faster recovery times, less pain, and minuscule blood loss.
Myth #8: Gastric Surgery is Cheating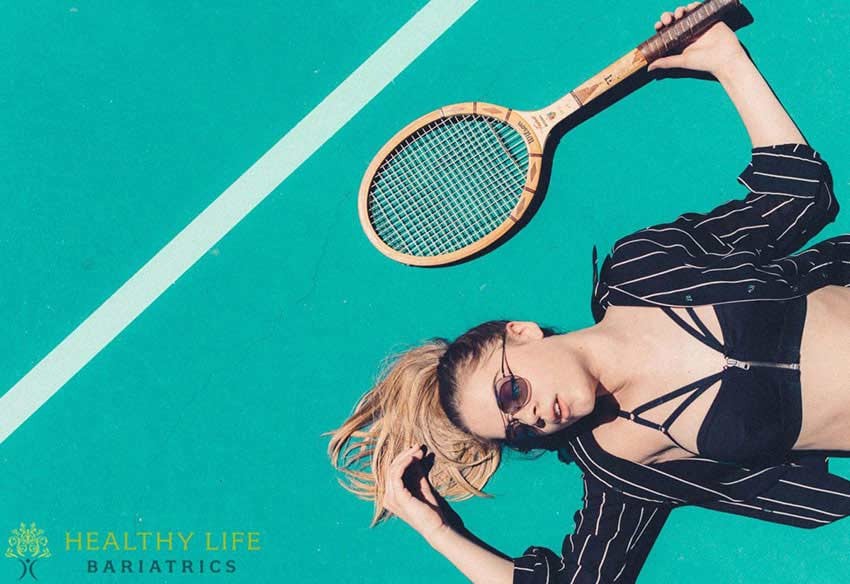 Oddly, some consider bariatric surgery as taking the easy way out. As if somehow struggling to lose weight is the burden you deserve because you are morbidly obese. That is nonsense. Gastric surgery of any type is no magic wand. You will not miraculously lose the excess pounds just because you had surgery. To get the most out of the procedure you undergo, you must commit to healthy living. Exercising and eating the right foods – in their proper amounts – is key to losing weight and keeping it off. In that sense, bariatric surgery is a tool, but a good one nonetheless, if your goal is weight loss for life.
Fact: Bariatric Surgery Can Help You Defeat Obesity
Stop struggling to lose weight. If you think you qualify for bariatrics, and you are ready to live healthier (and potentially longer), schedule a consultation at Healthy Life Bariatrics in Los Angeles. We serve the greater L.A. area. We also have a medical tourism program that gives you the help you need no matter where you live. Choose a time to discuss the weight loss surgery of your choice with Dr. Moeinolmolki.